Life With A Plugin Episode 22: Netflix in Media Center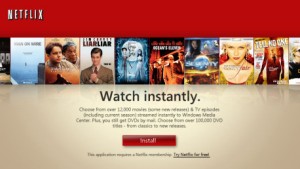 Netflix in Windows Vista Media Center–not a new topic, having reviewed three community-developed applications exactly one year ago (May 2008)–but this time fully supported by Microsoft. This has been a dream of many since Netflix announced the availability of streaming content and dealt with the buginess of the unofficial applications in the aforementioned review. It has finally arrived, for Vista Media Center, fully supported by Netflix and Microsoft. So does it live up to the wait?
I've taken a video of Netflix within Vista Windows Media Center which should give you a good idea of the features of the application. Since internet speed has an impact on this application, this was tested on a Comcast High Speed Cable internet service, with 2mb down…so results may vary for you if you have faster/slower speeds:
Above & Beyond
The Netflix application in Media Center is one word: SLICK! Having used
the previous Netflix in Media Center applications, this one from
Microsoft is miles ahead of those. The UI is slick, while the colors do
not, the interface itself mimics Media Center in general. Scrolling was
very responsive and I found the interface to be very fast to access,
from the scrolling around to the beginning to stream.
Having the Media Center progress bar that you can scroll through the
selected video quickly was fantastic! You can easily jump around a
video, and the app also supports resuming of a video you had previously
started–ironically something Windows Vista Media Center does not
support (but Windows7 does).
The color scheme is a complete departure to Media Center's
traditional blue gradients, but I found them to be a pleasant style
consitant with the familiar Netflix experience.
Falling Short
The only true issues I found with the Netflix application were in the
support of the operating systems, having no support for Media Center
Extenders is a big miss in my book. This application is going to be
quite popular, and completely abandoning the Extenders will definitely
frustrate Extender owners (see: Jennyfur). As of right now, this only
works in Windows Vista, so if you are running the RC version of Windows
7, you're out of luck. Now, understanding common sense, I can assume
once Windows7 gets released officially, that there will be something
similar (if not even better!), but until then you will have to roll
back to Vista.
Another complaint for the application itself has to do with the
installation process. Since most add-ins do not do it much different, I
cannot fault them much for the need to exit Media Center and go to a 2
foot installation of silverlight and the application. What is
frustrating however is the need to restart the Media Center after
install. I am sure this is required due to whatever is being installed,
but I just wish Microsoft would have done whatever necessary to prevent
this. There is nothing more dissapointing than getting excited,
installing the application, and then having to wait for your system to
reboot (and if you are recording a show, then you need to wait even
longer).
Grade: Approved for Everyday Use

The Netflix for Media Center application brings up an
interesting dilemma–with so many movie choices at your fingertips the
necessity for having to wait for the actual discs has decreased (this
could be why Netflix requires a certain membership level to stream).
The benefits are universal for those familiar as you have access to
Netflix's growing library of online movies. I consider myself an avid
movie watcher, and it's impressive how quickly the Netflix streaming
selections have grown. While initially it was a lot of odd or lesser
known films, they now have a vast amount of current movies and tv
series. Between the TV and Movie offerings, you could cancel your cable
and stay occupied for a long, long time.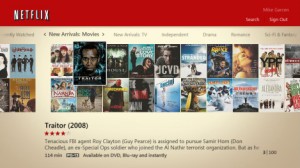 My only real question
would be, "What took so long?" Having had the other 3
community-developed Netflix applications since their inception, it's
unclear why this needed to wait until a few months before Windows7
launch. That question aside however, good things come to those who
wait, and this is a fantastic plugin. It's refined interface, smooth
and quick playback, and impressive quality makes it a must-have for any
Netflix subscribers.
And it wouldn't surprise me if many of you
non-subscribers test this out and convert after experiencing it. The
lack of Extender support is dissapointing, but as long as you are just
on the PC, this will become one of those apps you will be hard pressed
to live without.
Product Vitals
Website: Netflix.com
Creator: Microsoft
Price: Free