BoxeeTV – Day 3 – Configuring AppleTV with Harmony Remote

After using Boxee with my Apple TV for a few days (Day 1 Setup | Day 2 First Use ) I noticed the one downside about using AppleTV as my platform of coice–I absolutely hated the remote. I don't have abnormally large hands, yet the remote would constantly get lost in my hands and pushing buttons was not very comfortable.
So knowing that I have a Harmony 890 for everything else, it only makes sense to try to pair that to the AppleTV. I was already curious how this would turn out given the vast difference in buttons from the AppleTV remote versus the Harmony's, as well as the setup process. Some simple google searching showed that it could be done, albeit with some workarounds. By the time I launched the Harmony software, low and behold they had already updated their database not only to include the AppleTV, but even a dialog box with apparantly a known issue in regards to pairing.
Here is how I set up my AppleTV for an eventual "Boxee" activity: Add Device > Media Center PC > Apple > AppleTV, and it found it right away. Then I was prompted the following popup alerting me on what to do if I encounter pairing issues: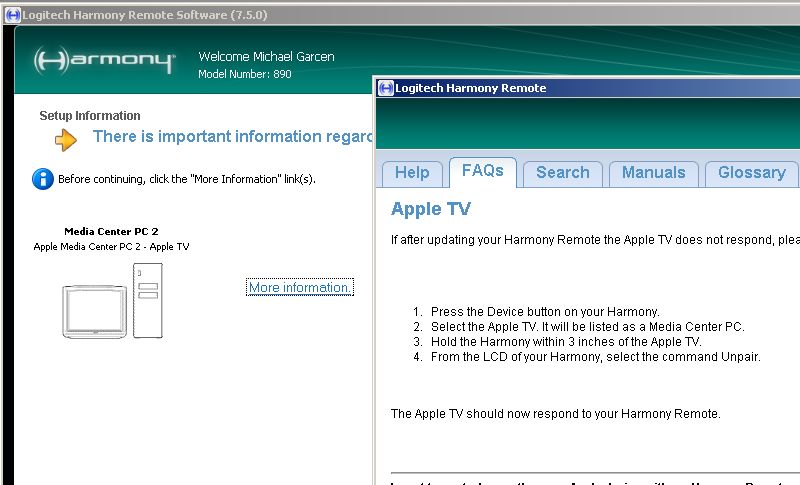 It's nice to see Logitech incorporate this type of FAQ into the product setup–it was the first device I had seen that with and should help in reducing the number of support calls they receive. Once that was completed, I synced my remote just to confirm it worked.
For creating an activity, I used the "Watch LiveTV" configurator to go through the manual process, and had to manually select each option individually (sorry, there's not yet a "Use AppleTV for Boxee" pre-defined activity). This was as painless as normal, and then I was up and running.
Using the Harmony after using the AppleTV takes a bit of an adjustment, but the buttons seem to press faster for me, and the entire experience is just smoother. Of course, there's only a few buttons you need to use–Menu, OK, and then the arrows. The only option on the screen is "Aspect" to adjust the aspect ratio. I occasionally found myself pressing the wrong button, but for the most part it was acceptable.
My only gripe is that the Activity takes an awful long time to start and for the life of me I cannot figure out how to speed up the process, or even how to change the order in which the devices are turned on. A minor quibble sure, and more of a complaint of Harmony's software than Boxee….of course