BoxeeTV – Day 2 – Using and Loving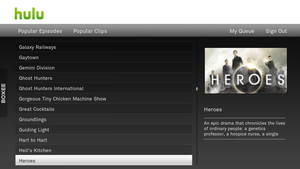 Following up on part one of setup of Boxee on AppleTV , is the actual living and using the software in a home theater environment. Luckily my receiver has multiple inputs, so I didn't necessarily have to CHOOSE to migrate 100% over to Boxee, as I still have a need for my cablecard and blu-ray abilities that my main Media Center provides.
I ran into a launcher 2.2 bug (serves me right for hacking appleTV!) which prevented ther resolution from changing from 480i. Fortunately, a quick hardware reset of the AppleTV made things right and within no time I was ready to go in HD on my 32" LCD. Since my internet and cable TV has been down for the last few days, I figured it was the PERFECT time to test Boxee to be able to catch up on my favorite shows.
My initial feeling about Boxee is there's no central search ability. I understand this is the limitation based on all the multiple providers and not having clear APIs for each, but it is challenging if you are not familiar with the content all the sites provide. If anyone knows of a guide which helps you on this voyage, it would be greatly appreciated. For example, I was looking for the latest episodes of "How I Met Your Mother" (Great Show!) and was confused–do I start at CBS, Joost, Hulu or something else? The Videos > Internet is wonderful because of all the options available, but it's also a bit overwhelming as well. I struck out at CBS right away, but luckily had more luck on Hulu and was able to watch my show. The quality was good (what you would expect), and browsing over to CBS the quality was even better–near HD! I was able to watch a full length episode of "Worst Week"with 2 commercial interruptions. The only odd thing in that experience was that the Pause feature did not work at all. I'm sure it's just a bug, but just a heads up.
After the first day, the main message I left with was "I need more friends!" The reason being, the main portal of Boxee has social networking integrated quite well. On the top, you get "Recommendations" and after that you see "Friends Activity." Why is this so important? Well, lets say you have some friends (who are using Boxee, of course) who are more religious about promptly finding and watching the very same shows you like. Once they watch a show it will show up in your "Friends Activity" section–meaning you would not even have to drill down into the Internet Videos. My request would be that they expand this to also have a "Top Viewed" feature from all Boxee users, just in case people like me only have 1 friend.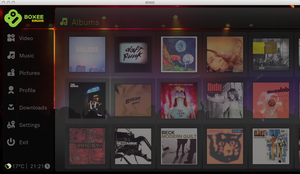 Stay tuned for more info as I continue to learn, live, love and write about Boxee!
BTW, if any MissingRemote readers want a Boxee invitation and haven't received theirs yet, feel free to ask in the Comments and I'd be happy to oblige. 
And of course, if you are a Current Boxee user, add me as a friend (Shadymg).