ASUS WL-330N 5-in-1 Wireless-N150 Mobile Router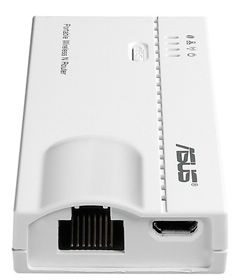 The myriad of network permutations encountered when traveling with multiple devices is so diverse that covering them all seems impossible. Wired only access, web based authentication or per-device access charges? The ASUS WL-330N 5-in-1 Wireless-N150 Mobile Router has it covered, offering five discrete operating modes: NAT firewall router, access point, repeater, Ethernet adapter or [the almost magical] hotspot. Naturally, packing this many features into a small, USB powered, $45 dongle requires some trade-offs – mostly paid in setup convenience.

The Device
The ASUS WL-330N 5-in-1 Wireless-N150 Mobile Router's most attractive feature, Wi-Fi account sharing (Hotspot), is called out on the front of the packaging with the other modes listed on the back. In detail the five modes are:
Wireless Router: acts as a "normal" consumer Wi-Fi router with NAT based firewall, DHCP and DNS relay features. The Ethernet port is used to connect the WL-330N to an Internet source (i.e. cable modem).
Wireless Access Point: Simple Wi-Fi access point with the firewall, DHCP and DNS relay services disabled. The Ethernet port must be connected to an established network offering those services.
Wireless Repeater: extends an existing Wi-Fi network.
Wireless Adapter: connects to an existing Wi-Fi network, exposing that network via the Ethernet port.
Hotspot: similar to the Wireless Router except that it connects to an existing network via Wi-Fi with the Ethernet port acting as a wired part of the internal LAN. Enabling connectivity for devices that do not have wireless capabilities.
The Wi-Fi dongle supports 802.11 b/g/n, but is limited to 150Mbps operating at 2.4GHz. While this is acceptable for most applications, support for 5GHz would have added additional flexibility especially when operating in Hotspot mode.
While the WL-330N is not attractive per se, the form factor's size and minimalism is functional and appreciated. It is small, and because it is powered via micro USB there are many options for providing the 1.7W of electricity required to the device (mobile chargers, PC USB port, USB battery pack, etc.). The only complaint, and just a niggle at that, is that the status LEDs are quite bright and blink frequently so be prepared to turn it over in a dark environment.
In Use
The WL-330N changes its IP address depending on the mode selected, so finding it on your network can be a bit challenging at times. It is exposed for auto-discovery in Windows Explorer, but that was not always reliable unless it was freshly reset. ASUS provides an application for locating, and one for location and configuration ("Router Setup Wizard") that always worked, so I just used it instead of fumbling with the other options.
Whether using the browser or "Router Setup Wizard," the configuration screens are identical offering a simple mechanism for selecting/configuring the desired operational mode. Switching modes on-the-fly was a bit unstable however, as was changing the target wireless access point when operating as a repeater, wireless adapter or hotspot. It appears that the WL-330N gets caught in a loop as it attempts to connect to the previously configured network making subsequent configuration difficult. After struggling with this behavior, I found it best to reset the device (press the reset button on the bottom for five seconds) whenever switching locations or before changing modes. When employing this strategy, the WL-330N worked exactly as expected; connecting to several different types of networks (wired, wireless open, wireless WPA/WPA2, etc.) without issue.
While each mode has value (I have used them all in the short time with the WL-330N for various purposes), the most useful has been the Hotspot configuration because it vastly simplifies the process of traveling with multiple IP connected devices. This feature is marketed as a way to save money in locations that charge per device (e.g. airport/hotel Wi-Fi) by paying for one connection and piggybacking off of that via the WL-330N; and it works brilliantly. This is also a fantastic feature because it enables the use of devices (e.g. Roku) that do not support browser based authentication, and saves significant effort even when not paying per device because it is not necessary to configure the wireless settings on each device – phone/tablet/laptop – as the landscape changes.
For those who want to dig a bit deeper, the WL-330N provides an advanced section as well, offering a surprising number of knobs-and-dials for a device of this type. The most important is the password (default is "admin/admin"), but it also has options for port forwarding, dynamic DNS, and firewall configuration to name a few.
When operating as a normal router or access point, the WL-330N's performance is consistent with what can be expected from a device of its size. No issues were encountered with range or performance in a small house or hotel room. As a repeater or hotspot, range was consistent with what was observed previously but there was an expected drop in performance. The amount varied in different locations between the baseline (connected to the site's access point directly) and when repeating (connecting the WL-330N to the site's access point). The degree to which performance was affected appeared correlated to signal quality to the site's access point with the Intel Cetrino 6205 adapter used to set the baseline able to cope with poor signal better. Where signal was adequate, some loss was still observed but relatively minimal and still well within acceptable levels.
Conclusion
The ASUS WL-330N is far from perfect. Most critical is that it more efficient to simply reset the device when moving environments than struggle with the device as it attempts to enforce a state that is no longer valid. It is also a bit slow and is limited to operating in the overcrowded 2.4GHz frequency space. All that said, at the core it is very difficult to knock the ASUS WL-330N too hard for any deficiencies because the value delivered by its versatility and function so vastly outweighs the quirks.  While the user experience requires some polish, the small, low power, and inexpensive ASUS WL-330N gets the job done.
Pro:
Fantastic feature set for travelers
Low power
Form factor
Price
Con:
Flakey when switching operating modes
Requires device resets when moving between environments
Requires a device with Ethernet to configure