Intel Core i5-2400S and DH67GD Micro-ATX Motherboard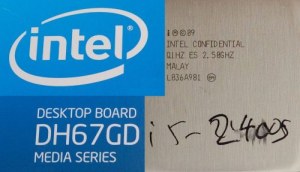 Having previously examined both the 95 and 35 watt extremes in the Sandy Bridge CPU lineup, we now turn our focus to the 65 watt 2.5GHz Intel Core i5-2400S and Media Series DH67GD micro-ATX motherboard with built in IEEE 1394a (FireWire) support. With the basic capability questions already answered, let's find out if by providing four physical cores with lower power consumption this CPU and motherboard combo can find the right balance between outright performance and efficiency in a full featured home theater PC (HTPC).
UPDATE: The model number has changed to DH67GDB3 for motherboards with the updated H67 PCH.
Core i5-2400S: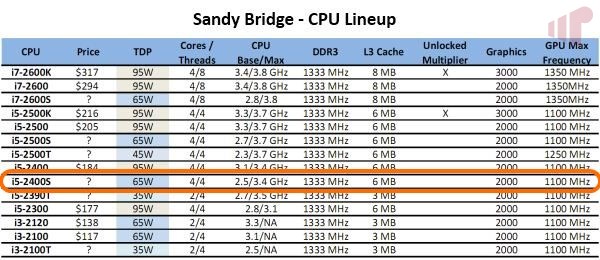 Like all Sandy Bridge i5s except the i5-2390T, the i5-2400S is a quad thread CPU with four physical cores–the main feature, along with Turbo Boost (dynamic CPU frequency selection within a range), which differentiates it from the i3 members of the family. Like all non-"K" Sandy Bridge desktop parts it includes the Intel HD 2000 GPU with the "S" designation marking it as a 65W TDP CPU.
DH67GD:
Specifications
| | |
| --- | --- |
| Form Factor: | microATX (9.6" x 9.6" – 243.84mm x 243.84mm) |
| CPU Support: | LGA1155 Core i7, i5, i3 |
| Memory: | 4 x 240-pin DDR3 1066/1333 SDRAM DIMM (32GB Max) Supports 1.35V+ (up to 1.8V) low voltage JEDEC memory |
| Chipset: | H67 Platform Controller Hub (PCH) |
| Video: | 1 HDMI / 1 DVI-I / 1 x DisplayPort (only two can be simultaneously active) |
| Audio: | – 10 channel (8+2) analog audio via Realtek ALC892 audio codec – 8 channel digital audio (LPCM and HD bit streaming) via HDMI and DisplayPort interfaces – 2 S/PDIF (1 x TOSLINK back panel / 1 x internal header) |
| LAN: | Intel 82579V 10/100/1000 Mbits/s Ethernet Controller |
| I/O: | – 2 USB 3.0 (back panel), 14 USB 2.0 (6 back panel / 8 internal) – 2 SATA 6.0 Gb/s (internal), 4 SATA 3.0 Gb/s (1 eSATA back panel / 1 eSATA internal / 2 SATA internal) – 2 IEEE 1394a/FireWire (1 back panel / 1 internal) |
| Expansion: | 1 x PCIe 2.0 x16, 2 x PCIe 2.0 x1, 1 x PCI |
| Consumer Infrared (CIR): | Nuvoton W83677HG-i I/O CIR (internal header) |
| Cooling: | 3 PWM (4-pin) fan header |
The DH67GD is laid out almost identically to the DH67BL motherboard examined in our launch coverage with the inclusion of an internal IEEE 1394a header being the only difference. It was therefore not surprising that like the DH67BL I found working with the board very easy; only noting the proximity of the RAM slots to the CPU socket as a potential issue with some heat sink and fans (HSF). A retail HSF was not provided so the sample was tested using the Swiftech MCX-Vcore and 80mm PWM fan which proved more than adequate for maintaining excellent temperatures and silent operation with the 65W i5-2400S.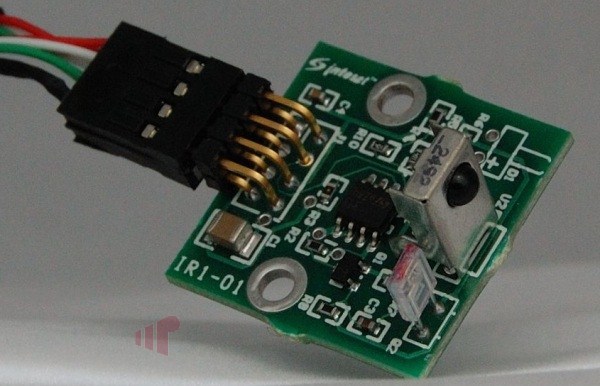 It has been said before, but bears repeating because of how useful the included Consumer Infrared (CIR) header is, putting it on the short list of favorite motherboard features alongside user configurable power LED behavior when in standby. Because the feature is not enabled by default in BIOS, it will need to be enabled after installing a CIR. Then after the Nuvoton drivers are installed it acts as a fully functional Microsoft eHome RC6 IR receiver. This not only frees up a USB port and allows for a cleaner install because the receiver can be mounted inside the chassis, but also includes a feature not supported by the standard USB receivers – wake from off (S5) and hibernate (S4) in addition to standby (S3).

The back panel hosts two USB 3.0, FireWire (IEEE 1394a), Ethernet, eSATA, six USB 2.0, DVI-I, HDMI, DiplayPort, analog audio and TOSLINK (optical S/PDIF) outputs. While there are three display options provided, only two can be driven at the same time with the BIOS giving precedence to HDMI and DisplayPort if all three are simultaneously connected. I did not find a reason for three connections, but two were used (DVI and HDMI) for watching 3D Blu-ray movies because I do not have an HDMI 1.4 audio video receiver (AVR). Only HDMI and DisplayPort provide audio with this motherboard, a difference from the DH67BL, which will output audio over DVI because it lacks DisplayPort. In the previous scenario only one audio output was necessary however, with an HDMI cable passing HD audio to the AVR and a separate cable used to connect to the TV via a DVI->HDMI adapter.

As noted earlier, the DH67GD is very similar to the DH67BL even sharing the same BIOS (along with the DH67CF); with the only differences being DisplayPort and FireWire support. With DisplayPort absent on consumer electronics it is not that useful for HTPC use yet, but for those using an HD cable set top box (STB) IEEE 1394a support is an essential feature because it is the best way to handle channel changes with most PC DVR software solutions. While FireWire add-in cards are available, it is hard to argue with the convenience (and not using a PCI slot) of having it built into the back panel.
System
Test Configuration:
* Add-in cards were used to test motherboard stability and compatibility only; they were not installed during performance testing unless otherwise noted.
For the majority of the performance and media testing DH67GD and i5-2400S were installed in a Moneual 312B. In this configuration several different add-in cards were installed in the PCIe slots, including two different tuners and two discrete video cards all without any problems. Options for active cooling are very limited in this case so besides what was provided by the power supply no additional fans were used in any of the test scenarios.
After bricking my first Intel motherboard (a DG45ID) after ignoring the supported RAM voltage specification, I have been hesitant to push the envelope on this point. Official support for voltages expanded beyond 1.5v with the H67 Media Series motherboards to include the span of 1.35v-1.8v and with our friends at Patriot Memory graciously providing 4GB of 1.65v DDR3 it was time to put it to the test. Generally it is more interesting to find and report issues; happily in this case there were none, so I think it is safe to consider the "Intel motherboards are very picky about RAM" guidance retired.

Windows 7 installed without issue, but like most new systems the network interface controller (NIC) drivers were not included with the OS so at the very least make sure you have the latest set handy before getting started. I generally install drivers in a specific order starting at the most basic level, then going upwards and prefer to apply all of the drivers provided by an OEM (the exclamation marks in Device Manager bother me). So I always copy the chipset, storage (RST), Management Engine Interface (MEI), and NIC drivers on a USB drive before starting a new install. Everything listed but the NIC drive is optional for those just looking to get started, but for anyone using this system as an HTPC at the very least the MEI and video driver must be installed as well, as both are required for proper audio and video playback with PAVP.
For those sticking with Windows 7 and using Windows Media Center, the KB974324 hot fix from Microsoft is required to address an issue with a white line being displayed along the side of the screen in Media Center. This hotfix is included with SP1 so no additional effort will be required if that is installed.
Because the SP1 RTM was not available when testing was conducted the results were generated with Windows 7, with SP1 being installed on this system both in x86 and x64 configurations to ensure generally compatibly. No issues were noted upgrading from x86, but after installing SP1 on x64 HD audio bit streaming was temporarily broken until MEI and the video driver were simultaneously uninstalled and reinstalled; just uninstalling one or the other did not fix the problem. I was not able to reproduce this anomaly on any other x64 system, including other Sandy Bridge systems or by doing a clean installation of Windows 7 x64 then reapplying SP1 on the i5-2400S and DH67GD so it is very unlikely that anyone will see issue, but since I did it was worth noting.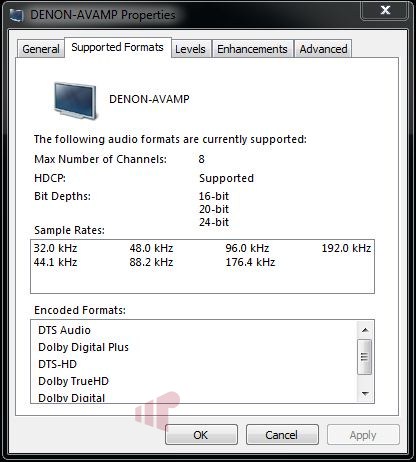 HD audio formats including Dolby TrueHD and DTS-MA are supported by Sandy Bridge CPUs when paired with an H67 PCH, so it was not surprising to see them all listed after MEI was installed. For those who use HDMI with multi-channel LPCM content, the audio driver provides support for 5.1 and 7.1 configurations. It is worth noting however, that while eight channel audio files played on a 7.1 system map each channel correctly, the issue initially raised in our first look at Sandy Bridge where six channel files played on a 7.1 configuration improperly map left/right surround audio to the left/right rear surrounds instead of the correct left/right side speakers is still outstanding with the current driver.
As first noted in our look at the Core i3-2100T we have seen progress with the issue where blacker than black (BTB) and whiter than white (WTW) are clipped and could not be enabled in the driver settings. With the latest video driver we can again enable the correct passage of BTW/WTW by selecting "Override Application Settings" in the GPU configuration tool. This not only aids in calibration and allows WTW, which does exist in actual content, to pass through but also enables specific calibration on the PC to correct for issues experienced when sharing an input on a display with other devices. The driver is still limited to 8-bit RGB 4:4:4 output, so the potential for issues when sharing an HDMI input with a devices sending YCbCr and banding when viewing "PC" content continues. Ideally the option for YCbCr output and greater bit depth should be provided to give end users the flexibility to choose the correct color format and bit depth for their content, display and calibration.
Compute Performance
The Home Theater PC provides an unmatched degree of the flexibility and functionality to the A/V stack, so we include overall media consumption testing in addition to the playback experience explored on other devices. This includes features like commercial scanning, which produces files used to automatically skip commercials during playback or encoding and transcode performance. First we will take a look at how ShowAnalyzer (SA), a utility used to detect commercials in recorded TV files, performs on the Core i5-2400S and DH67GD.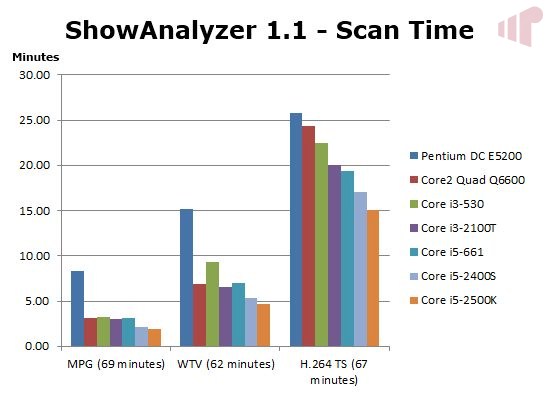 SA is an excellent way to access overall system performance as it stresses both the CPU and I/O subsystem by reading large amounts of audio and video data and decoding it using the processor. In this test three files utilizing different containers and codecs were scanned on each system with the time to completion represented in the graph above. As shown above the Core i5-2400S is faster than every system except the higher clocked i5-2500K. Most interesting from the results is the relative performance of the 2.5-3.4GHz i5-2400S versus the 3.33-3.6GHz Clarkdale based i5-661 which is also a quad thread CPU fabricated at 32nm.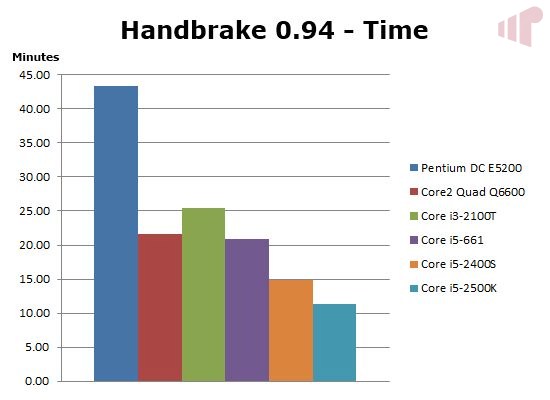 Given the results experienced with SA there were no surprises to be found in the numbers generated using Handbrake, a popular open source CPU based transcoding utility; we can see that the i5-2400S is only bested by its higher clocked sibling and outperforming the older quad core Q6600 and quad thread i5-661 by ~30%. Raw numbers only tell half of the story, so let's take a look at what this performance costs in watts.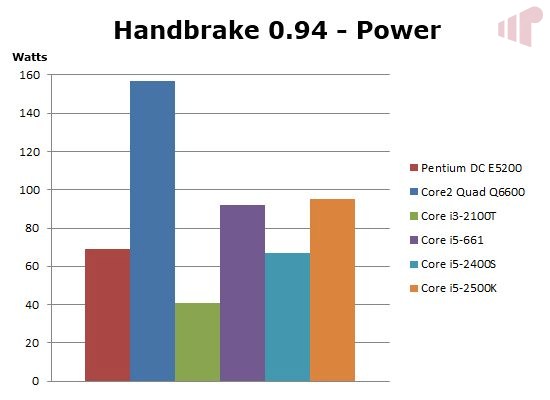 While it is interesting that only the 42% slower i3-2100T consumed less peak power during the test, I think the more important result captured above is that the i5-2400S came in 2W under the Core2Duo based Pentium DC E5200, the preferred choice for building an efficient HTPC just a couple years back, and 90W less than the Q6600– two generations of progress realized.
Quick Sync Comparison
With our look at the relative performance versus other architectures complete, we turn our attention to a more detailed look at the i5-2400S just against other Sandy Bridge processors using both the CPU and one of the new features included in the processor– Quick Sync (QS). For those who are unfamiliar with QS, it is a feature introduced to compete with the transcoding capability provided by GPU compute instruction sets like CUDA and APP (aka Stream) via fixed function hardware. We already covered the difference between QS and the other approaches in our first look so they will not be examined again; instead we will add the results generated by i5-2400S to those produced with the i5-2500K and i3-2100T using ArcSoft's Media Converter 7 (MC7) and the HTC EVO 4G transcoding profile.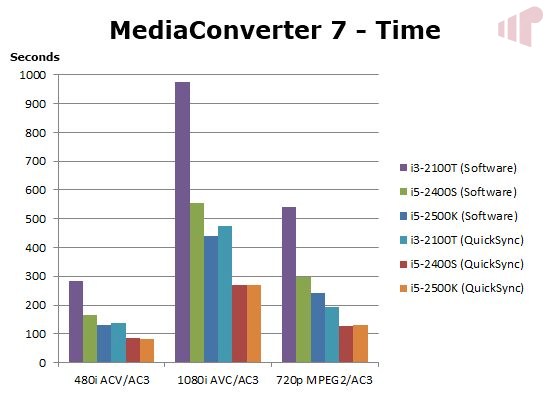 While these results, and the one that follow, are still not a real "ceteris paribus" because the differences in CPU clock speed it should be obvious that the HD 2000's 6 EU (execution units) do not handicap QS performance against the 12 EU found in the i5-2500K's HD 3000 GPU. We can clearly see that transcode time was almost equal between the two CPUs when using fixed function hardware, where using the CPU was very much in-line with expectations where clock speed and core count demonstrate a direct relationship to performance.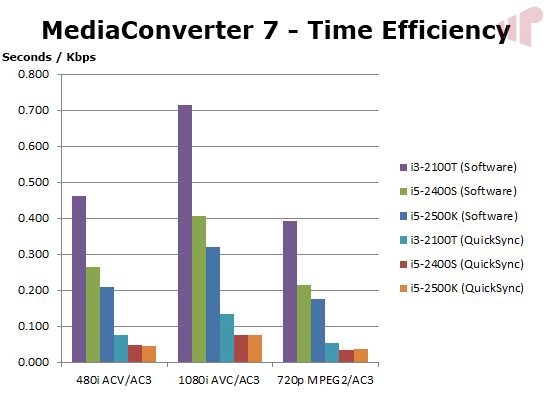 Correcting for the difference in target bit rates when using the CPU and GPU produces almost identical results as the raw time numbers with only the gap between software and QS transcoding becoming much more apparent.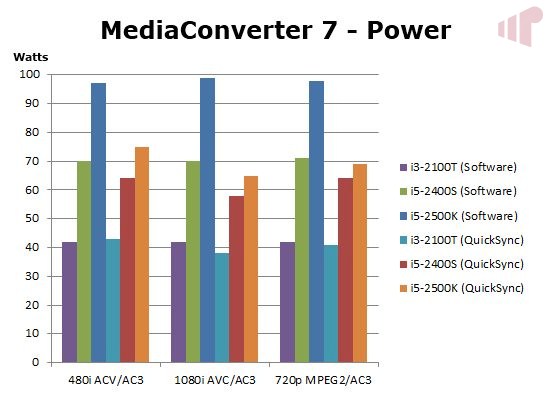 Looking at the power consumption numbers produces no surprises, with the 65W i5-2400S slotting squarely between the 95W i5-2500K and 35W i3-2100T.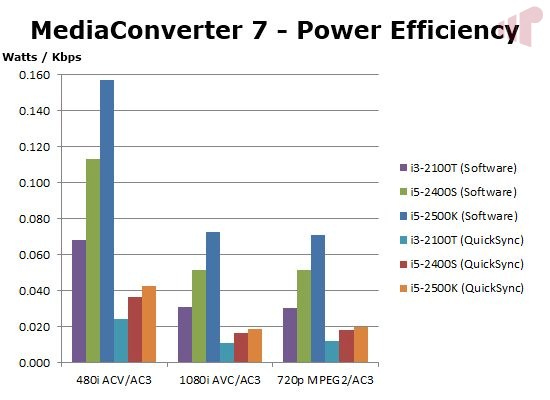 Like the earlier adjustment for bit rate, we see the clear value of fixed function hardware for transcoding performance.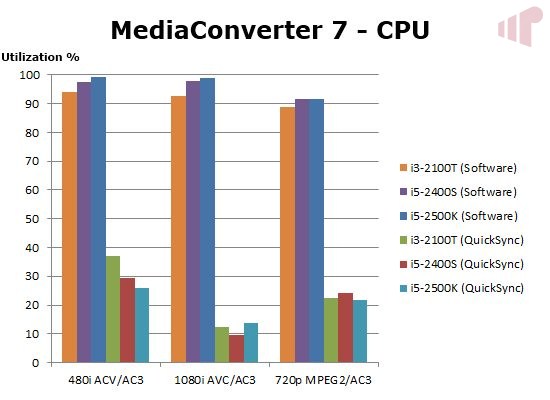 Finally the average CPU utilization numbers captured during the test runs are also presented. There is not much that can be drawn from a comparison except that QS provides a significant offload of processing cycles, freeing the CPU for other things.
Sandy Bridge v. Clarkdale
Having already demonstrated that the Core i5-2400S provides better performance than the Core2Duo base Q6600 and better power usage than the E5200 CPUs as well as the Clarkdale base i5-661 in our commercial detection and CPU transcoding tests, being fortunate to have some extra time with the platform I decided to do something special this time around and try using it as a replacement for my main HTPC.
So for this test the system was moved into my main case (a Moneual 320B) with the tuners and recording drive used in my production system running SageTV server. The systems were not exactly the same, with slight differences in RAM, SSD and cooling configuration (full system specification noted below), but for the most part they are close enough to produce some interesting results.
Sandy Bridge HTPC
| | |
| --- | --- |
| CPU: | Intel Core i5-2400S |
| HSF: | Swiftech MCX-Vore + Arctic Cooling 80mm PWM |
| Motherboard: | Intel DH67GD |
| RAM: | 4GB (2x2GB) Patriot Gamer 2 Series, Division 2 Edition DDR3 1600MHz (1.65v) |
| Storage: | COSAIR F120 120GB SSD, Western Digital Black 1.5TB (64MB cache / SATA 2) |
| Optical: | Lite-On iHOS104-08 |
| Power Supply Unit: | Antec EarthWatts 380 |
| Case: | Moneual 320B |
| OS: | Windows 7 Ultimate |
| Tuner: | Ceton InfiniTV 4, Avermedia Duet |
| Additional Cooling: | None |
Clarkdale HTPC
| | |
| --- | --- |
| CPU: | Intel Core i5-661 |
| HSF: | Swiftech MCX-Vore + Arctic Cooling 92mm PWM |
| Motherboard: | Intel DH57DD |
| RAM: | 4GB (2x2GB) G.SKILL Ripjaws Series DDR3 1600MHz (1.5v) |
| Storage: | Kingston SSDNow V-Series 128GB SSD, Western Digital Black 1.5TB (64MB cache / SATA 2) |
| Optical: | Lite-On iHOS104-08 |
| Power Supply Unit: | Antec EarthWatts 380 |
| Case: | Moneual 320B |
| OS: | Windows 7 Ultimate |
| Tuner: | Ceton InfiniTV 4, Avermedia Duet |
| Additional Cooling: | SilenX 60mm |
It is important to note the context of the temperature and power numbers presented below, as it is different from they are usually generated. In this case not only is additional hardware (i.e. tuners) present in the chassis, but it is also located inside my A/V cabinet a much more demanding cooling environment.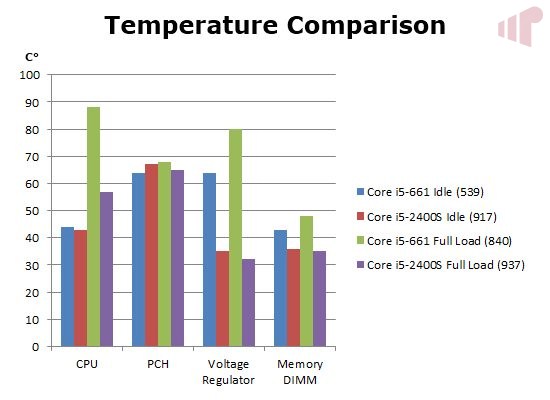 In this chart the temperatures for CPU, PCH, Voltage Regulators and memory are presented for idle and full load (transcoding). As we can see from the numbers above where the two CPUs are very close at idle, the i5-2400S much cooler under load. The other numbers show an interesting result at the platform level with the most important being the results obtained for the voltage regulators– which have significantly better performance on the DH67GD even without additional active cooling.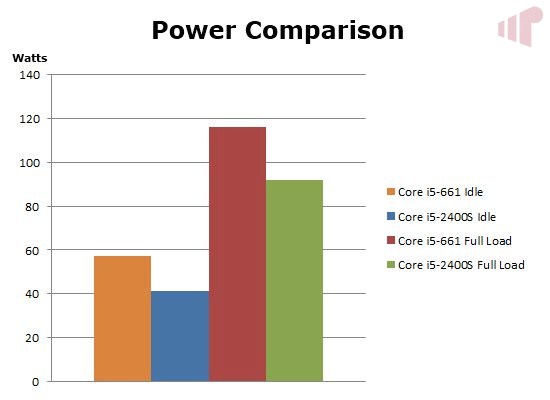 Taking a look at power consumption, we can see [again] that the i5-2400S uses less power than the i5-661 both at idle (28%) and full load (21%), while delivering (referring back to the Handbrake performance) a 29% increase in transcode performance.
These temperatures were also captured under the conditions noted above for four common HTPC scenarios using Intel Desktop Utilities (IDU), with the CPU ranging from 43° C at idle to 57° C during CPU based transcoding. As can be seen in the numbers above, overall temperatures were managed very well in the system while maintaining very low RPM on the fan used to cool it.
Media Performance
Intel's graphics drivers consistently produce correct video and PC levels when using HDM and DVI and the i5-2400S is no exception. As we can see from the screenshots, video content is displayed with 16-235 spanning the gap from black to white and with PC content correctly displaying 0 as black and 255 as white.
This is not the case when using DisplayPort however, at least not with my DisplayPort->HDMI adapter. Looking at the first image in the series we can see quite clearly that incorrect levels are being sent to the TV. Examining screenshots in the series it is notable that the ability to force a specific color space is not available when in this configuration, where it is with HDMI and DVI so this issue cannot currently be corrected. Interestingly the audio device was also missing with the adapter in use, so at least for now it is best to stick with HDMI and use DVI if additional video runs are required.
Intel continues to provide the most user friendly HDMI 1.4 3D experience, with only a small amount of configuration required set a display type when using two HDMI cables (one to the TV for video, the other to the AVR for audio) in ArcSoft TotalMedia Theatre 5 and Cyberlink PowerDVD 10. With that in place both standard Blu-ray and frame-sequential 3D Blu-ray playback worked excellently. A patch Corel WinDVD addressing the issues with xvYCC capable displays remains elusive, so unfortunately it is still unusable.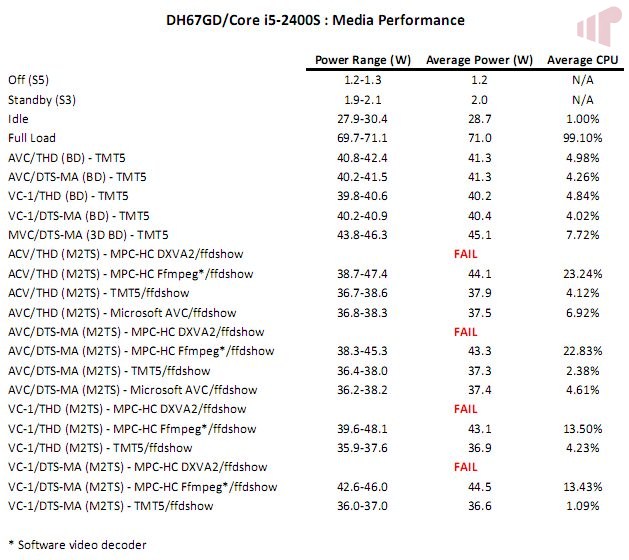 Anyone familiar with what we have seen from the other Sandy Bridge CPUs should find nothing unexpected in the chart above. With the i5-2400S providing excellent power consumption and overall media performance with hardware accelerated rendering and has enough "go" for smooth software based decoding as well–a good thing for MPC-HC users, because DXVA2 support is still an issue with the built in video decoder for both AVC and VC-1.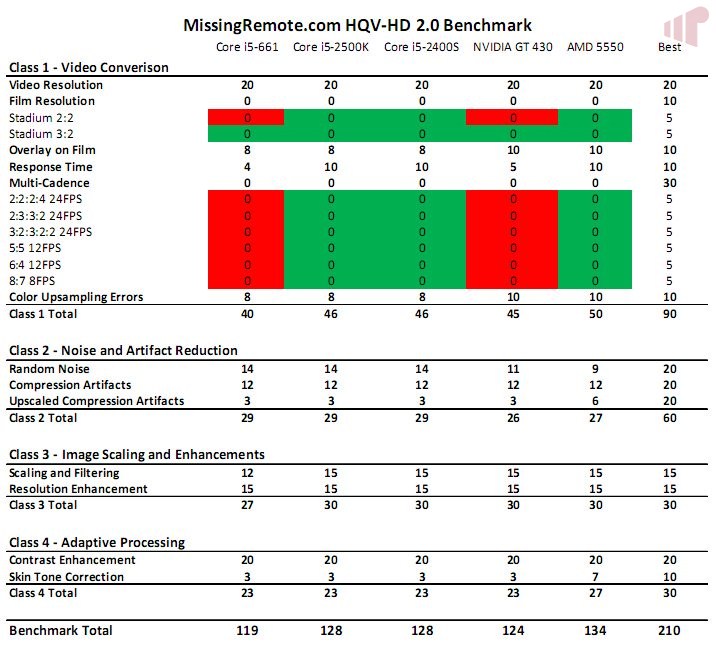 When evaluating HQV-HD scores it is important to remember that while numbers are produced, the outcome is still somewhat subjective and open to interpretation so results should only be evaluated within the context that created them and are not directly comparable between displays or reviewers. Given the results achieved with the i5-2500K and i3-2100T, the i5-2400S's score was predictable as it shares the same GPU as the i3; where we discovered that the reduction in EU (i5-2500K's HD 3000 v. i5-2400S's HD 2000) has no measurable effect on picture quality.
Artificial benchmarks are useful, but applying the results outside of the intended context can produce misleading results so three series of screen shots from 480i AVC/AC3, 720p MPEG2/AC3 and 1080i AVC/AC3 recorded television content are provided from the i5-2400S, AMD 5500 and NVIDIA GT430. In each set of captures roughly the same* frame is available so you can see (and judge for yourself) what each solution produces.
Brightness and color are the most apparent differences between the AMD GPU and output from NVIDIA and Intel, but variance in deinterlacing performance and noise reduction are also notable. These differences are most obvious in the 480i series–something that is not surprising because it is arguably a worst case scenario (highly compressed, low resolution, interlaced sports programming, with a lot of lines).
* DirectShow is a time based media framework, so it does not provide a perfect mechanism for selecting specific frames.
Because refresh rate precision is important for all sources of video content, not just 24p (23.976 frames per second) samples from 23.976 (1080p), 29.97 (1080i) and 59.94 (720p) files were also captured using the i5-2400S, GT430 and 5550 for comparison. Intel has historically struggled with refresh rate precision and officially this continues to be an issue with the GPU unable to provide accuracy beyond the decimal point. Fortunately, the disable UAC "Easter Egg" covered in our initial look at Sandy Bridge continues to be a viable option, so if the trade-off is acceptable much better results are available with Intel HD graphics–with it providing precision similar to that from other GPU solutions.
Conclusion
With a current street price of $199 the 65 watt Core i5-2400S is not the fastest CPU we have tested, so there are some trade-offs in raw performance versus higher clocked alternatives. That said, building the perfect home theater PC is more about finding balance than just speed. Like other Intel Media Series boards the ~$107-$121 DH67GD 's CIR feature and user selectable S3 standby LED behavior make it standout in the crowded microATX market, the addition of built in IEEE 1394a (FireWire) on the back panel gives those with HD STB the perfect way to never miss a channel change. Offering excellent power usage, thermals and overall performance this system provides an outstanding solution for a full featured HTPC.
There are still a few outstanding issues with the platform most notably including multi-channel audio channel mapping, lack of proper YCbCr support and uncertainty around refresh rate precision, which hopefully can be addressed quickly.
Pro:
Excellent thermal performance
Full featured HTPC server capability
Good board design
Stability
Correct levels with HDMI and DVI
HDMI 1.3 Audio (Dolby TrueHD / DTS-MA bit streaming)
HDMI 1.4 Video (3D Blu-ray)
Wake from S5 with CIR
Con:
Requires disabling UAC to get better levels of refresh rate precision
The DH67GD is not currently availability as we will wait for updated PCH with SATA2 fix
DisplayPort is not currently suitable for HTPC use
Thanks to Intel for providing the Core i5-2400S and Media Series DH67GD micro-ATX motherboardand Patriot Memory for the 4GB (2x2GB) Patriot Gamer 2 Series, Division 2 Edition DDR3 1600MHz used in the review.