Vidabox vCase3 – Slimline HTPC Case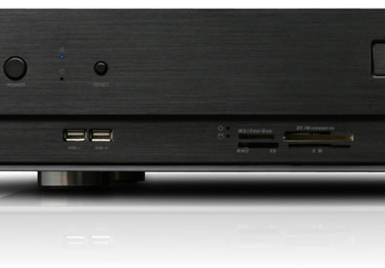 | | |
| --- | --- |
| | When building a Home Theater PC, the case is quite possibly the most long lasting component and one that if chosen smartly can be used for build after build. While you may swap tuner cards, motherboards, video cards, and more, a good case will provide a foundation for your HTPC builds year after year while looking smart in your family room or home theater. Let's take a look at the updated vCase3 from Vidabox and see if this case has the potential to last through those many builds. |
Unboxing
Vidabox is developer of digital entertainment, home automation, and system control solutions. The company was founded in 2005 with custom Media Center PCs and rapidly expanded their product offering from there. Today they provide solutions across the entire spectrum of digital home entertainment to include Media Center PCs, Media Servers, Multizone Audio, Home Automation, Media Extenders, Software, and Accessories.
In today's review we are going to take a look at the Vidabox vCase3 Home Theater PC Case. The vCase3 is a high quality, low profile HTPC case targeted at the enthusiast market who cares about having both a fully functional and visually appealing computer case in their family room or home theater.
Let's start with taking a look at what comes inside the box and then later we will look a little closer at all the details of the case. I'm not going to do a full build log with the case today, but we'll bring that to you in a few weeks and take a look at all the considerations of building a Home Theater PC in a low profile case.
Included In The Box
(1) vCase3 chassis w. Integrated card reader
(1) vCase3 cover
(6) Flat head black cover screws

Accessories Box


(2) Tie Mounts

(3) Zip Ties

(15) Motherboard screws

(1) Optical Drive Plate Bezel

(4) Power Supply (PSU) Screws

(5) White Rubber Vibration-Isolating Screws (for Optical Drive)

(13) Black Rubber Vibration-Isolating Screws (for Hard Drives)

(10) Paper offsets (for Motherboard)

(1) Power Switch Extender cable
On To The Unboxing
| | |
| --- | --- |
| | |
| Here's how the case arrived. Looks like it was only slightly abused by UPS. | Ta da! Oh, we're not quite there yet. The computer case is safely packed in a foam frame that is backed with cardboard for twice the protection. |
| | |
| We're getting a little coser now. The case is wrapped in protective plastic wrap to keep the foam from scratching the finish. | And here we have almost everything. Inside the case there is another box of goodies. The envelope includes a Blu-ray logo on a transparent sticker that can be applied to the case. |
| | |
| Finally we get the case out of the box. The front of the case is brushed aluminum, while the rest of the case is steel. | In the box inside the case, we find all the screws, the optical drive plate in a nice brushed aluminum to match the front, a pc motherboard speaker, and also some cable management accessories. |
Photo Specifications
Photo Specifications
For this review, I'm going to take a different apporach to reviewing the specifications. Instead of the normal bland written review specifications with boring words and numbers, MissingRemote.com presents the Photo Gallery of Specifications! (A few clarifying written titles still included as provided by Vidabox along with my thoguthts – which you can do with as you please)
Model: vCase3 (Black Only)


The vCase 3 is a a great looking case – with clean lines, a flip down front panel, and plenty of ventilation this is a very attractive low profile offering from Vidabox. The rear vents are particularly welcome and will allow heat from both the GPU and the CPU to escape directly from the top of the case.

Construction
Material: Aluminum Front Face & Steel Chassis

The power buttons are nicely set in the brushed aluminum front panel. The etching of the lettering and logos is also of very high quality. The rest of the case is constructed from steel and painted in a flat black. The finish of the front of the case is flawless, but ton the sides and top there is definitely a texture to the paint that is evident. All in all the case should blend in very well in your AV rack. Most of my friends just thought it was a DVD/Blu-ray player on initial inspection.


Motherboards: Mini iTX, MicroATX (mATX)


Here we see a microATX board dropped into the case. Plenty of space as you can see, but it will be almost directly up against the power supply.

Compatible
PSU Support: Full ATX


As you can see there is plenty of space in here for a full ATX PSU and a microATX motherboard (above). There is even a gap on the side of the PSU that allow air to flow in and around the PSU case which was a nice touch. This allows the ventilation on the side of the PSU to actually function. Most cases jam the PSU directly up against the side of the case.

PCI / AGP Card Support: Half height/low profile

Hmm….looks like I won't be using my Hauppauge PVR-500MCE in this case. Full size cards will definitely not be fitting. However, as you can see, my low profile FusionHDTV card fits like a glove. While there are many low-profile cards on the market in the tuner, audio, video categories it definitely has an impact on your selection.

Drive Bays External: (1) Full Sized 5.25" Bay

There is only one 5.25" bay and it is located on the right hand side of the case above one of the 3.5" drive slots. The 5.25" bay uses a quick lock/release mechanism that perfectly positions the drive. A brushed aluminum panel for our optical drive is also included that you attach with double-sided sticky tape. An additional screw has been added in addition to the quick release mechanism to help keep the optical drive secure during transit if you move your case around a lot or plan on shipping it anywhere.

Drive Bays Internal: (3) 3.5" HDD Bays

With 3 drive bays, this low profile case can compete with the storage capabilities of larger cases. The 3 hard drive bays also have quick lock/release mechanisms just like their larger brother the optical drive. As you can see there is an 80mm located adjacent to two of the hard drives. This is actually an intake fan that pulls cool air into the case and across two fo the drives.

Expansion Slots: 4

The case supports the standard 4 expansion slots available for a microATX motherboard. There are also rear ventilation ports that assist with venting the heat generated by the CPU.

Front I/O: USB2.0 port x 2;
Multi-format Media Bay (card reader) x 1

The front ports are hidden behind a flip down panel. I love this feature because it still provides all the access you need for quick connecting USB, or dropping in a SD card full of photos while still maintaining a clean aesthetic. On the right you can see a little silver nubbin. This is actually a magnet and that is what keeps the front panel closed. The use of the magnet creates a very smooth and quiet open close mechanism for the front panel. Vidabox actually comissioned their own integrated card reader because they couldn't find one that made them happy.

Cooling System: 80mm side intake fan (pre-installed)
(Can be replaced w. different performance fan)

On the left hand side of the case there is an 80mm fan that provides cool air flow across two of the hard drives. This is included case fan. There is no space for a rear mounted fan on the Vidabox vCase3.

Dimensions: 16.9"(W) x 4.5"(H)(w/feet) x 16.1"(D) // 435mm(W) x 115mm(H) x 408mm(D)


Easily fits in any AV rack. The depth tends to be the largest concern with a HTPC case but this is the exact same issue no matter the case. The feet can be removed which can save you a little height if you need it. Width is pretty much standard for AV components.

Finishing Touches

There are a number of small details that really make this case – among them beautifully etched and discrete labels as well as the nicely finished feet. On the inside, the quick realease locks are also an excellent touch that making popping hard drives in and out very easy, while locking them securely in place and reducing transfer of vibrations.
Conclusion
The Vidabox vCase3 is clearly a beautiful and thoughtfully laid out home theater PC case. It provides all of the features an enthusiast requires and makes it easy to quickly build a fully loaded configuration. This slim case can support video cards as powerful as a Radeon HD 5770 and with 3 terabyte storage right around the corner, this case could act as a PVR with 9 terabytes of storage. Pretty crazy in a low profile case that blends right into your AV rack…
Today was just a quick look at the Vidabox vCase3 HTPC Case. In the near future, MissingRemote will be publishing a full build log featuring the Vidabox vCase3 and take a look at the component tradeoffs of building in a slimline HTPC case.
Pros:
Absolutely beautiful low profile HTPC case – clean lines and hidden access to ports.
A lot of flexibility in a low profile case – 3 hard drive bays, full size PSU
Lots of little special touches – rubber gasket screws, quick lock drive bays, integrated card reader
Cons:
Quality costs money – a little more expensive than your average PC case
The blue LED (power on) is really, really bright! (We'll see this in the build log)
Could use an internal tray/window for placement of an IR receiver above the integrated card reader – but this might just be my personal preference.
You can find the Vidabox vCase3 Slimline HTPC Case at the Vidabox eShop for $239.99
Thanks to Vidabox for providing the review unit.