Diamond HD Mini Media Player
| | |
| --- | --- |
| | Have you ever been on the road and wanted easy access to your content on that hotel TV or that projector at work and didn't want to mess around hooking up your laptop? Want something ultra-portable,low cost and just works? The Diamond HD Mini Media Player (MP700) just might be that player you are looking for. |
Hardware Specifications
Specifications:
---
Product Dimensions 2.6" x 2.6" x 0.6"
Product Weight 0.10lbs (1.6ounces)
Box Dimensions 8.875" x 5.875" x 2.5"
UPC 757448010213
SKU MP700
---
Features:
---
Input Interface USB 2.0
SD/MMC Card reader
Audio Stereo L/R
S/PDIF coax (cable not included)
Video Composit (480i/576i)
Component (480p/720p)
Supported Formats JPEG, M-JPEG, BMP, TIFF, PNG
RM, RMVB, AVI, MPEG1(VCD), MPEG2(DVD), MP4*
MP3, WMA**
---
Product Contents:
---
Diamond HD Mini Media Player MP700
Composit Video Cable
Component Video Cable
Power adapter
Remote control
Quick start guide
---
Web: http://www.diamondmm.com/MP700.php
* During testing downloaded MP4 podcast videos from Revision3 failed to play, at the time of this article have a support ticket open to find out the play back issues.
** Copy protected music from Zune Market place not supported.
Un-Boxing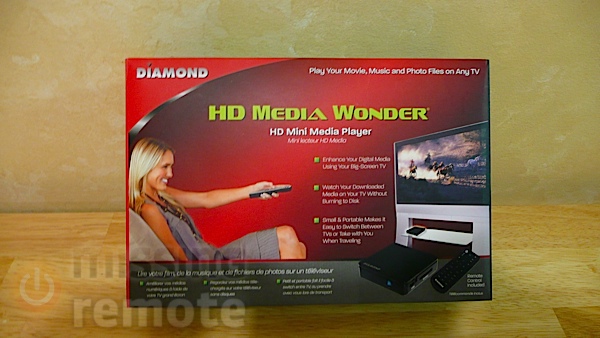 As you can see the packaging is pretty standard for AV equipment.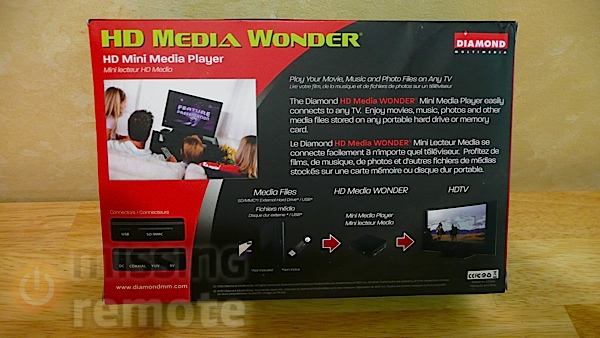 Pretty self explanatory.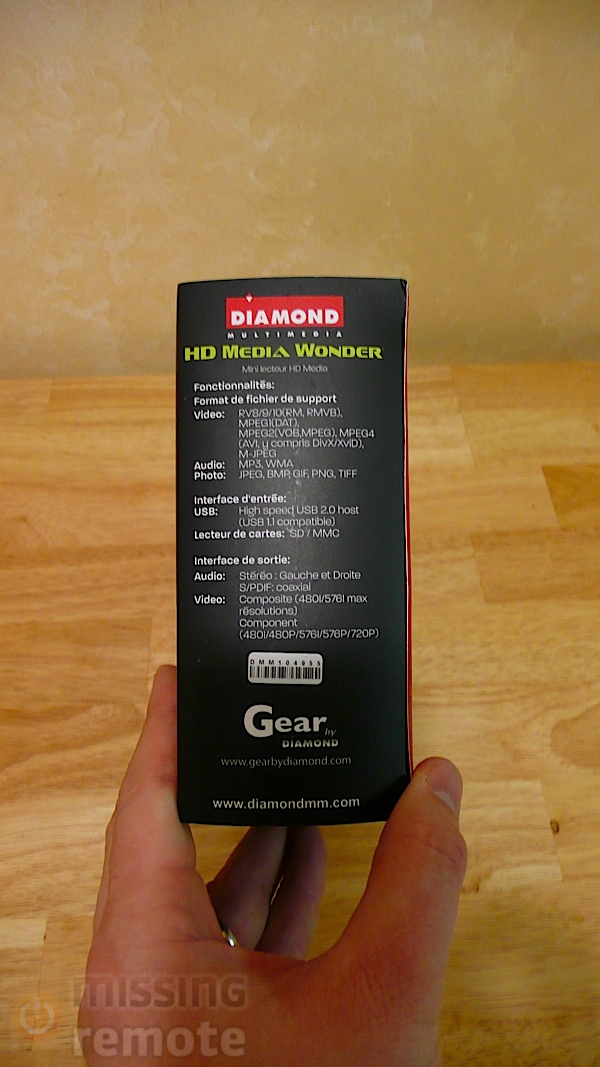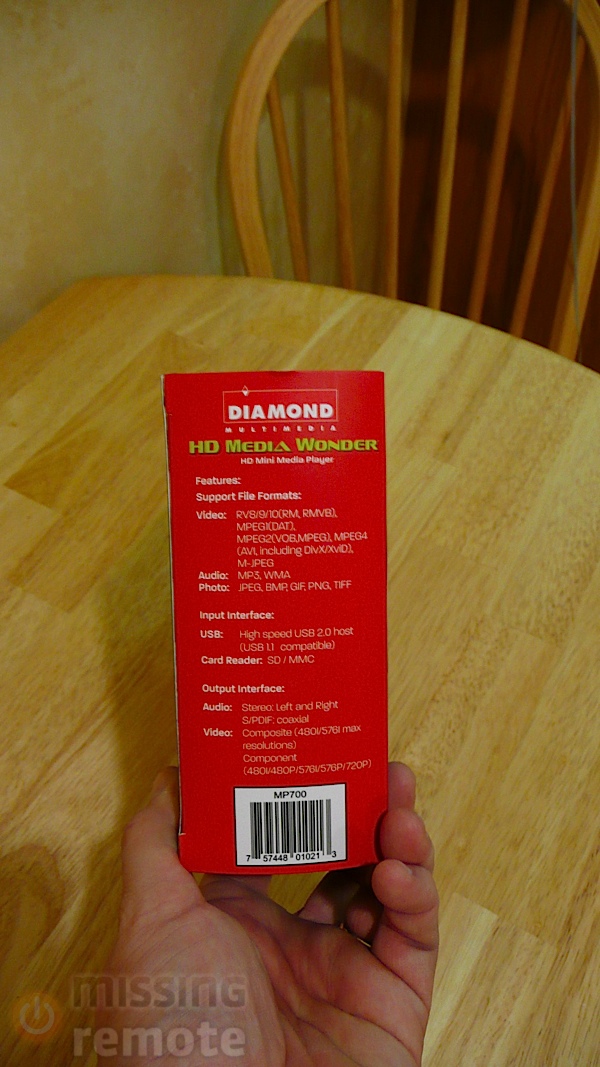 Break down of the feature set of the device.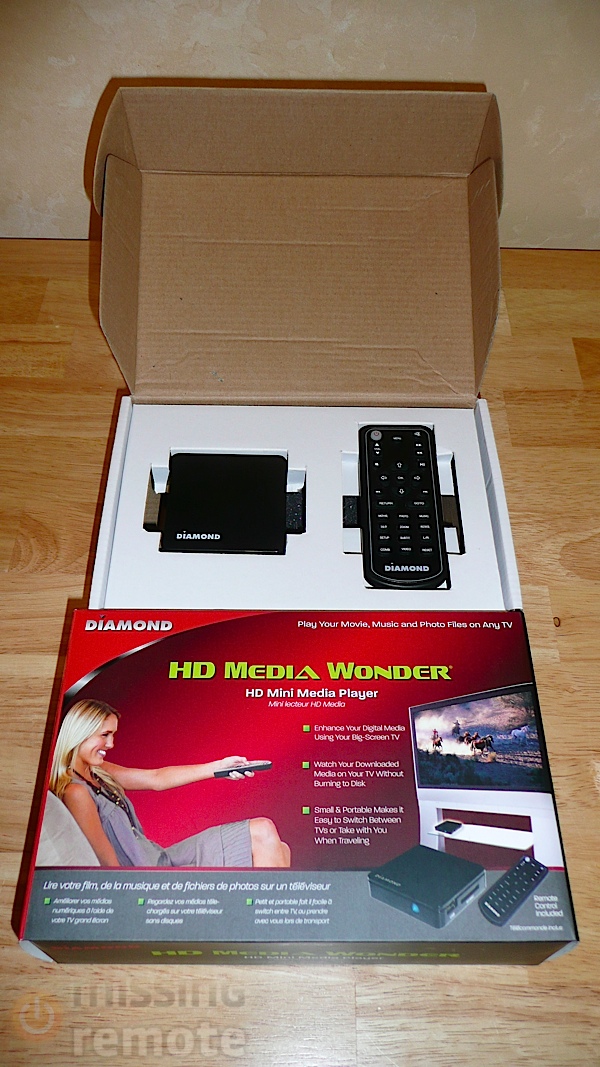 The un-boxing. The player and remote snugly tucked into the box.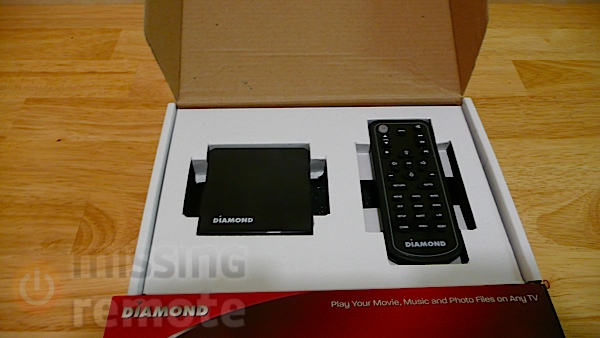 Close up of the player and the remote.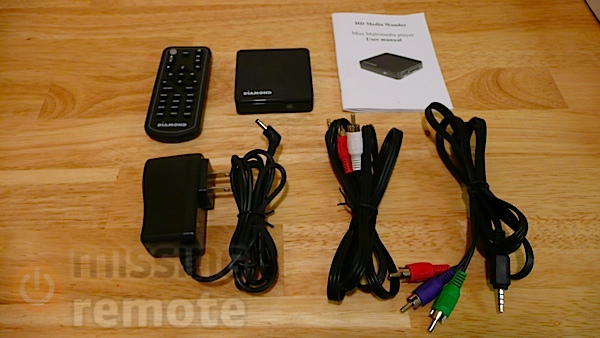 All the contents of the box.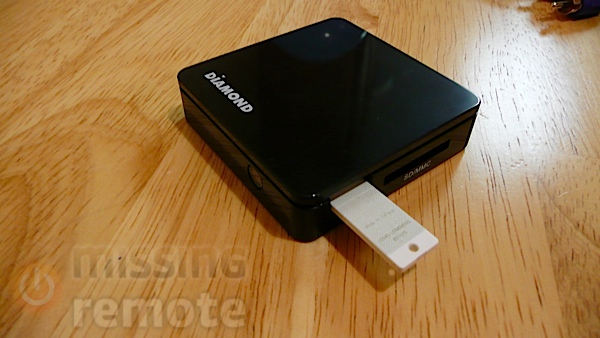 The Diamond HD Mini Media Player w/ 4gig USB thumb drive*.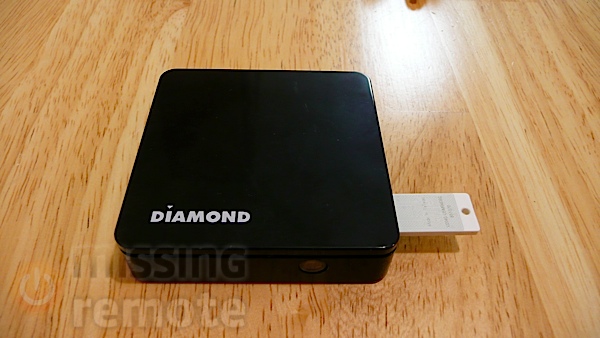 The front of the player, the circle is the IR sensor and status light. The light lights up a bright LED blue when turned on.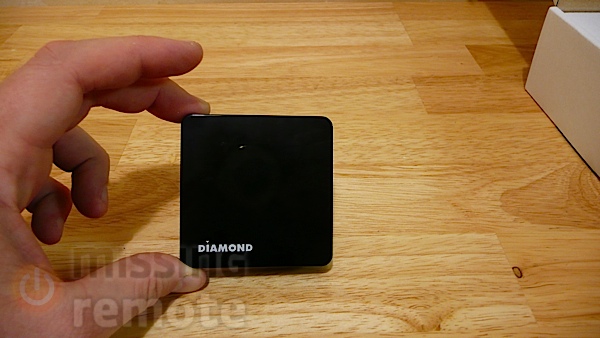 Top view of the player, piano gloss black. Looks really nice for how small the unit is.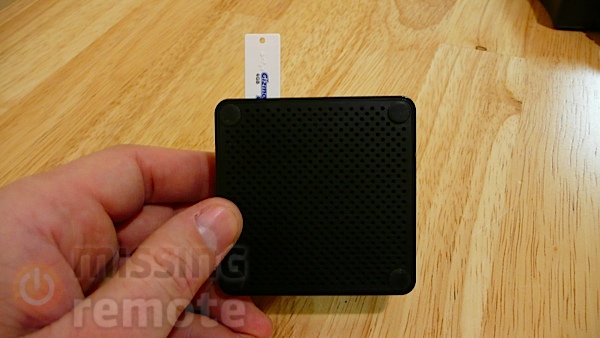 Bottom of the player, perforated for venting, as well as rubber foot pads to prevent sliding around on your shelf.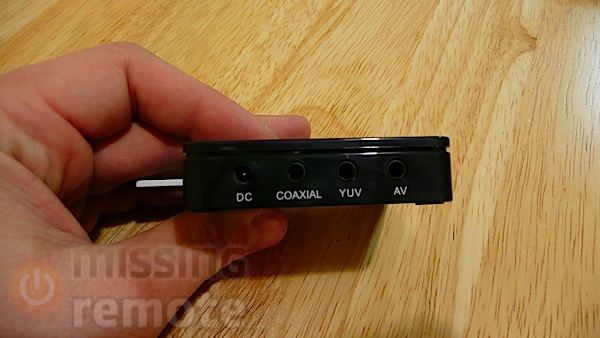 From left to right: DC power jack, digital coax S/PDIF audio out port, YUV component video port, composit AV video port. All ports are 3.5mm head phone style jacks.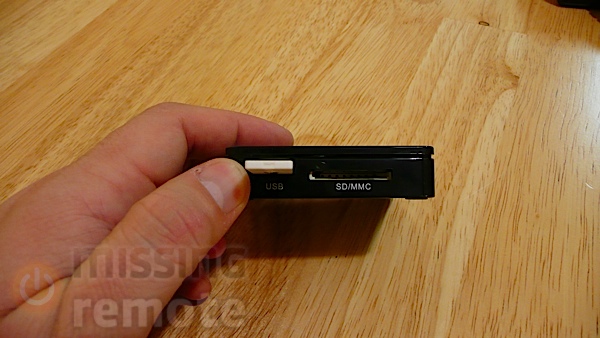 Left to right: USB 2.0 port, SD/MMC memory card reader.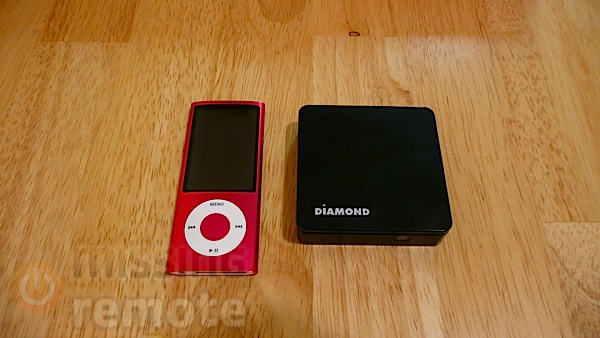 The device itself looks great, nice and compact, sleek looking, and piano gloss black. You can see it here, side by side, with an iPod Nano as a reference. That is one thing that surprised me right away was just how small this player is.
As you can see the Diamond HD Mini Media Player comes with all the basic accessories that you will need to get started. The only thing you need to provide is the storage via a USB thumb drive or SD/MMC memory card. At the time of testing a USB based hard drive was not tested but have been informed that it will work as long as it is formated correctly.
The packaging is pretty standard for A/V equipment, nothing to get overly excited about. One great thing because of the size of the player and how well it is packaged I wouldn't be worried one bit about damage during shipping.
The Diamond player is nice and compact, it is great for those persons on the go. Those who need something small and and easy to transport. Aside from taking this device on the road, I also have a few other ideas for this device that I will discuss later on in the review. Now that we've seen the unit, on to how it performs.
* Note you may want to find a small USB thumb drive so it doesn't stick out as far, that is the only downfall, but SD memory can take over for those needs since SD memory will go into the card reader slot and so they don't stick out very far.
Interface
The GUI itself is nothing to get excited about, it is not as slick as Windows Media Center, but for what you get it looks pretty good. When you first boot up the deice it brings you to the setup menu where you can configure the resolution, language, default audio, and video playback options.
The menu you first get when you boot up.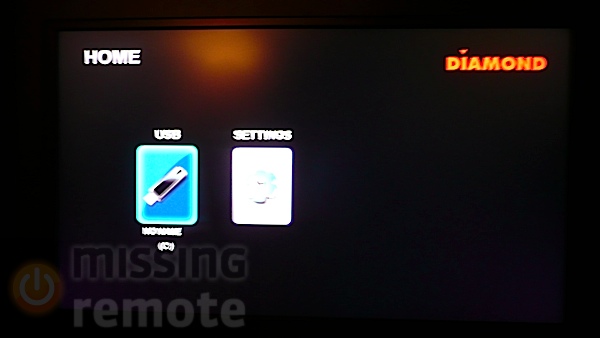 USB memory icon automatically pops up when you plug in a USB memory stick.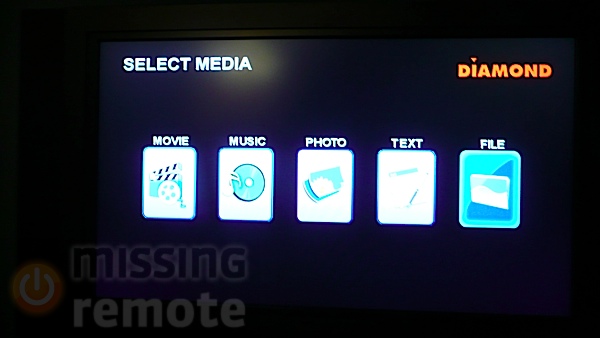 Main menu options once USB or SD memory card is inserted.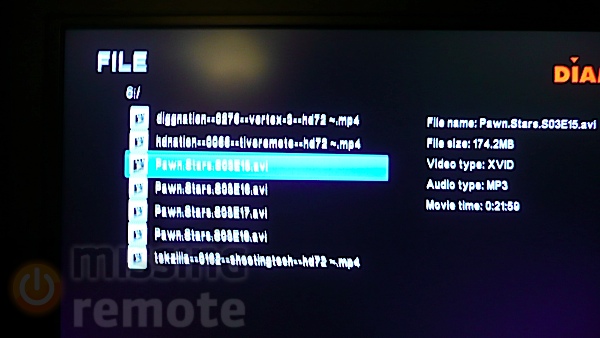 Movie menu. Basically shows a text listing of all available videos that can be played back.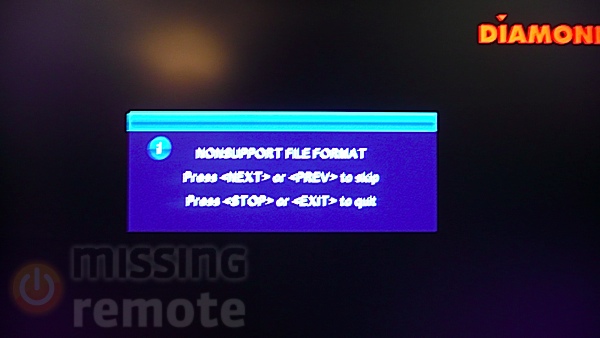 Error message I was receiving when trying to play back .MP4 videos. *See note below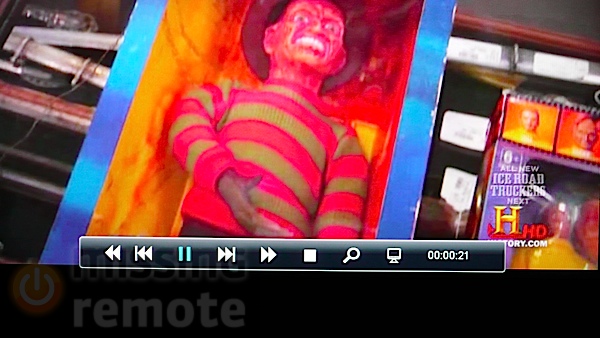 Pop up menu of control options. Thought I would throw in some freddy krueger into the mix with it being close to Halloween and all.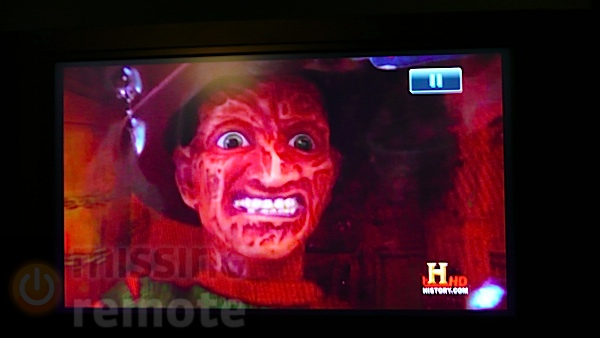 Pause icon.
As expected you get the basic menu options, no frills, no eye popping menus, just straight forward to the point menu system. Most users with stick to the first three menus, Movies, Music and Photos, I honestly see no need to open up text files or manipulate the files themselves to those two menu options are really not needed.
* As noted above when trying to play back .MP4 videos downloaded from Revision3 I couldn't get them to play back at all. I opened up a trouble ticket to get further information on the situation. I am still waiting back for a reply once i receive it I will update the review.
Implementation and Usage
Now onto the fun part, though the Diamond won't hold its weight with a full blown HTPC or even a straight up media player like the PopBox, or an Xbox 360, it is a great little device, based on form factor alone. Because of its size and also because it runs off of DC power, this device is perfect for those who have DVD players and/or LCD screens in their vehicles. Recently I purchased a new family vehicle which has a flip-down DVD player that happens to have auxiliary audio/video inputs. I used the Diamond player with the DVD screen in my vehicle for a few road trips we took and all-in-all it worked out really well. After finding a 5 volt DC car adapter kit at a local electronics store, I loaded up two 16GB USB thumb drives with several recorded TV shows and movies for my kid. One great thing about the Diamond player is that it automatically creates a playlist of all the video content, and keeps playing the videos one after another. I can just turn the player on, hit "Play" and away we go. No more fussing with DVDs in the car, and the variety I an get on two 16GB USB thumb drives allows for quite a bit of content.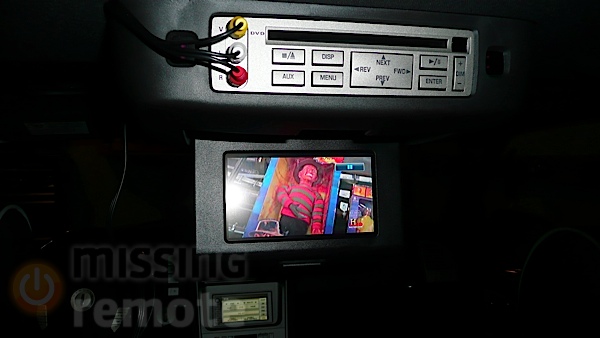 Player hooked up to the flip down DVD screen in my vehicle. More Freddy Krueger for you folks 🙂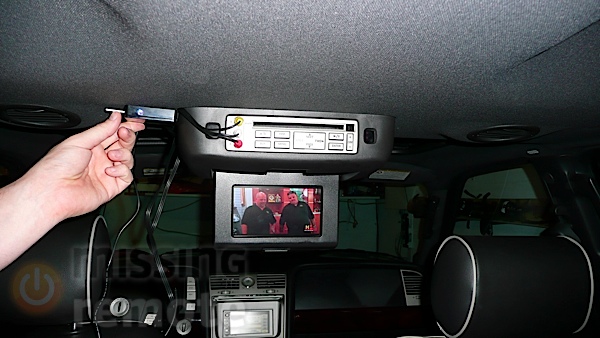 Playing around with some mounting options.
While the installation is not 100% complete, I plan on doing a custom install by mounting the player in a cubby hole in the rear of the vehicle and using a USB extension cable in the front of the vehicle which will allow me to swap out USB thumb drives. I also plan on installing an IR repeater system with the IR sensor mounted up near the DVD screen and when paired with a new universal remote I will be able to control the DVD player and the Diamond player with the same remote. I plan on doing a separate write-up once that is complete, so stay tuned 🙂
Some other great uses for this player are things like reviewing pictures while on a family vacation, no need for a laptop when you have such a straightforward device like this. Jjust take the SD card directly from your camera and plug it into the Diamond player and you will be watching your photos on the big screen in no time at all.
Conclusion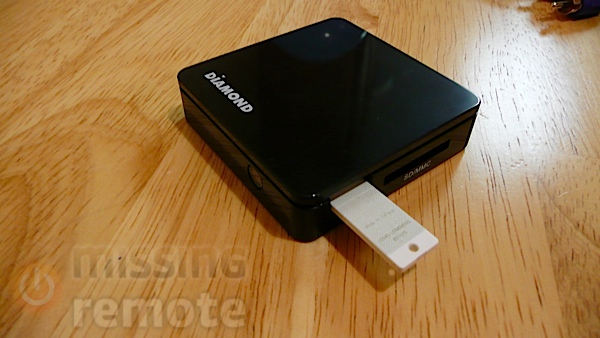 The Diamond HD Mini Media Player is a great little unit (I mean that literally) for what you pay. As of this writing the Diamond player is available from Amazon for $24. For $24 and change for the shipping, the Diamond HD Mini Media Player is a great little unit, especially for those who travel a lot or find the need to have a small form factor digital media player on hand that is easy to use and easy to setup. While this unit won't be used for every day use in a home theater setup, I will have no issues having this on hand to throw into my backpack on those days I am on the road, or for a nice little setup in my family vehicle for those long road trips that last longer than a DVD. In the end it's not the most feature rich player, but what can you expect from a $24 digital media player?
Pros:
Price
Form Factor
Video Hookup Options
Simplicity
Cons:
Lack of codec support
Lack of 1080p video support
Special thanks to Diamond Media for providing the review sample