Amulet Devices Remote Control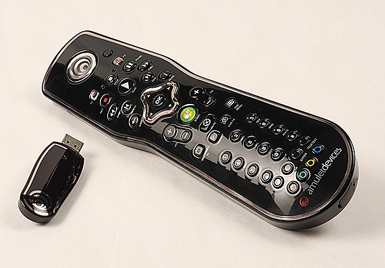 "Voice activated." In the past just the words alone have made many cringe as implementations have been fairly weak and suffered from a myriad of different variables in the environment which made performance lackluster. Amulet Devices looks to change that with their own Remote Control and Media Center (MC) software implementation by embedding a microphone inside the remote as well as designing their own interface for controlling it. The potential for voice has always been there, and it looks like Amulet may be the first to get it right.
The Remote
Let's begin with a quick video of the remote in action, just showing you the capabilities it has with my modest skills. This should give you a good idea if you want to continue reading the review or not:
System requirements are pretty minimal. Are there any Vista users still out there? If so, you're in luck as the Amulet Remote will work for both you and Windows 7 users of course. Other than that, just 2GB of RAM, a dual-core CPU and an available USB port for the receiver dongle.
There are two components to the remote–IR (infra-red) and RF (radio frequency). This was done to save battery power as the RF used for voice control does use more power than IR, so if you are using the button controls on the remote the battery will last longer. To differentiate the operational modes the Amulet logo blinks a different color; blue for IR and red for RF. Speaking of which, the battery is a VARTA EasyPack Rechargeable Li-Polymer battery. It is of course rechargeable, and Amulet includes the USB (Mini B) cable with it.
Also included in the package is an easy to follow fold out installation quick start guide, as well as two small cardboard "cheat sheet" guides, which have diagrams and phrases on how to use the remote. While this sounds complicated, it really was not, but the sheets do make getting the hang of the commands to make the experience much easier.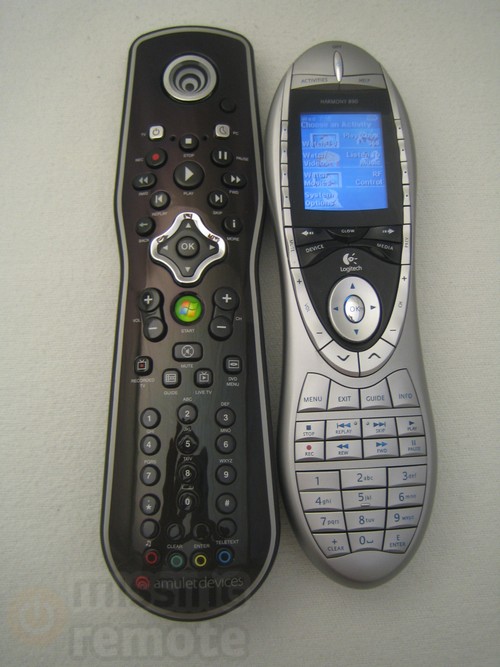 The remote itself is a bit larger than my Harmony 890 remote, but it feels lighter and equally comfortable to hold. The backing is a rubber material makes it quite comfortable to hold along with the grooves in the middle. The buttons are well spaced and not cramped at all. Since the main selling point of the remote is voice driven navigation, you may think they skimped on buttons, but like a true Media Center remote it contains all 48 buttons. Of those buttons, seven can be programmed to control a separate device–the traditional TV power and volume +/-, but also the four colored buttons on the bottom can be used to control other CE devices as well, like a Blu-ray player, or in my case I programmed it to control my audio video receiver's (AVR) power button.
Tactile feedback from the remote was very pleasant. The buttons are very responsive and make a gentle clicking sound when you click it. Front and center on it is the reliable Media Center Green Button, which is required since the voice activation controls do not work until you are in the MC experience.
Setup
The unit comes with the battery still in its packaging, so you do need to install that before getting started. The good news is that it comes partially charged so you can begin using the remote immediately without having to wait for that initial charge, which is always frustrating. Once the battery is installed, you simply need the USB Dongle connected to your Media Center PC to get started.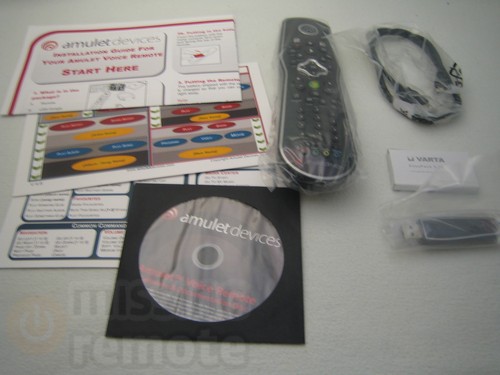 Since the IR functionality uses the standard MC codes, you can use the buttons without any special software installed but does require a separate Media Center IR receiver. In order to fully utilize the remote, Amulet provides an installation CD with their software on it as well as more detailed documentation.
Installing the software is as simple as can be, with very few customization options provided with the exception of the end to launch Media Center and whether or not to install "Paul," the default Amulet voice talker–this is the guy who will repeat the commands to you throughout. If you prefer a female voice, that is available as well. And if you simply do not want any voice speaking back your commands, you can do that as well. Since the Amulet software displays what is said on screen, I preferred the latter option.
Immediately after installing, Amulet software will run a quick scan of your media library–the reason for this is explained in the next section–and then will continue with a deeper scan in the background so you can begin using the software right away. I was able to get off the ground running using the default configuration but if you have some concerns about voice accuracy, you can use the Windows Speech Training (found in the Amulet folder) to configure and create profiles custom to you or others' voices, and then switch on the fly. In speaking with Amulet and with my own experiences, I'm not sure exactly how necessary this step even is, but it is there if you want it.
One caveat here–as you may expect I ran the installation via a Remote Desktop Connection since I didn't want to stop watching TV, and while the installation all went smoothly I had some issues with not all my media being found. It seems that through that connection it was unable to recognize the USB dongle and thus only scanned a limited amount of media. As soon as I ran the scan from the Media Center system main user then all my media was added properly.
Using the Remote
Amulet Remote software works as part of the Media Center (MC) environment and is developed using MCML, so unfortunately it does experience some hiccups through no fault of their own. Most notable is the several seconds it takes from when MC is launched until the Amulet software becomes initialized and you hear the "Welcome to Amulet" greeting–don't worry, you can turn that off as well. If you leave your MC on like I do, then this is a minor inconvenience you will rarely notice.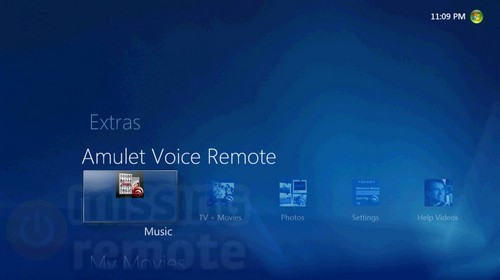 If you recall from the Setup section, following the installation of the software was a quick and then background search of media content on your system. The reason for this is that Amulet Devices has actually developed essentially their own User Interface (UI) skin for Media Center, basically replacing everything except the TV Guide–and even that I'm told is under evaluation for replacement in the future. The interface is fairly significant change from the traditional MC UI and is optimized for voice recognition–attaching numbers to words for example, to make accessing exactly what you want easier.
This new UI definitely takes a bit of adjustment, but after a while you understand the reasoning and appreciate what they are trying to accomplish with it. I have been using the blue Media Center UI for almost 10 years at this point, so it was a jarring at first, but I was able to adjust quite quickly. The beauty in the software is it's not a replacement to the MC UI, but more of an extension to the existing experience. Once you get the hang of the voice controls, if you so wish, you can completely avoid the interface itself and say the commands directly and they will work from any screen in Media Center–probably not a big deal for most, but a good alternative to have.
To get the richest experience is necessary to use the Amulet plugin. However, if I simply want to use basic voice navigation, to play a video that's in my root folder for example, I can still use the voice command "Go to My Videos" and it will take me to Media Center's Video Library instead of Amulet's, and then I can click away from there.
Using the remote is as simple as can be–to initialize voice you simply hold the remote vertical, like a microphone and speak into it (the Amulet logo will show solid red at this point). Within the Amulet plugin, there is a microphone meter in the lower left hand side that shows how clearly your voice came through. Once you speak a command, the software repeats it and it's also shown on screen, and then the event occurs. Getting the hang of things did take a bit of familiarizing myself with the specific commands the software listens for, but that is where those cheat sheets really helped.
I found myself browsing around my libraries in no time using just the voice commands for all things video, music, recorded TV and photos. The TV guide is a bit tricky with some station names; KICUDT was a tough one to tune to, but ESPN and SyFy worked like a charm. With station ID's with random letters, you will be pleased to know you can also tune to channels using their number instead of their ID.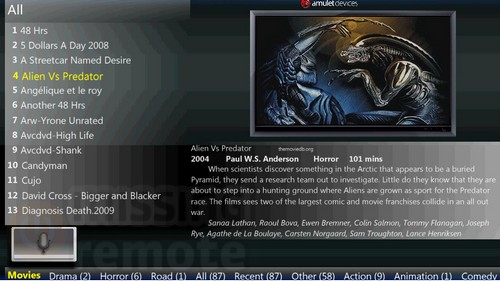 Photos, videos and movies were much simpler to browse around and view what I wanted. I should note, that Amulet does not have a separate folder monitoring configuration, instead it utilizes the same locations as you setup within Media Center itself. Also part of the TV watching experience is a commercial skip function, which honestly I did not test it much; this feature basically skips X number of seconds which you can configure in the settings. If you're serious about wanting to skip commercials, you should be using DVRMSToolbox from our very own Babgvant.
The movies section is definitely behind the ball when compared to dedicated apps like Media Browser or MyMovies, but I believe there are hooks in Amulet software to allow those developers to build in support for voice if the demand should arise–which hopefully there will be! (I confirmed with Amulet that an SDK is in the works and should be released shortly) As mentioned before, nothing will prevent you from using those or any other 3rd party tools within Media Center, but there will of course be some drawbacks to the voice capabilities within them.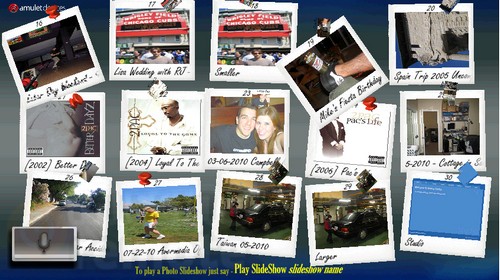 Playing video files also has a fair amount of voice integration using Media Center's standard playback software. While I do not see as much benefit to being able to pick up the remote to say "Pause show" as to just press the pause button, I DEFINITELY see a benefit in being able to start a show, and say the command "Skip to 10 minutes" and it will automatically jump me to 10 minutes into the program! Just a bit better than having to use the scroll bar 5 times just to try to get to 10 minutes in!
Slideshows is a collection of all the photos you have in your library and categorized into folders just as they are in Media Center, except the folders are split to 15 per page, and each folder has a thumbnail, the title and a number above it. Leave the screen idle and the software splashes through the various photo folders you have. The slideshow will of course function as you are playing music, just like the MC experience.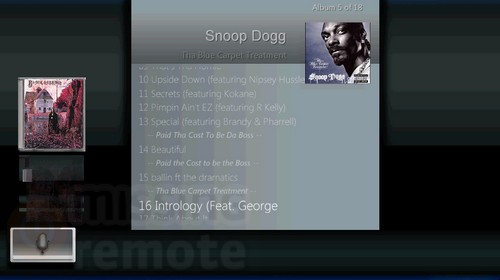 The real bread and butter of this tool is the music library. I have a "modest" collection of over 600 artists and over 17,000 songs. With this remote, I can go to the music page, and simply speak "Play Artist Led Zeppelin" and music will instantly start to play. No having to search. No having to browse and scroll through menus. That's it. Please make sure to checkout the video I made showing this in action because it truly is impressive having your entire music collection at your fingertips without having to push a button. If I had a projector, or simply wanted to save some energy, I could keep my TV unit powered off and completely control the music being played with the remote and not having to see a thing.
While I do think there is a market for all Media Center users, as mentioned above I think music lovers will simply fall in love with this device. The RF ability of the voice will allow a user to go fairly far away from their Media Center and still control the audio being played–not too shabby at all.
Conclusion
At an MSRP of $249, the Amulet Devices Remote Control is pricing themselves right along with the main competition for Media Center Remotes, the Logitech Harmony One series. In exchange of extreme universal devices functionality and a touch screen Amulet provide you instead with voice controls to help you navigate–basically what touch screen buttons would do anyways. The big key here is whether the programmable buttons on the Amulet device are sufficient for your needs. In my case my setup was simple–a TV, AVR, HTPC and Xbox360. If you have some more advanced products that require more button controls, then you may prefer a more universal focused remote such as the Harmony. However, if your devices are minimal like mine, then the Amulet will more than satisfy the universal needs while also providing me the ever crowd pleasing voice commands. Honestly, I could even see music aficionado opting to own both a universal remote like the Harmony and purchasing the Amulet if only for its dominance with managing music libraries.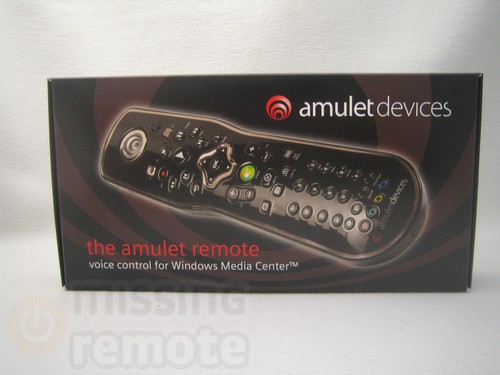 Overall I think Amulet have themselves a great device here which is up to the rather daunting task of easy voice control for a home theater PC. The software, while still in its infancy, is very impressive for everything it handles and makes for as easy a voice controlled experience as I have ever used. I can only imagine as the device becomes popular all the other software applications they will be tying into and being able to leverage.
Pros:
Voice control your media center that works
Easy to learn
Fits quite well in your hand
Illuminated control buttons
Separation of IR and RF to save battery life
Leverages the Media Center library of content
Multiple voice profiles if desired
Amulet user interface screens not required once commands are learned
Programmable remote buttons for up to 4 other IR devices
SDK will allow 3rd party developers to add support
Cons:
No docking station, just USB cable
Software still young
Software UI skin not customizable
BYO MC IR receiver