VIA Artigo A2000 2-Drive Barebone System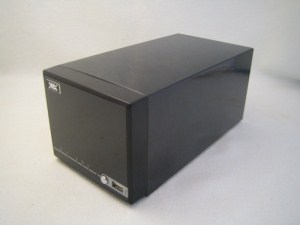 VIA ARTIGO A2000 2-Drive Barebone Storage Solution

We have covered a wide range of home server storage solutions, from the popular four drive systems from HP, to simple NAS solutions from QNap and even the 8-drive offering from Via. For a lot of people that simply don't need that much storage, Via has developed the Artigo A2000. It's a two hard drive barebone systems that offers an increasing amount of flexibility for your storage needs.
Specifications
As we prefaced in our review of the VIA 8-Drive NSD-7800 solution, you will be well suited to read our reviews of the similar products by taking a look at our Battle of the Home Servers and the EX487 review to see the various options that are already out there for Windows Home Server systems, either OEM or ones you can design on your own.
Similar to the other offering from VIA, the Artigo's chassis is not by any means an exclusive Windows Home Server solution. It will work and includes drivers for all flavors of Windows and Linux, if you desire to use it for a different application. However, for the purposes of this review I will be solely approaching the unit as a platform for WHS as I feel it was what most our readers are interested in. While there is built-in VGA graphics included there is simply not enough horsepower behind this to seriously consider it as a viable HTPC client.
| | |
| --- | --- |
| | |
| Front view of the unit (reflective gloss coating) | Rear of the unit |
Now let's move onto the specifications of the unit! Unlike the HP and other VIA NSD offering, the Artigo does not include any memory, and supports SO-DIMM DDR2 RAM. The single stick can max out at 2 GB, but for this review I have used a 1 GB SO-DIMM.
DIMENSIONS
| | | | |
| --- | --- | --- | --- |
| | HP EX487 | VIA NSD-7800 | VIA Artigo A2000 |
| Length | 9.8" | 13.3" | 10.2" |
| Width | 5.5" | 5.9" | 5.3" |
| Height | 9.2" | 13.3" | 4.5" |
| PSU | 200W | 300W | 75W |
| Drive Bays | 4 | 8 | 2 |
| Weight | 12.7lbs | 14.3lbs | 5.7lbs |
TECHNICAL SPECS
| | | | |
| --- | --- | --- | --- |
| | HP EX487 | VIA NSD-7800 | VIA Artigo A2000 |
| CPU | Intel Celeron 440 2.0Ghz 64-bit | 1.5GHz VIA C7®-D | 1.5GHz VIA C7®-D |
| Memory | 2gb DDR2 | 1gb DDR2 | None Included (2 GB Max) |
| Ethernet | 10/100/1000 | 10/100/1000 | 10/100/1000 |
| USB | 4 (1 front, 3 rear) | 4 (rear) | 3 (1 front) |
| eSATA | 1 (rear) | 0 | 0 |
| Drives Included | 1.5tb (2 x 750gb) | 0 | 0 |
| MSRP | $749 | $589 | $299 |
Here's how VIA describes it:
The VIA ARTiGO A2000 is based around a 1.5 GHz VIA C7®-D processor and
the latest VIA VX800 media system processor for a compact, secure, and
power-efficient home storage PC.
The VIA C7-D processor uses the exclusive VIA Hardware Security Engine
to ensure ample, secure storage of all your digital media and personal
data files.


Based
on the VIA VX800 Unified Digital Media IGP chipset the ARTiGO A2000
features the VIA Chrome9™ HC3 DirectX 9™ graphics engine and hardware
video acceleration for a smooth, compelling visual experience. The VIA
High Definition Audio codec provides high fidelity audio, completing an
immersive digital media experience.

The VIA ARTiGO A2000 is designed using a custom Nano-ITX form factor
mainboard. Using high quality solid capacitors, this superbly compact
native x86 mainboard is optimized for system stability in always-on
home server, streaming and download applications. Its silent
ball-bearing fan ensures that the system is remains sufficiently cooled
without creating unwanted noise.

The VIA ARTiGO A2000 supports up to 2 GB of 667/533 MHz DDR2 SODIMM
memory — enabling it to comfortably run Windows Vista. In addition it
supports up to 3.0 TB of storage on two 3.5" S-ATA hard drives with
data transfer speeds up to 3 Gb/s. There is also the option of
discretely installing the system's operating system on a solid state
drive via the ARTiGO A2000's CompactFlash socket.


The
VIA ARTiGO A2000 is bundled with the VIA Security Suite, a software
package that enables users to take advantage of the powerful built-in
hardware security of the world's fastest x86 security engine.. Users
can protect data by creating encrypted virtual drives with the VIA
StrongBox application. VIA StrongBox encrypted drives are the perfect
place for users to store their personal data including larger
multimedia files and projects.


The
ARTiGO A2000 comes bundled with the VIA System Management Tool for
dedicated 24/7 system monitoring. For users who frequently download
media via the internet, the storage monitor utility can be configured
to alert the user when free space is below a user-specified percentage.
This handy feature helps users to stay proactive in maintaining system
stability. A power-off scheduling feature is also included— helping
users to conserve energy with the system automatically powering off
after downloading completes.
Some items that stand out from the above include the omission of any bundled memory as mentioned before, and the lack of eSATA ports from either VIA offering. In a storage solution with limited expansion, it would have been nice to see at least one eSATA port to be able to add extra capacity over time. The lack of memory isn't all that bad if you're the type of user that wants to max out anyways with 2 GB. Now let's take a closer look.
Appearance
Unlike the generic brown packaging sported by the NSD-7800, the Artigo A2000 is designed with much more focus on being retail shelf friendly. The box is a glossy thick white cardboard with color pictures and crisp text descriptions. Everything is well fit inside as there are not too many components–the board, custom length SATA cables, heatsink and fans.
| | |
| --- | --- |
| | |
| Outer Packaging | Side of the Box Specs |
Inside the box is some custom foam packaging to hold the unit in place, and a small cardboard inner box which contains the accessories, power cables and external brick.
Immediately out of the box I was very impressed with the small size and stature of the unit. When I first received the HP MediaSmart server I was very pleased at its size, and considering this unit has double the amount of hard drive bays I was anticipating a significantly larger size. As shown in the dimensions before, this unit is just slightly larger than the HP unit, not even an inch wider and only 4 inches taller and deeper. In other words, this unit can fit anywhere the HP MediaSmart can while supporting twice the number of drives.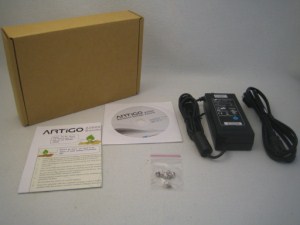 Inner box contents: User Manual, Driver CD, Screws, Power brick and cable.
Always difficult to photograph, the chassis features a glossy black paint finish on its front, sides and top. This is a nice touch but makes it very difficult to keep clean. Similar to the rear of the NSD, the Artigo did not include a painted finish on the rear backpanel.
| | |
| --- | --- |
| | |
| Front Angle of the Artigo | Unfinished Rear |
The Artigo does include a VGA port as shown above, which makes installation much easier and is a nice addition over the HP units. Also shown above is the Ethernet port, two USB ports…and some audio connectors (mic and line out). I understand that the Nano board used already had the sound features but the inclusion on the backpanel does strike me rather odd in a "Storage Barebone." I suppose one could use it for basic audio playback needs, maybe as a music server, but I don't see the majority of customers using it for that purpose.
Setup and Installation
One of the first things you notice when handling the Artigo A2000 is the rather obvious fact–the system does not have hot swap hard drive slots. If you want to add or replace any of the drives, you have to open it up and remove the front panel. Fortunately, doing so is a snap and just takes removing the rear three screws and two clips from the front.
Something not shown in the pictures below is the inclusion of a compact flash slot underneath the motherboard. This requires removing the board from the system but would allow you to install the entire operating system on the CF card and then use the two drives strictly for storage. A nice inclusion but this usage is much more useful for Linux users where the OS is significantly smaller than the 20 GB required for Windows Home Server.
| | |
| --- | --- |
| | |
| Straight look into the unit | Angled look at the board system and fan |
From the pictures above, you see where the SO-DIMM memory slot is (the small white bar to the right of the red SATA cables). This
was a rather tight fit that took some wiggling on my part, but I was
able to in short time. Sliding the drives in was a breeze and the system included screws to secure them to the side.
As with the other WHS-type boxes from VIA and Chenbro, this unit did not include an operating system so the onus is on the customer to purchase and install the OS of choice. There is no CD-Rom drive included so installation of the OS will need to be completed via USB stick or external DVD-Rom.
I still had my USB WHS thumbdrive unit from my previous installs so it was
used to complete the installation. After many a reboot, I was ready to go. Note that you will need to copy the drivers for the
Gigabit LAN port from the included CD onto your USB stick as well to get the integrated NIC working.
| | |
| --- | --- |
| | |
| Closer look at motherboard/fans | Vertical look behind the HDD plate |
One final note on the inside hardware is in regards to the fans. The Artigo includes a large rear exhaust fan (80mm) which allows for quiet cooling (VIA claims dB measurement of under 27dB), but then includes a 40mm fan on the CPU heatsink. I would have preferred a completely passive CPU choice here, especially given the lower powered C7-D CPU. While not an issue now, those smaller fans do have a tendency to generate louder noises as they age.
Power and Performance
Gauging performance on Home Server systems is always difficult since the Windows Home Server operating system itself is not really geared towards blazing speeds. If maximum speed is what you're after, you should probably be looking at a Linux RAID setup of some sorts that will not only maximize the system but the drive speeds as well–where this system is targeted more at producing good performance per watt, than raw throughput.
The system specs are very similar to the NSD-7800 from VIA, sharing the same CPU but putting memory selection in the hands of the end user. The CPU is the 1.5GHz C7 chip from VIA. This chip has been around a while and is a single core solution. Not a bad choice at all and it makes sense from a cooling/noise perspective but will definitely hinder your speed. I found performance to be similar and slightly more responsive than the original HP MediaSmart EX470 server, but not nearly as quick as the EX487, but this was expected.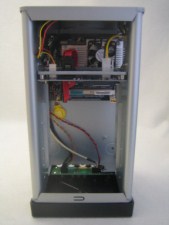 Vertical view of entire system
The fans inside the unit are barely audible at idle, but do ramp up as the system is taxed further. I found that they stay spinning fast even after testing had completed. Probably would not bother most as there was no unusual or annoying whirring sound.
With that said, let's move onto the most impressive part of this review, the power ratings for the system. Again using the EX487 as our baseline and keeping the other VIA system in the table, this gives us the closest real-world comparison of the units. I used a Kill-A-Watt connected to the unit to measure the wattage with Prime95 and HDTune to simulate the system under 100% utilization for the "load" stage.
| | | | |
| --- | --- | --- | --- |
| | HP EX487 | VIA NSD-7800 | VIA A2000 |
| 0 Drives | n/a | 37 Watts | 26 Watts |
| 1 Drive, Idle | 44 Watts | 40 | 29 |
| 1 Drive, Load | 50 | 47 | 35 |
| 2 Drives, Idle | 55 | 50 | 45 |
| 2 Drives, Load | 60 | 60 | 51 |
Not surprising here in that the Artigo A2000 is very similar and just barely edges out its similarly configured NSD-7800 which shares the same CPU and chipset. With only two drives however, the Artigo uses much less power with the included 75 Watt power supply. If you only need two drives, this is a very efficient machine with much lower energy requirements.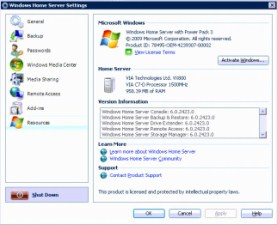 WHS System Specs
The specs page from the Windows Home Server shows us what we already knew, regarding the memory installed and the trusty VIA C7-D Processor. No real surprises and the performance connecting remotely was very similar to the other systems. I'm sure had I gone with a 2 GB stick of memory it would have been a bit peppier, but without any add-ons installed it was more than acceptable.
Conclusion
Based on what we know about how the Home Server Market has evolved, the VIA Artigo A2000 actually fits nicely into the niche without duplication. Those familiar with the offerings from HP are aware that the options are either the LX195 which only includes 1 internal drive and thus no data protection without external storage, or the beefier 4-drive bay solutions which come in a much larger enclosure and higher cost.
The Artigo A2000 is a more than capable Windows Home Server selection and the 2nd drive is crucial in being able to support folder duplication for data redundancy. For users who have limited storage needs, the two drives are perfect and the small chassis makes it fit in nicely no matter what room it resides in.
My only complaint is VIA's insistence on continuing to use the older 1.5ghz C7-D CPU which is slower and not as optimized for power as some of their newer chips. That along with the small 40mm CPU fan are my main concerns, but neither is a deal breaker given the price and usage for this market.
Available for around $230 online, the Artigo is an affordable solution that does not require much thought once you get the OS installed and will allow for an easy storage solution for many. Keep in mind that price does not include your Windows Home Server license, SO-DIMM memory or any hard drives…which can add up quite fast. I see this as more of an ideal solution for someone like myself who would be looking at an easy starting point for a friend or family member who would not want something big or as expensive as some of the alternatives.
Pros:
Super low powered
Smallest storage unit tested in-house
Compact Flash slot
VGA Port
Front USB port
Very nice looking, tiny case
Cons:
Cost adds up given lack of WHS license, drives and memory
Audio Ports on backpanel
No Dual Gigabit
Slower/Older 1.5 GHz CPU
No RAM Included
40mm CPU Fan could get loud over time
No hot swap drive bays
No eSATA Ports