QNAP TS-209 Pro II

QNAP TS-209 Pro II

If you find yourself in the market for a NAS, today we are reviewing something that might just fit the bill. Read on to see if the QNAP TS-209 Pro II will fit your needs.
INTRODUCTION
Now that you have your HTPC working the way you want it and you're starting to build up a collection of good shows, what do you do when you start running out of space? One option is to put together a media server to hold it all. Another option is to start looking for a an external hard drive setup, such as a NAS. It's this second option that brings about today's review. On the bench today, we have for you QNAP's TS-209 Pro II NAS. Read on to see if this is the unit that you're looking for.
Specifications
So what makes the QNAP NAS different from any other NAS on the market? To begin with, this NAS is more than just a NAS. Along with your standard file serving features, this one also has the ability to function as a web server, host all your Itunes music to any iTunes players on the network, function as a UPnP media server, function as a MySQL server and more! Since this is a two drive bay unit, it supports RAID0, RAID1 and JBOD but not RAID5, RAID6 or any of the fancier options out there due to the number of drives required.
Hardware Spec.
CPU Marvell 5182 500MHz
DRAM 256 MB DDRII
Flash Memory 8MB
HDD 2* 3.5" SATA I/II HDD, up to 2TB (the standard system is shipped without HDD)
LAN Port 1 * Gigabit RJ-45 Ethernet port
LED Indicators Status, USB, LAN, HDD 1, HDD 2
USB3 * USB 2.0, support USB printer, disk, digital camera, pen drive, USB hub, and USB UPS etc.
Buttons USB auto-copy button, Power button, Reset button
Dimensions 214 (D)x 175 (W)x 115 (H) mm
Weight Net weight: 2.4 kg, Gross weight: 3.5 kg
Power Supply External Adapter, 60W, 100-240V
Thermal Solution Smart Fan
Secure Design K-Lock security slot for theft prevention
Sound Level: Standby: 38 dB, In operation: 42dB
Powerful 12-in-1 NAS Server
File Server
The principle purpose of file server is for data storage and sharing. Data security and access management are the major concerns of most users. The Turbo NAS allows a server manager to create user ID and password, and define the authority and quota for each user. Thus, personal data stored on the Turbo NAS is well protected.
FTP Server
Having troubles with sending large files by e-mail due to the limited capacity? You can establish your own FTP server by using the Turbo NAS. You can manage the access authority of the FTP server and share your files with your friends or customers easily in a few steps.
Backup Server
QNAP's Turbo NAS brings you the enterprise-class technology to ma+e backup extremely simple and efficient# The intelligent automatic backup software, NetBak Replicator, is provided for users to perform real-time synchronization or schedule backup from multiple PCs to the Turbo NAS. The NAS also supports third party backup software, e.g. Acronis True Image, CA BrightStor ARCserve Backup, EMC Retrospect, etc.
Encrypted Remote Replication
Encrypted remote replication provides high level of data protection. Files can be backed up from the Turbo NAS to other QNAP NAS products in remote locations. Advanced options including data compression, block-level incremental backup, and data synchronization are supported to optimize the bandwidth and time for data backup.
Web Server with Built-in phpMyAdmin, Joomla!
With the built-in phpMyAdmin, Joomla!, MySQL and SQLite, SMB and SOHO users can easily set up their own web server. With the editable php.ini support, there is no need to go through all the hassles of setting up a web server. You can either develop programs by yourself or download a variety of open-sourced applications, such as online shops, forums, blogs, etc.
MySQL Server
The Turbo NAS is the most affordable choice as a standalone database server for system integrators. It can be applied in various deployments such as a database server of another web server in a remote site or as an additional backup database server to achieve system redundancy.
Printer Server
You can share your printer device over the network by simply connecting a USB printer (max. 3 sets) to the Turbo NAS's USB port and enabling the printer sharing function.
UPnP Media Server (with built-in TwonkyMedia Server)
The Turbo NAS is a perfect media storage center and works well with a UPnP/ DLNA (Digital Living Network Alliance) compliant DMA. You can use the Turbo NAS and the DMP to play the digital picture, video on TV, or listen to music or Internet radio without using a PC. The upgrade in DLNA TwonkyMedia version 4.4.5 on QNAP NAS supports the most popular DivX video streaming to a Sony PS3. Moreover, the Turbo NAS Pro series supports NFS and NFS high-definition (HD) DMA player connection to stream and play HD videos. The NAS can also be connected to XBMC (modded from Xbox gaming console) via samba for media playing. The high compatibility, energy-saving, and reliable features have made QNAP NAS the first choice for setting up the digital home multimedia center.
Image Files Backup
Now you can share photos with your customers by the Turbo NAS. By uploading your photos to the Turbo NAS, the server automatically generates a web-based photo album with thumbnails and details, such as date, resolution, focal length, and aperture. You can browse and share the digital photos in a convenient way!
Download Station
The Turbo NAS serves as a continuous download machine without turning on your PC. The Turbo NAS supports download through BitTorrent, FTP, and HTTP. A brand new BT Engine is embedded with the Turbo NAS. Users will enjoy high data rates through the TCP / UDP, and encrypted BT download function. DHT (Distributed Hash Tables) is also supported.
iTunes Server
Music fans and Apple enthusiasts will certainly be rocked by the coolest music-sharing feature of the Turbo NAS! All your MP3 music can be collectively stored and streamed to Mac or Windows PCs. It supports playlists which allow users to launch iTunes and enjoy music all around your home network!
Software expansion via QPKG Center
The QPKG software package platform enables the users to maximize the usage of Turbo NAS by installing additional software packages developed from the users and community worldwide. This can be done by simple "download & install" clicking without going through any complicated process.
RAID-1 Mirroring with Hot-swap Design

The Turbo NAS supports RAID 1 Mirroring for non-stop service and easy maintenance. When a data crash occurs, the administrator can be alerted by e-mail alarm and LED indication. The hard disk drive can be replaced by hot swapping without turning off the server. This enables automatic data rebuilding to the new drive without suffering from any system downtime.
S.M.A.R.T & Advanced HDD Health Scanning (HHS)
The Turbo NAS supports Hard Disk Drive S.M.A.R.T (Self-Monitoring Analysis and Reporting Technology) which enables users to monitor the status of hard disk drives and check for potential problems. This tool helps to prevent the unexpected failure of hard disks and avoids critical data loss. Moreover, the NAS is embedded with HHS Technology which supports disk checking and bad blocks scanning.
Comprehensive Event Log System
Logs of connections to the NAS via samba, FTP, AFP, HTTP, HTTPS, Telnet, and SSH, and network services accessed by online users are all logged. Server managers can monitor the status of the NAS closely.
Support Windows AD

With Windows AD (Active Directory) support, you can deploy your Turbo Station in a small business environment easily! It enables Windows domain users to easily access the shared data with Active Directory authentication. This not only saves server manager's time and effort in creating duplicated groups and accounts, but also lowers the maintenance cost by centralized management.
Sharing files across Windows, Mac, Linux, and UNIX
The Turbo NAS is specially designed for different users to share files across Windows, Mac, Linux, and UNIX environment.
Secure data storage, access, and sharing
Data stored on the NAS is well protected: Server manager can create user ID and password, and define the authority and quota of each user.
IP filter control: Users can allow or deny specified IP connections to the NAS.
SSL Security (HTTPS): The NAS can be accessed and configured by web browser securely.
Remote login your NAS Pro by SSH (secure shell) or Telnet connection.
Secure FTP: Share and transmit your data over SSL/TLS (Explicit) encryption. Passive FTP port range setup is also supported.
Smart FTP policy control: The maximum number of all FTP connections and a single account can be configured.
Encrypted remote replication: Data on the NAS can be backed up to another QNAP NAS over the Internet securely.
Share Folder Management
Server Managers can hide or show certain folders in the directories for some security reasons while creating the folders for the first time.
One touch USB auto copy
When a USB device such as digital camera, digital camcorder, or pen drive is connected to the front panel USB port, data in the USB device can be backed up to the Turbo NAS automatically by simply pressing the USB copy button. In the meantime, an external storage device can be connected to the Turbo NAS via USB port for alternative data backup.
UPS Support
The key function of UPS is to provide the power for a period of time during power failure. The Turbo NAS supports both APC and MGE UPS devices which help users store the data in time and avoid critical data loss when power outage occurs during data transfer.
Web File Manager
The Turbo NAS provides unique Web File Manager function for you to easily download, upload, and manage the files on the server by browser.
Remote management of download tasks on multiple Turbo Stations

QGet is powerful P2P download management software provided with QNAP's Turbo Station series. QGet can be installed on any Windows / Mac computers for users to simultaneously manage BitTorrent, FTP and HTTP download tasks of multiple Turbo Station servers.
Network Recycle Bin

Can you imagine if you delete an important file on the NAS by mistake and lose it forever? You don't need to worry now! The files deleted from the network shares of the NAS will be moved to a particular recycle bin folder. You can restore your data anytime in case of unintended file deletion.
Built-in DDNS support
The Turbo NAS supports dynamic DNS (DDNS). You can register a unique domain name from a DDNS service provider and assign it to your Turbo Station. There is no more need to remember a lengthy IP address.
Establish a PC-less Home Multimedia Center by Using QNAP NAS and PS3 or Xbox 360

All the multimedia contents stored on QNAP NAS can be automatically shared to a PS3 or an Xbox 360 in the home network. Users can play their stored photos and videos on a TV, or listen to the music via their Hi-Fi system. QNAP NAS can be a perfect home storage and sharing center for establishing a PC-less, HD video-playing (via PS3, video resolution up to 1080p), highly accessible, and power-saving digital home theatre.
Superior System Performance
Outside
As you can see, the packaging for the QNAP TS-209 Pro II NAS has a lot of information displayed. Nearly every panel has another tidbit of detail just awaiting your viewing. I thought that this was actually very well done because most of the information was related to product features and not just a bunch of quotes from people saying "We liked this product" (not that that's a bad thing either).
| | |
| --- | --- |
| | |
| QNAP packaging front | QNAP packaging right side |
| | |
| | |
| QNAP packaging back | QNAP packaging left side |
As we move to the unit itself, I found that the packaging was very well done. I had no worry that this unit would have been scratched or damaged during shipping.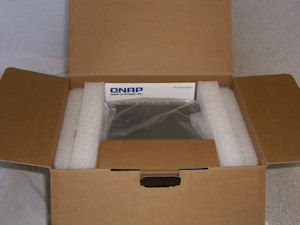 QNAP packaging inside
The QNAP unit comes shipped with the front cover removed so that you can get the drives in faster and the cover doesn't get scratched right away. The housing of the unit is a made from a nice metal that does not appear to scratch or dent at the least provocation. Also included in the box are a quick start guide, a software CD, the front cover, power supply, a network cable, a power cord, various screws, and a product brochure.
| | |
| --- | --- |
| | |
| QNAP housing | QNAP components |
Below are images of the drive unit taken from various angles. The front of the unit is a very smooth and shiny black panel with a cutout for various LED indicators as well as the USB port and power button. The bottom of the unit locates four rubber feet that prevent the box from moving around on the surface that it sits on as well as keep the unit from scratching anything.
| | |
| --- | --- |
| | |
| TS-209 Pro II front | TS-209 Pro II bottom |
The TS-209 Pro II NAS has a good airflow design. Air comes in from the vents on either side of the drive unit, blows across the drives, and is exhausted out the back with a fan shown later.
| | |
| --- | --- |
| | |
| TS-209 Pro II right side | TS-209 Pro II left side |
Next, shown are the top and rear. The top of the TS-209 Pro II is a blank surface which allows the user to put other equipment or accessories on top of the unit if desired. The rear of the unit is where you will find the power connector, reset button, LAN jack, the fan and two additional USB ports that can be used to add external USB hard drives, thumb drives, etc. to the unit for additional storage, automatic backups of the NAS, etc.
| | |
| --- | --- |
| | |
| TS-209 Pro II top | TS-209 Pro II back |
Inside
Now we move on to the inside of the unit. First up are the two sleds that will be used to hold your hard drives in the NAS unit. The sleds are held in place with two thumb screws each that can be tightened with a flathead screwdriver if desired. The drives attach to the sleds from the bottom using upto four screws that are included with the NAS. While this design is sure to hold the drives in place even if the unit is being moved around, it also means that six screws need to be removed on each sled in order to swap out a hard drive. It's not the end of the world but it's tedious if you're in a hurry to get back up and running.
| | |
| --- | --- |
| | |
| TS-209 Pro II drive sleds | TS-209 Pro II inside |
| | |
| | |
| TS-209 Pro II drive sled bottom | TS-209 Pro II drive sled top |
The two drive sleds are labeled HDD1 and HDD2 so if you need to replace one it is easy to keep track of which is which. One small gripe that I have with this unit is how the front cover is attached. In this design, QNAP has decided to use a screw in each corner of the faceplate to give it a nice symmetrical look that ensures that the front cover does not fall off accidentally. However, I personally do not care for the look of the exposed screws and this also means that there are an additional four screws that you are required to remove in order to swap out a drive. I would much rather that the front cover is attached with magnets or a clip.
| | |
| --- | --- |
| | |
| TS-209 Pro II drive sleds inserted | TS-209 Pro II with cover attached |
Setup
Setup of the NAS is very simple and instructions are included with the unit. I have attempted to capture all of the screens that will appear during setup so there should be no surprises for you. Installation starts out with selecting the unit that you are connecting to, then installing the QNAP Finder which will locate the unit on your network.
| | |
| --- | --- |
| | |
| Select your product | Select an application |
The first thing you will need to do after selecting QNAP Finder is to choose a language. You will then see a few screens which will require you to select Next.
| | |
| --- | --- |
| | |
| Choose a language | Welcome screen |
| | |
| | |
| Installation screen | Installation progress screen |
Once QNAP Finder has been installed you will get an installation successful message requesting you to click Finish. If you are using Windows Vista to install from, you will then be greeted with a firewall screen asking if you want to block access to QNAP Finder. You will want to Unblock this and continue.
| | |
| --- | --- |
| | |
| Installation successful | Windows Vista Firewall |
QNAP Finder will then find the NAS that you have connected to your network and ask if you want to set it up. Click Yes. You will be prompted for an administrator username and password.
| | |
| --- | --- |
| | |
| NAS Setup prompt | Admin login screen |
The next few steps take you through the setup wizard. The first thing you will be prompted to do is enter a name for your NAS. You can give it your own name or use the default one provided.
| | |
| --- | --- |
| | |
| QNAP setup wizard | Name your NAS |
Next you will be prompted to change the administrator password. I would suggest changing it because pretty much anyone can determine the default password. You will also be asked to update the time information. You can either change this yourself or have it sync with a network time server if you have internet access.
| | |
| --- | --- |
| | |
| Change your password | Setup the system time |
You will again be asked to select a language followed by network settings for the NAS. You can either use DHCP if you have a DHCP server (often built into most routers) or you can provide a static IP address.
| | |
| --- | --- |
| | |
| Choose a language | Define your network settings |
The next step is where you will configure the drives within the NAS. Among your options are RAID 0 and RAID 1. Once you have made your selection you will be asked for confirmation before destroying any data that was on the drives.
| | |
| --- | --- |
| | |
| Select drive configuration | Confirm drive configuration |
Once the drives have been set up you will be prompted to install system firmware. Updated firmware is available from the QNAP website. After firmware has been loaded you will see a summary page of your selected settings.
| | |
| --- | --- |
| | |
| Install firmware | Settings summary |
Configuration may take several minutes but you do get a progress bar so you can see where you are in the process. Once configured you will be asked if you want to map a network drive right away.
| | |
| --- | --- |
| | |
| Setup progress | Completed/Map network drive? |
By default the QNAP NAS creates six shared directories: Public – which can be used as a generic dropbox for your network without need of an admin password, Qdownload – which is where the bit-torrent stuff is kept, Qmultimedia – where you can place audio, video and photo files to distribute to your entire network for use with UPnP players, Qusb – which connects to the USB ports on the NAS if you have an external USB harddrive attached, and Qweb – which is the location for the built-in web server if you are using it. To map the network drive you will be prompted for the admin username and password.
| | |
| --- | --- |
| | |
| Map network drive | Enter password |
Once you have selected the directory to map you will be asked to choose a drive letter for it. Once you click Finish you will be ready to use your networked share.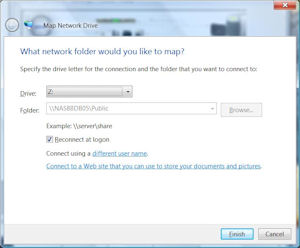 Select drive letter
Basic Configuration
Once the NAS is up and running and accessible from another system, there are a number of additional configuration options that can be changed to enhance your experience. To administer your NAS unit, open up a web browser and enter in the IP address for the unit. You will be greeted by the NAS welcome screen.
| | |
| --- | --- |
| | |
| TS-209 Pro II welcome screen | Login screen |
There are lots of configuration options available for tweaking. Of particular usefulness were the various network settings. Here you are able to configure everything from IP address to which network services are available.
| | |
| --- | --- |
| | |
| TS-209 Pro II configuration homepage | Quick configuration |
There are many other settings available for the user to adjust if necessary. Under the network settings page is where you will find configurations pages for the Media server, the iTunes server, etc.
| | |
| --- | --- |
| | |
| System settings | Network settings |
Some settings of interest may include the drive configuration screen. This is where you can reconfigure your drives to be RAID0 or RAID1. You can also check the drive health and scan for bad blocks from this screen.
| | |
| --- | --- |
| | |
| Device configuration | User management |
The network share management window allows the user to create new folders to share as well as configure the share properties for the pre-existing folders.
| | |
| --- | --- |
| | |
| Network share management | System tools |
There are lots of system log information available under the System Logs section. The web file manager can be used to move files to and from the NAS from any web browser without having the unit mapped to a network drive.
| | |
| --- | --- |
| | |
| System logs | Web file manager |
The Multimedia station is what allows you to share music, videos and pictures to UPnP clients throughout your network. Just drop your media into the Qmultimedia directory and away you go. Similarly, the Qdownload directory is used for all of your BitTorrent sharing.
| | |
| --- | --- |
| | |
| Multimedia station | Download station |
Test Methods and Test Results
Since this unit is being evaluated for performance in an HTPC environment I decided to set this unit up as I would expect an end user to use it. As such, the TS-209 Pro II NAS was connected to a gigabit switch and then connected to other PCs on the network. The PCs used for testing varied from a P4 2.0GHz system with a 100MBit network card, running Fedora 8 to an AMD 4850e system with a gigabit network interface, running Windows Vista as well as Ubuntu 8.04.1.
The NAS itself was setup using two identical Seagate 250GB hard drives running in a RAID1 (Mirrored) configuration. It was setup this way because media playback does not require the added performance gained by RAID0 (striping) and this way no data is lost if a drive goes bad.
In order to test the NAS in a typical HTPC environment I ran through a variety of tests. First, the standard bandwidth tests were run by transferring large files to and from the NAS.
File Size
Elapsed Time
Transfer Rate

6.43 GB

8:18

13.2 MB/s

7.57 GB

9:45

13.2 MB/s

To NAS
File Size
Elapsed Time
Transfer Rate

6.43 GB

8:18

13.2 MB/s

7.57 GB

9:45

13.2 MB/s

From NAS
Along with these standard tests, I also tested the NAS from a HTPC usage standpoint. In other words, I mapped the NAS to a drive on my PC and recorded an HD show while watching one from the NAS. The NAS had no trouble keeping up with the bandwidth requirements to do this.
Conclusion
CONCLUSION
I am very pleased with the QNAP TS-209 Pro II NAS that is up for review today. With all of the basic NAS features covered as well as additional features like a media server, and an iTunes server, I feel that this unit will find its way into many home networks. The build quality is very good and the unit is very stable. While I don't recommend it, you could probably bang this unit up quite a lot and it would still function perfectly well for you (although I can't speak for the hard drives themselves). Since the hard drives spin down while not in use, the unit does not add much of anything to your electric bill while it sits idle, and even while in heavy use it still consumes much less energy than a full fledged PC unit.
For those of you that use Linux, the Pro versions of the QNAP NAS units includes the ability to use NFS to share the NAS with Linux. The non-Pro units do not have this feature. However, you are not out of luck. The non-Pro units can be mounted with CIFS or Samba.
The QNAP NAS units also have the ability to add new features and packages through the use of the QPKG package manager. This allows QNAP as well as the public in general to develop new applications to be run on the NAS.
I did have a bit of difficulty with the web file manager interface. It was easy enough to upload and download files but it had to be done a single file at a time. I did not find any way to do bulk transfers. This makes uploading a bunch of pictures or MP3s difficult. Most of the time I imagine this won't be an issue because I would expect one to primarily use a mapped drive letter, which would allow you to use the NAS like any other local hard drive, but if you are accessing it from a foreign PC where you can't map the drive – say while you are at the library – a bit more difficult.
PROS
Good airflow design
Good build quality
Lots of additional features
Intuitive installation software
Can be accessed from anywhere in the world
Low power consumption
CONS
Lots of screws to remove in order to change out a hard drive
Beeps at power up
Screws on faceplate
Web file manager
Overall, I feel that this is a great unit that carries a competitive price tag for the features and quality that you get. After using this unit for about a month now it has been very reliable and I have no hesitation recommending it to any of our users that finds themselves in need of an external storage solution.
I would like to thank QNAP for the review sample.
As always, please feel free to leave a comment in our forums.