AVerMedia Bravo Hybrid TV Tuner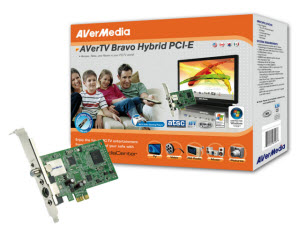 TV tuner evolution has finally crept to the point where we have combo cards that can tune unencrypted QAM and analog cable at the same time. So why would AVerMedia introduce a hybrid software encoding TV card onto the market? Let's see if this card, associated features, and price point make sense for the HTPC market of today.
Features
Major Features
NTSC Analog TV
ATSC Digital TV
Clear QAM
PCI Express interface
High Definition up to 1080i
Stereo sound
Real time H.264 support
Multi-card support
Minimum System Requirements
Intel Pentium 4 2.4GHz with HT (Hyper Threading) or Equivalent AMD Processor
128M VGA card with DirectX 9.0c or above
512MB RAM or above
Sound Card
500MB hard disk free-space at least
PCI Express x1 slot
Windows XP/XP MCE/Vista/Vista MCE (32/64bit for both Windows XP & Vista)
Analog TV on MCE platform
Intel Pentium 4 3.0 GHz or equal spec CPU
For H.264 Recording
Pentium 4 3.0GHz with HT (Hyper-Threading) or Equivalent AMD Processor for Analog TV
Intel Dual Core 1.6GHz or Equivalent AMD processor for Digital HDTV
For HDTV (MPEG-2) only
VGA card supports DirectX 9.0c and DXVA acceleration
HDTV will only function when the TV signal is in HDTV format
Cutting Past The Marketing Speak
Above are the major features of the Hybrid Bravo tuner card. Some of it maybe marketing speak, some of it you may even recognize. I will try to break everything down into easy to digest format. Check out this GUIDE here for more details on the various broadcasting formats.
This card has the ability to tune digital and analog broadcasts. Since this is a hybrid card, you can not use the digital and analog tuner at the same time.
This card can tune QAM with the AVerMedia application or through a Avermedia supplied "hack"for Vista Media Center. At the time of writing, I don't believe SageTV natively supports QAM tuning with this card. Sage has not been eager to support software encoding cards.
Speaking of software encoding cards… The Bravo is a software encoder card which means the recording process for analog TV is done via the CPU rather then through an MPEG-2 encoder chip on the card. Because everything is done via software and not hardware the minimum requirements are rather hefty. I will delve into performance a bit more as we progress through the article.
This card has H.264 recording support but only through the AVerMedia application.
Test Setup
| | |
| --- | --- |
| Memory | 2GB DDR800 |
| CPU | Core 2 Duo E7200 |
| Video Card | ATI Radeon HD 4850 |
| Capture Card | AVerMedia Bravo Hybrid |
As with the majority of add-on cards that are being released, the Bravo Hybrid is PCI Express x1. I am sure most DIY HTPC configurations consist of a mix of PCI and PCI Express cards.
The Bravo uses a NXP (Phillips) SAA7160ET chip to provide audio and video capture function as required for PCI Express applications. It is the smallest of the three chips on the card.
The larger chip to the right is a NXP SAA7136E that does the TV analog to digital functions and has all the normal analog buzzwords such as 10-bit precision, comb filtering, etc.
The LG DT 3304 chip on the left towards to the top is the new 6th generation LG ATSC chip; successor to the 5th generation chip that was widely used, most notably on the DVICO Fusion 5 series and AVer's own M780.
The chips on the Bravo
Ports: Analog/Digital tuner, s-video, line-in and blaster
Not pictured are the accessories which include: a line-in audio cable, S-video to composite video adapter, and the low profile bracket.
Analog
Analog Capture
Though not required by law, the move to digital cable is happening rather quickly. Cable has a finite bandwidth and the easiest way to free up space is to remove analog channels and employ techniques such as Switched Digital Video. However, there are still a great number of folks who use analog capture and will continue to do so for several years. If nothing else, just being able to plug a cable into a tuner card and have everything work is reason enough.
There were no problems encountered while setting up the analog capture in SageTV or Windows Vista Media Center.
As the minimum specs hint at, software encoding can be a performance hit. On my test system I found that simultaneous recording and playback was 18% to 22% CPU usage. Simply recording an analog channel was 13-17%. MPEG-2 playback adds little to the overall equation with today's modern video cards and CPUs.
The picture quality was a little softer and a little less detailed then when viewing the same content with digital cable card tuners on Vista Media Center. There were a few more artifacts when compared. There is no doubt I have been spoiled by HD broadcasts.
| | |
| --- | --- |
| | |
| Bravo – King Kong Scene Capture | ATi DCT – King Kong Scene Capture |
| | |
| --- | --- |
| | |
| Bravo – King Kong Scene Capture | ATi DCT – King Kong Scene Capture |
Analog Testing – s-video
To see the details on how we test our analog tuners please read Matt's blog titled "Analog TV Tuners – How We Test". I purposely avoided composite cable testing as I am pretty sure very few people use composite cables in their HTPC setup.
7 Ire Color Bars
Piccadilly Circus Billboard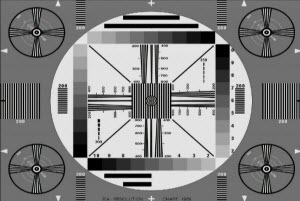 Resolution chart
I am actually fairly impressed by the detail on the billboard test shot. When comparing to Matt's AVerMedia M780 and Hauppauge HVR-1600 review, I do not see a major difference in any of the tests. The card appears to lose a little black detail but that is mainly due to the brightness being set on the low side by default.
QAM Capture
This tuner also has the ability to tune in unencrypted channels with Vista Media Center. This is done through a beta driver that can be found at this thread at The Green Button. By installing this driver, you enter into a QAM only mode with your card, meaning you will not be able to use OTA and analog tuning without reverting back to official drivers!
At the FTP site you will find a QAM tool file and an instruction manual on how to set it up in Vista Media Center. The QAM tool does an unencrypted QAM scan and exports those frequencies into digital OTA broadcast format that Vista can understand. As always, you will have to remap your channels to get the proper guide listings.
The process is a bit fiddly but at least they made the effort when a native solution was not available.
OTA Capture
The Bravo has LG's 6th generation ATSC demodulator chip which follows up on the success of their 5th generation chip that was well proven in Fusion 5 and AVerMedia's own M780. As Matt found out in his review of the Hauppauge 1600 and AVer M780, the M780 has a slightly better ATSC tuner and had a signal strength of up to 20% better using an indoor antenna.
I am able to receive one channel out where I live and it came in at 80% signal strength with no drop outs over a few hours of testing. In this very unscientific test I found the signal strength about equal with my Vbox DTA-150 ATSC tuner. As always, we here at Missingremote.com recommend a roof top antenna for tuning broadcast HDTV. Antennaweb.org can help you decide which antenna would be the best for your needs.
Application & Conclusion
AVerMedia Application and H.264 Capture
As listed on the box, the Bravo has the ability to encode recordings into H.264. Do not get to excited, this is not the same functionality you will get from the HD-PVR from Hauppauge. H.264 encoding is of course done in software, and is only available when using AVerMedia application and even then you are limited to portable media player profiles. This certainly should make life easier for iPod and Zune owners, however, you do lose the ability of a powerful PVR setup. I prefer to convert the files after I have recorded them.
I typically do not talk about the included applications bundled with the card, but since I introduced the topic I will touch on it a bit more with a few screen shots. The AVerMedia application is decently designed for a free application bundled with a card. It's a very basic 10′ UI that allows for folder based browsing of your media, TV viewing from QAM, ATSC and/or NTSC, and an EPG that pulls data from digital data streams (does not work in the US).
AVerMedia Application – Music
AVerMedia Application – Settings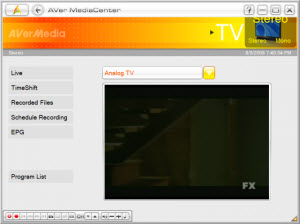 AVerMedia Application -TV
As you can see the bundled application will not win many design or functionality awards. Without an integrated EPG, scheduling recordings is a pretty big headache. The plus side to the application is that it can encode your recordings to a PMP friendly format for you.
Conclusion
I was bit unsure about how this review would turn out when I started. However, at the end I can recommend this card if you are in the market for a single tuner card. The analog capture quality is on par with other hardware encoding cards. The ATSC portion uses the 6th generation LG tuner which is an upgrade to the top notch 5th generation one. Additionally, AVerMedia went an extra step and put out a beta driver to enable QAM tuning in Vista Media Center.
This card begs to be compared to its older sibling, namely the M780. The M780 is combo hardware encoding card with the same Vista Media Center QAM capabilities. For only 40 dollars more you step into a lot more functionality and lower CPU usage when recording with analog sources.
Chances are if you are starting out from scratch with your HTPC you are going to be interested in a proper combo TV card which has dedicated tuners for both NTSC and ATSC/QAM, in which case there are several quality combo tuner cards on the market including AVerMedia's own AVerTV Combo PCI-E (M780).
Pros
Analog image quality is solid
Good ATSC tuner
Beta driver to enable QAM tuning within Media Center (pre-Fiji) – At the time of writing I have not confirmed if Fiji supports QAM tuning with this card. Please comment if you have confirmed.
Cons
The QAM beta driver work around is a bit fiddly
The claimed H.264 recording is only in AVerMedia's TV application and even then it encodes for PMP formats only.
No EPG for the AVerMedia application
CPU usage for analog recordings gets to be high on lower end machines
—————————————-
I am particularly interested in hearing if you have seen a confirmed case of QAM working under Fiji. My hunch is that it should be no problem but I am unable to upgrade at the moment :).
Thank you to AVerMedia for supply the review sample.