Fixing A Common Car Won't Charge Issue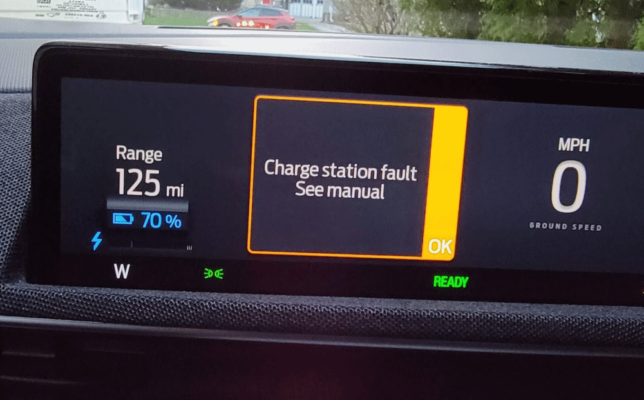 I found this post on the Mach-E forum, but it applies to every other electric vehicle (EV), including Tesla if you're using a J-1772 EVSE (aka Charger) with an adapter. I've experienced this one myself, both with our Mach-E and the EV6 at public L2 charging stations. I've never dug into the problem, but I suspected it had to do with the internal switch, mostly just fixed it by unplugging and trying again.
Personally, I never walk away from the car until it confirms that it's getting the juice, and now that I have a better understanding of one potential cause for a failed session. If it reoccurs, push harder, and maybe jiggle the release latch. This write-up does a great job of explaining why the problem is happening in the first place. So great read for anyone who does the level 2 charging thing.
Issue: The user may experience a "Charge station fault" error and a flashing red ring indicator on the charge port 30 seconds after plugging in a Level 1 or Level 2 charger (J1772 plug). A P0D56:24 code will be set in the SOBDM. On some vehicles, a 12V drain may also occur after this fault is set until the plug is removed. If the user does not address the charge station fault and leaves the plug in, the 12V battery may drain in the next several hours, generating additional errors and/or starting issues. This issue is caused by operator error or a dimensionally incorrect J1772 that does not fully insert and latch into the charging port. NOTE: This is issue often associated with Grizzl-E brand chargers.