Amped Wireless Debuts First Long Range, High Power HD Wi-Fi Cameras with up to 3X the Range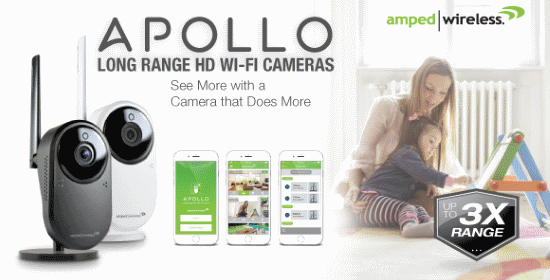 Range is a big problem with Wi-Fi cameras because they usually get deployed at the edges, so 3x the range of normal devices sounds like a killer feature for the new Amped Wireless cameras.
January 5, 2016, Las Vegas, NV – Amped Wireless, the leading manufacturer of high power, long range wireless solutions for the home and office, announced the latest solutions for consumer and business security, the APOLLO and APOLLO PRO Long Range HD Wi-Fi Cameras, at the 2016 Consumer Electronics Show. The APOLLO Cameras are an industry first as they provide three times the Wi-Fi range of any other cameras of their kind. Accompanied by a modern mobile app and affordable Cloud Recording, these Long Range HD Wi-Fi Cameras are set to deliver unparalleled wireless performance and installation options.

The APOLLO and APOLLO PRO Wi-Fi Cameras combine high powered amplifiers and a high gain antenna to produce exceptionally long range Wi-Fi capabilities. This High Power technology enables the Cameras to be installed in the outer corners of a home or office, outside of the garage, near the pool or in other areas that standard cameras can't reach. The APOLLO and APOLLO PRO can be installed anywhere without the need to be close to a Wi-Fi source. This feature increases the convenience and usability of the cameras, expanding security ranges to any home or business.

In addition to the industry-leading range, the APOLLO PRO is equipped with a wide viewing angle for optimal viewing dimensions. Advanced Night Vision provides clear viewing in even the darkest conditions, for added security. The APOLLO PRO is also equipped with 2-way Audio that allows the user to speak and listen directly through the camera. Both cameras are accompanied by affordable Cloud Recording Plans that allow the user to access, share, relive and save recordings from anywhere and at any time.

The APOLLO Long Range HD Wi-Fi Cameras are accompanied by the free APOLLO mobile App. Through the App, users can setup, view, listen, talk, control and edit all of their APOLLO Cams in one place – in the palm of their hand. The affordable, cloud based recording allows the recorded footage to be accessible from virtually anywhere, on any device. The App can also deliver instant Notifications to the user when the Cameras detect sound or motion, keeping an eye on everything that matters.

"Every time that we are able to find a new application for our Long Range Wi-Fi Technology, we are ecstatic," explained Lacey Limbrick, Amped Wireless' Brand and Marketing Manager. "The APOLLO Cameras are the next innovation in our product line and we can't wait for them to hit store shelves. They set a new standard for Wi-Fi Camera connectivity and performance. We couldn't be more proud to add these to the Long Range Wi-Fi family."

Amped Wireless will be talking to press and showcasing their latest innovations at tonight's Digital Experience! event by Pepcom, at the Mirage Events Center in Las Vegas from 7pm-10:30pm. Amped Wireless will also be showcasing the APOLLO and APOLLO PRO along with its full line of new products for 2016 at Booth #35842 in South Hall 4 during the 2016 Consumer Electronics Show in Las Vegas. For press meeting requests please email: press@ampedwireless.com or call Lacey Limbrick at 909-217-3229 x 152.

The APOLLO PRO will sell at the affordable price of $179.99 and $149.99 for the APOLLO. Both cameras will be available for order from ampedwireless.com at the end of Q1. For more information, visit LRC200 and LRC100.