Amped Wireless ships APOLLO & APOLLP PRO long range HD Wi-Fi cameras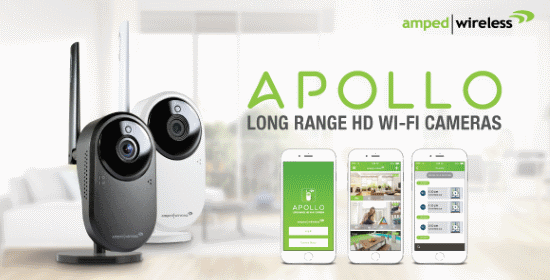 I like Wi-Fi cameras, and making them long range is clearly better, but I'm not sold on the subscription fee to make them, um… useful. Maybe I'm just cheap, er…, value oriented, but that really galls me. There might be a BYOS[torage] option, but I didn't see one in the quick look over the PR.
Ontario, CA, November 8th, 2016 – Amped Wireless, the leading manufacturer of high power, long range wireless solutions, announced today that APOLLO, the long range, high-definition Wi-Fi cameras are now shipping and headed to a store near you. Designed to deliver home and office security with maximum flexibility, APOLLO is an affordable, modern surveillance solution.

"Utilizing technology to improve everyday life is our primary goal at Amped Wireless," said Jason Owen, Executive Vice President of Networking, Amped Wireless. "APOLLO's high power technology and modern mobile app allow you to see every corner of your home from the palm of your hand, delivering peace-of-mind and convenience all in one."

Built with high power technology, APOLLO cameras are designed to penetrate through walls and floors to provide up to three times more range than standard cameras. This means that they can be installed in the furthest corners of a home or office, behind the garage, near the pool or in other far-reaching areas that standard cameras aren't able to transmit from. The line features two units, APOLLO and APOLLO Pro. The APOLLO is equipped with an 80 degree viewing angle, while the APOLLO Pro offers a 110 degree view so you can see even more. APOLLO Pro also delivers two-way audio, allowing the user to speak and listen directly through the camera's app. While the APOLLO Pro has a slightly better picture quality than APOLLO, both units match or exceed competitors. For added security, Advanced Night Vision, featured in both cameras, provides clear viewing in even the darkest conditions. The APOLLO cameras are built with a high gain 3.5dBi antenna, high power Wi-Fi amplifiers, night vision LEDs and an advanced camera CPU. To ensure increased protection and high-quality screening, both APOLLO cameras also offer 10x digital zoom.

Security and monitoring are made simple for homeowners and business owners who can view and control APOLLO on-the-go with the APOLLO app. The iOS and Android compatible app keeps users proactive and informed with real-time motion and noise notifications, accessible settings, live-video feeds, two-way audio and cloud based recording options.

Designed with affordability in mind, the APOLLO Cameras ship with a free 30-day Cloud Recording Trial and continued storage options start as low as $3 per month. The money-conscious choices allow for users to keep event-based recordings with various price ranges including:

Event Based Recordings (Motion and Sound Triggered, 60s recordings)

$3 per month/$30 per year: 100 events
$6 per month/ $60 per year: 500 events

"The ability to secure your home or office shouldn't be a matter of finances," Owen said. With APOLLO, cloud recording is 70 percent more affordable than its competitors, so safety is never an afterthought."

There are APOLLO solutions for all price ranges starting at $149.99 for APOLLO (LRC100) and $179.99 for APOLLO Pro (LRC200). The cameras are available for immediate order and all pre-orders are shipping to those customers today. The cameras will also be available in most brick and mortar retailers in the next few weeks.