Intel Announces Haswell NUC Kit – D54250WYK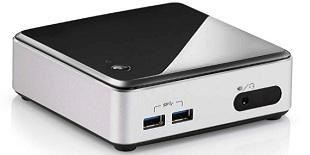 Looks like the NUC is getting a Haswell update, and it's not just the IPG (i5-4250U with HD 5000) that changed with the updated system also getting IR, SATA and four USB 3.0 ports. With all that good stuff and a fast 2.5″ hard drive and/or slim-line Blu-ray drive this could be a killer fullsize HTPC replacement given the right chassis. Full specs are at Intel's website, but unfortunatley the price isn't listed.
Sleek, shiny, and with a smaller footprint than a wireless modem, the Intel® NUC with the 4th generation Intel® Core™ i5 processor is at home in your living room, your office, or your media center. The D54250WYK SKU of Intel NUC is equipped with Intel® Turbo Boost Technology 2.0, automatically allowing processor cores to safely run faster than the base operating frequency. It also includes Intel® Rapid Start Technology, ensuring you are quickly up and running, and Intel® Smart Connect Technology to keep you up to date at all times.