Wren V5AP Airplay Speaker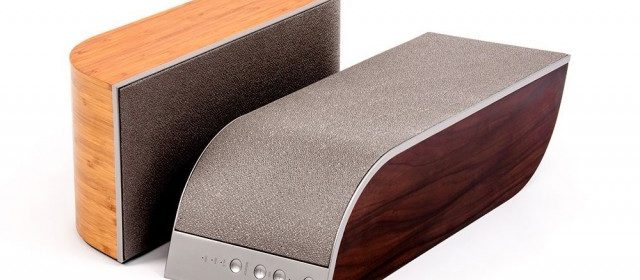 When it comes to selecting a mobile device wireless speaker box, there are many to choose from—with options from companies as large as Sony, Bose, Jambox and Beats, to smaller ones such as Supertooth. Wren is hoping to capture some attention on this market with a rather unique offering, with their Wren V5AP speaker box. Besides the usual speeds and feeds which the speaker touts, providing crisp and clear audio to your room, the Wren speaker pitches itself as a piece of art, adding style alongside sonic substance—an expensive one at that, coming in at $399. Let's examine what this gets you—as with any category filled with competition, there will always be pros and cons to each.

SPECIFICATIONS
With any speaker reviewed the first thing we look at are the technical specifications of the speaker, and the Wren, in all its beauty, is no different.
General
Intersil® D2 Audio DSP controlled stereo class D amplifier with 25 watts-per-channel of power
Acoustically inert half-inch internally braced MDF cabinet
4mm low durometer silicone pad to stabilize the chassis and absorb cabinet vibration
Inputs: AirPlay (wireless); 3.5mm stereo jack; USB port for digital input from iPod
Device charging through USB port
Power
Switching power supply
24V, 2500mA
Drivers
Two three inch throw drivers with four layer voice coils augmented by stereo bass-reflex design
Two 19mm edge-driven wide dispersion soft dome tweeters
Dimensions
Height: 6 1⁄8 inches/15.56 cm
Width: 4¼ inches/10.79 cm
Length: 16 5⁄8 inches/42.23 cm
Weight: 6.6 pounds/2.99 kg
25 Watts of power per speaker is a solid amount for a speaker dock type system. As something of a comparison, the Big Jambox ($249) is rumored to have around 18 watts, and something like the Supertooth Disco ($150) is 8 watts per speaker (28W total). Although watts per channel is certainly not the sole basis for audio quality, it is a good starting point and gives you a sense of just how powerful the speaker can be—something that will be discussed in more detail.
SETUP & USAGE
A large difference between the Wren V5AP and the competition is in the number of models and features which are available. Wren has opted to offer different models based on the devices you are planning to connect—Apple iOS device owners will want the Airplay model, and Android users would opt for the Play-Fi version. They are working on a Bluetooth version (which would have been my preference) but it was not available at the time of review.
The Airplay model was provided for testing, but note the caveats which each model before you purchase. Wren does have a program where for a nominal fee you can send your V5 speaker system to them and they will retrofit it with a different connection mechanism you choose. For $399 however, I expect a speaker to include all the connection methods in the single unit! The main restriction to both of the available units is that you must be in close vicinity to your wireless router, as both connection methods leverage the wireless infrastructure to communicate with the devices—unlike Bluetooth which is a direct connection, but much more limited in range. The Airplay and Play-Fi versions allow you to be in a completely different spot of the house and still control the audio from the speaker. However, in my testing and configuration, I had difficulty connecting to my wireless router—a Linksys 802.11AC router less than twenty feet away, which shows full connection signal on both a laptop and the iPhone itself—which resulted in me having to move the unit closer to the router.
In addition to the wireless connectivity methods mentioned, the Wren V5AP also offers an auxiliary port for direct connection, and a USB port to both charge and play audio from your mobile device. Both methods work exactly as you would expect, and audio quality was on par with what was experienced wirelessly.
The Wren V5AP was tested by playing a variety of audio tracks from an iPhone 5 both wirelessly, auxiliary as well as via the charge-sync Lightning cable. There was no discernible difference between any of the connection types, however the Airplay is of course the only method of connecting wirelessly to the unit. Classical, rock, hip hop and jazz music were all played through the Wren at full volume. The sound was crisp and clear throughout the tests, even at full volume there was no noticeable distortion in audio playback, and the sound was powerful to hear throughout my apartment—and outdoors as well. This unit could easily power a very large room, and possibly an outdoor party if folks aren't being too loud, but you won't be using this type of speaker to DJ a party any time soon or you would be disappointed.
We tested the Wren V5AP alongside the Bluetooth-enabled Supertooth Disco speaker to do a true side by side comparison. Volume on both units was turned full, and the same song was played on both from the same iPhone 5. The Supertooth unit did not stand a chance; not only was the audio exhibiting obvious distortion but it was trounced in sheer power when played next to the Wren. You might expect that given that the Wren is more than double the cost of the Supertooth, but still good to confirm.
APPEARANCE
Since we've covered the performance of the speaker, the remaining question still falls on the price tag—does $399 justify the performance you receive? That's tough to say without a more thorough side by side comparison of audio quality. It trounced the Supertooth Disco speaker in side by side testing, but that's comparable to pitting a Mercedes along to a Smart car, isn't it? Style is something the Wren brings to the table unlike its competitors—who continuously are releasing standard metal boxes with speakers in them. The Wren V5AP is a stylish piece of hardware, emphasis on the hardware bit, as the unit is made of genuine wood. Offered in two color combinations of natural bamboo or rosewood finishes, the speaker looks like something out of a style catalog more than something you would expect to see in your audio/video rack. Whether the style speaks to you or not comes down to personal preference.
The device is bigger than I expected from photos, and the size actually made it interesting as to where to position in my apartment. It's not wall mountable, so you need a healthy stand to place it on. I had it on my kitchen counter and it blended quite well with the woodgrain. I would venture to guess those who place this on a shelf or fireplace would have no problem deceiving their guests as to where the speaker is that is playing sound, as the clean exterior look is refined and very subtle, while still driving a fair amount of sound.
The remote control is basic to say the least. It offers simple functions found on the unit as well, such as power, volume, skip tracks and input. Volume and track control can also be handled from your mobile device as well so you may be like me and keep the remote control in the box. Given the appearance of the speaker and overall unpacking experience, the remote was quite an odd inclusion, but I suppose some people will appreciate it.
CONCLUSION
Evaluating a wireless speaker is always difficult, especially when you consider that the largest value proposition in the Wren V5AP is the style and appearance. As with anything fashion oriented, it's an extremely personal decision—beauty is in the eye of the beholder, as they say. Assuming you can justify the price tag and love the look, then the $399 could be considered a value for a beautiful decoration in your home. The audio quality is fantastic but there were quite a few issues experienced during setup and configuration which make it difficult to wholeheartedly recommend. It's disappointing to be limited to only a single wireless connection type, and not including the basic standard Bluetooth by default is almost unforgivable—especially given the limited Wi-Fi range we experienced during testing in our test environment. While I appreciate Wren offering the upgrade to a different connection type, for this price I would have expected the kitchen sink to be thrown in as well.
Pros:
Stylish (to this reviewer)
Terrific sound
Fills a room/apartment easily without distortion
Cons:
High price tag
Separate models for various configurations
Wireless signal connection needs to be close to router
Thanks to Wren for providing the sample for review.