Chance to Win $500 Z-Wave Certificate and a Kwikset SmartCode Deadbolt Lock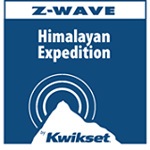 To show off how cool it is to combine IP control + Home Automation (HA), the Z-Wave Alliance and Kwikset are having Mariusz Malkowski climb the six highest mountian in the world during CEDIA. While that is slick, it's not as personally applicable as the $500 worth of Z-Wave kit and a Kwikset deadbolt lock if you can guess when he'll get to the top.
I've never been good at games of chance, but if you're a proficient guesser this could be an awesome way to get started with HA.
Guess the date & time of reaching the summit and win great Z-Wave prizes!

When wil Mariusz reach the top of the "Turquoise Goddess"? Enter our contest with your best guess! The closest guess will receive a $500 gift certificate from Z-Wave Products and a Kiwkset SmartCode™ Deadbolt Lock with Home Connect™ technology.