Fractal Design Releases Core 3000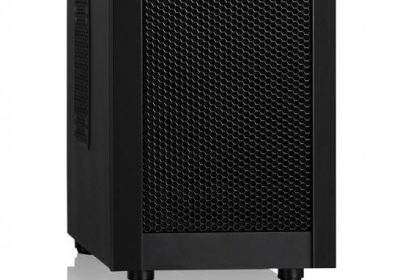 If the Arc Midi R2's transparent side panel was a little to flashy, or the price a bit too steep you might want to check out Fractal Design's Core 3000. It has many of the same features like dust filters and oodles of space for about $35 less. I've been putting off replacing my aging Lian Li tower chassis (thanks be to duct tape :)), this might be the guy that finally gets it done.
Full PR after the click.
Bringing you the Core 3000 USB 3.0!

The Core 3000 USB 3.0 has plenty of cooling options with space to install up to 7 fans of various sizes. The front panel is easily removable and pre-fitted with fan filters to ensure a dust free interior. The sleek black interior is matched and contrasted with white expansion slots and HDD trays. Similar to the Define Series, all the HDD trays are fitted with anti-vibration silicon grommets. The upper HDD cage is removable and rotatable, which allows for installation of even the longest graphic cards.

---

Key features

Simple yet elegant front panel with mesh and filter
NEW: USB 3.0 support on front I/O
Three Silent Series R2 fans included:

1x 140mm in front , 1000 RPM
1x 120mm in rear, 1200 RPM
1x 140mm in top, 1000 RPM

Optimized for performance with multiple cooling options
A total of 7 fan slots (1x 120mm + 1x 140mm in front, 2x 120/140mm in top, 1x 120mm in bottom, 1x 120mm in rear, 1x 120/140mm in side panel)
Six white painted HDD trays complete with silicon vibration dampening grommets – Each tray supports 3.5″ or 2.5″ HDD/SSDs
Upper HDD cage is rotatable and removable
Dust filters for PSU and front fan positions

---

MSRP:

USD: $ 74.95

EURO: € 64.95

GBP: £ 54.95

SEK: 599:-

Article Number

FD-CA-CORE-3000-USB3-BL

EAN / UPC

7350041081074 / 817301011075

*Available now in various markets

---

Contact details

---

About Fractal Design

Without a doubt, computers are more than just technology – they have become an integral part of our lives. Computers do more than make living easier, they often define the functionality and design of our homes, our offices and ourselves.

The products we choose represent how we want to describe the world around us and how we want others to perceive us. Many of us are drawn to designs from Scandinavia, which are organized, clean and functional while remaining stylish, sleek and elegant. We like these designs because they harmonize with our surroundings and become nearly transparent. Brands like Georg Jensen, Bang Olufsen, Skagen Watches and Ikea are just a few that represent this Scandinavian style and efficiency.

In the world of computer components, there is only one name you should know, Fractal Design.

For more information and product specifications, visit www.fractal-design.com

---