MSI and Gigabyte Unveil New Mini-ITX Motherboards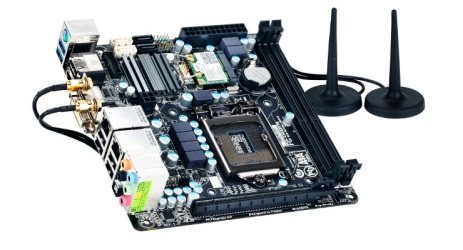 We are currently about halfway through the release cycle of the most recent Intel processor family. Ivy Bridge has now been with us for several months and we are still several months from the release of Haswell, Ivy Bridge's successor. For processor afficionados, these might be the doldrums, but for anyone looking to go Mini-ITX for a new HTPC or home server build, MSI and Gigabyte might have what you need to spark a bit of excitement. MSI has announced the Z77IA-E53, a new high-end Mini-ITX board based on the Intel Z77 chipset. The Z77IA-E53 is overclocking-friendly for those so inclined and packs the usual accoutrements such as a PCI-Express 3.0 x16 slot and 4 SATA ports, but it also comes with a mini-PCI-Express slot and a Wi-Fi/Bluetooth dongle.
The rest of the features include single PCI-Express 3.0 x16 slot, one mini PCI-Express slot, two DDR3 DIMM slots with support for up to 16GB of DDR3-1600 (2600 OC) memory, two SATA 6Gbps and two SATA 3Gbps ports, eSATA port, four USB 3.0 ports (two via header), six USB 2.0 ports, integrated 7.1-channel audio, HDMI and D-Sub outputs, Gigabit Ethernet, integrated (via dongle) 802.11bgn WiFi and Bluetooth 3.0.
Gigabyte is also showing the Z77 chipset some Mini-ITX love with the Z77N-WiFi. Gigabyte's take of the Z77 looks to be fairly similr to MSI's, except that rather than provide Wi-Fi and Bluetooth via dongle, Gigabyte has chose to provider an adapter that fits into the board's mini-PCI Express slot with antenna outs on the back panel. HTPC builders will probably be drawn more to the H77N-WiFi, with should provide just about all of the same functionality with its H77 chipset as the Z77N-WiFi, but at lower price and with an S/PDIF output to boot.
With the exception of the name silk-screened on the board, the H77N-WiFi looks all but identical to the Z77N. Although the platform hub hiding under the heatsink is different, you don't lose much with the H77. The lack of support for dual-x8 multi-GPU configurations is moot given the board's single PCIe x16 slot. The H77 offers only limited multiplier control for overclockers, but the cramped nature of Mini-ITX enclosures is far from ideal for pushing clock speeds.