Windows 7 Media Center Revealed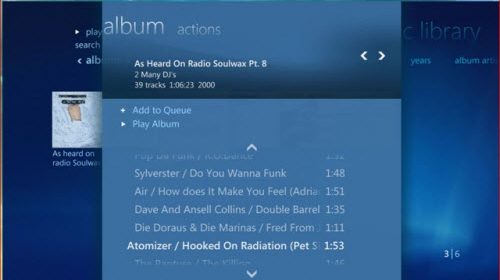 We Got Served brings you a preview of what we might be able to expect with Media Center 7. There have been some tweaks here and there but I do not see anything to revolutionary at this point. The new info. screens bring a lot of usability to the table that should help a lot of newbies. The Mini-guide has gotten a nice overhaul with enhanced usability as well. Other than the tweaks to the interface, the latest milestone has no obvious content enhancement, and as expected, no Blu-ray playback.
I hope to see more out of the Media Center team before the next release.
UPDATE:
Charlie Owen's Blog has much more detail about the new Media Center with screenshots of every screen.
Three important pieces of information we're divulged:
1. There is a new Windows 7 feature called "Shared Libraries" and Media Center uses it. Charlie likens it to Softsled, while not quite that cool, it at least lets people share Music, Video, and Recorded TV from PC to PC seamlessly, no hacks or awkward tradtional network shares needed.
2. H.264 playback is now supported out of the box with Windows 7 — including on Media Center Extenders – both standalone hardware implementations AND on the XBox 360 when in Extender mode.
3. Naturally, all of the TV Pack for Vista Media Center functions are included in Windows 7 Media Center.
Read on at: http://blog.retrosight.com/WindowsMediaCenterInThePDCBuildOfWindows7.aspx