Install Pulse-Eight internal HDMI-CEC adapter in Intel Skylake NUC (NUC6i5SYK)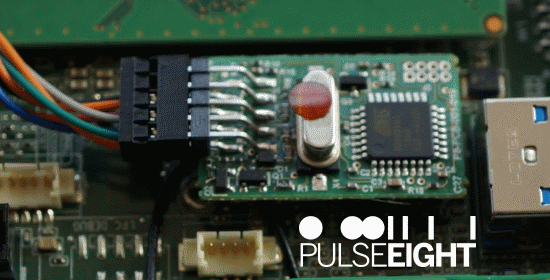 As you all know, one of the major disappointment with the Intel Broadwell NUCs was that Intel made it much harder than is should have been to leverage the HTPC's HDMI CEC header. So when the Intel NUC6i5SYK (Skylake NUC) review unit arrived, one of the first things I did was crack the case to see if Intel had done anything to make it easier to use a Pulse-Eight internal CEC adapter, or if a soldering iron would still be a critical part of the install. What I found was a fantastic improvement.
The HDMI CEC header is still located on the underside of the motherboard, so you will need to physically remove it from the chassis to do the installation. But it is now a first class, single purpose header. With a clear label and a keyed bracket, installation is easy. Once the board is out of the case, simply insert the CEC harness into the CEC header, and plug the other lead into one of the USB headers on the other side of the board (located by the M.2 slot). After that just reinsert the motherboard back into the enclosure. Then run a quick test to ensure everything is working before using the double-sided adhesive pad provided to affix the adapter to the system. There is a good spot between the SSD and RAM, just behind the rear USB ports, where everything fits back together nicely. All told, an incredibly straightforward and easy way to put HDMI CEC in your HTPC, with only a screwdriver and a few minutes of your time required.
Well done Intel and Pulse-Eight.