New and Returning TV Calendars for sharing, downloading, and it updates – ALL CHANNELS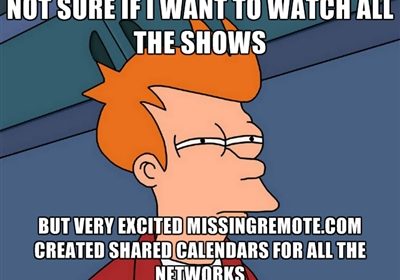 Missing Remote is proud to have many writers that are avid television watchers. When we were looking around for a list of shows and their start dates we found just those–list after list, so we have done the hard work for you and compiled these lists into shareable Google calendar with internet view or you can download and use it. Make sure you subscribe or come back, as we will be updating these all season. If you are like us and prefer to schedule only when it shows up on the guide, you will be watching this list daily when you can add your new shows up to 14 days in advance. We have made HTML links to look at the Google Calendar links and you can subscribe through that link, or ICS which is read by many of the popular desktop calendar applications, and you can subscribe to them through there.
(UPDATED 9/13/2012)
Fixed some of the length of shows. ABC has been redone to fix some date and time slot issues..

ABC
There isn't any particular order that we have chosen for these schedule releases maybe a little Alphabetical.
(ABC HTML Calendar) http://goo.gl/ICqR6
(ABC ICS) http://goo.gl/nxj4i
CBS
Here is the CBS schedule for all of your view glory. What new show on CBS are you looking forward to? What returning show are you looking forward to? CBS is one of the networks my household has recording most nights.
(CBS HTML Calendar) http://goo.gl/iXDWn
(CBS ICS) http://goo.gl/DCW5e
CW
Most of the CW schedule starts in October with just a few shows starting a few weeks later. Check out the calendar and ics for the list of shows; only 5 new shows coming to CW this fall, but they look like they could take off. As always check out the links for the other networks, ABC (link), NBC (link), CBS (link), PBS (link), Pay (link), Premium (link), and Combined (link).
(CW HTML Calendar) http://goo.gl/EBnBE
(CW ICS) http://goo.gl/uHUJR
FOX
Fox comes back with only 3 new shows this year and returning with some of their larger shows– and of course the Animation Domination Sundays–but you can't miss big hits like Glee and So You Think You Can Dance. We will be watching some of these shows, how about you?
(FOX HTML Calendar) http://goo.gl/3qrhB
(FOX ICS) http://goo.gl/z8r0w
NBC
NBC was able to push a lot of their new shows during the Olympics and there has already been some of these shown on television as sneak previews. Out of the new shows on any network I am personally looking forward to Revolution, I hope it lives up to its potential. Check them out and watch for a bunch of mid-season starts once some football is done on NBC.
(NBC HTML Calendar) http://goo.gl/Yzvuo
(NBC ICS) http://goo.gl/7XG44
Pay/Cable
We struggled what to call this section and settled on Pay because most of these channels you have to have cable from a provider. Some are starting to show up on their own websites and services like Hulu and Netflix. This is a large list we will try to stay up to date on all of these to update if they get changed like the others.
(Pay/Cable HTML Calendar) http://goo.gl/a6YTH
(Pay/Cable ICS) http://goo.gl/g9OGz
PBS
PBS started some of their new line up on Labor Day this year–there is a plethora of new exciting shows. PBS schedule does differ depending on your local station but here is the list based on what the National PBS has set, but check your local listings to confirm.
(PBS HTML Calendar) http://goo.gl/fWfjH
(PBS ICS) http://goo.gl/Ei0d6
Premium
The Premium channels as in Showtime, HBO, Cinemax, Encore and others–the channels you have to pay above and beyond on most of the cable providers. Some of you watch these shows when they are on, the rest of us just wait until the Blu-ray release.
(Premium HTML Calendar) http://goo.gl/i9BSn
(Premium ICS) http://goo.gl/YoHhb
Combined
This one list is the list to rule them all. Here are the links for all the schedules in one spot–a one stop shop for all your TV viewing enjoyment.
(Combined HTML Calendar) http://goo.gl/r31E0
(Combined ICS) http://goo.gl/nM14H
Did you miss one?
"Check out all of the HTML calendars on our site, ABC, CBS, NBC, FOX, CW, PBS, Pay Cable, and Premium Cable. We have also added a Combined list of all the previous together."