ATSC/NTSC Tuner Guide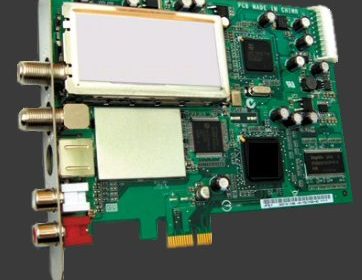 Those of you who followed us over from HTPCnews will remember the basics of this guide. I've been at it again and written a brand new TV tuner card guide. With analog TV quality becoming less of an issue (most venders have it right now), and the addition of HDTV tuning becoming the standard (thanks in part to the March 2009 deadline). This new 2007 edition focuses on HDTV-only and combo HDTV with Analog TV cards.

ATSC-only and ATSC/NTSC cards
ATSC-only and ATSC/NTSC cards
ATI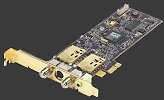 Comments & Tech Specs
The Theater 650 Pro chip is used in the products below. The 650 Pro improves upon the Theater 550 Pro's already excellent features (see the next section for details on the 550 Pro) with motion compensated noise reduction and a motion adaptive 3D comb filter. Also the 650 Pro is made to interface with one of ATI's digital TV demodulators for card designs that support both analog and digital TV.
TV Wonder 650 PCI— Older standard PCI model that is a hybrid ATSC/NTSC (either/or) design. Hard to recommended due to the shared tuner.
TV Wonder 650 PCI Express 'Combo'— New PCI Express x1 design [pictured above] that is a true ATSC and NTSC combo with 2 silicon tuners, ClearQAM capable. Uses the Theater 650 Pro along with the Theater 312 ATSC demodulator.
AVerMedia


Comments
Well liked ATSC tuner, supported under nearly every PVR software package around including Linux.
Tech Specs
Philips SAA7135 video decoder and PCI interface chip plus an ATI NXT2004 ATSC demodulator.
Newest drivers expose ClearQAM support.
Comments
True ATSC and NTSC combo, Low-profile bracket included. Excellent ATSC signal strength.
We looked at the M780 in May, click here for more.
Tech Specs
The M780 uses a Micronas APB 7202A nGene chip as its' host bus interface chip. For digital TV AVerMedia went with a well proven option: LG's "5th Generation" DT3303 ATSC demodulator, this is the same family of chips the popular DVICO Fusion 5 series uses. The final component is the NEC µPD61153, a hardware MPEG2 encoding chip for the analog TV.
The M780 is ClearQAM capable.
DVICO


Comments
HDTV tuner available in 4 versions: USB, Express (PCIe), Gold, and Lite. The USB, Gold, and Express are deluxe versions with slightly upgraded analog video processing and include a remote control. Low-profile bracket included with internal versions. Good reputation for signal strength and sensitivity. A bit finicky with driver installation order, and some PCI card compatibility issues. Like most HDTV purposed single tuner cards the analog portion is software encoding and can't be used simultaneously when watching digital TV, most people don't buy the Fusion (and other HDTV purposed cards) for their analog support, in fact in many PVR applications the analog portion is ignored.
Tech Specs
The Fusion 5 series was the first to utilize the LG DT3303 "5th Generation" ATSC demodulator, it has algorithms to deal with less then ideal signal situations such as multi-path interference. A Conxenant BT878 or the more advanced CX23882 are used for analog TV and for the PCI bus interface. The Fusion 5 Express uses the PCI Express enabled equivalent called the CX23885.
DVICO was a pioneer in experimenting with ClearQAM support, all Fusion 5 series support QAM tuning, but only in the FusionTV application.
Hauppuage


WinTV HVR-1600 / WinTV HVR-1800
Comments
True ATSC and NTSC combo cards. No analog image quality issues, unlike PVR-150 family. Easy to find in retail stores.
We looked at the HVR-1600 back in May, click here for more.
Tech Specs
The HVR-1600 design is made entirely of Conexant chips. The Conexant CX23418 is the TV broadcast decoder, MPEG2 encoder, and PCI bus interface chip all rolled into one. The CX23418 combines the hardware encoding engine of the CX23416 with the broadcast decoder and bus interface of the CX25843 into one chip [see the PVR-150 series in the next section for more]. The Conexent CX24227 ATSC demodulator is used for digital TV reception.
The HVR-1800 is similar to the HVR-1600 with slight differences: Conexant doesn't have a single chip PCI Express solution yet, so the HVR-1800 uses the Conexant CX23417 MPEG2 encoder which is an evolution to the CX23416 used on the PVR-250/350/150/500 series. Secondly, it uses the CX23887 PCI Express Video and Broadcast Audio Decoder for A/D conversion and PCIe interface duties.
Retail boxed models of the HVR-1600 and all HVR-1800 models support ClearQAM.
WinTV HVR-950
Comments & Tech Specs
Hybrid (either/or) USB tuner, software analog encoding. Uses the eMPIA EM2880 chipset.
SiliconDust


Comments
ATSC only dual tuner, quite unique, it is a networked device with dual digital TV tuners. Silicon Dust has been a pioneer in software support, adding their own plugins for MCE 2005, SageTV, MythTV and more. The HDHomeRun has the distinction of being the first (and only) to add ClearQAM support into MCE 2005, and was the first tuner tested for use with SageTV's ClearQAM support.
We took an early look at the HDHomeRun back in 2006, click here for the review.
Vbox


Comments
These two are solid ATSC only tuners, they don't include analog support at all, which is really a boon, as analog support is usually thrown in as an extra on most single tuner HDTV cards.
Tech Specs
Vbox uses a chip that is an in-house design so not much is known about it. The Vbox are known to have very good signal tuning ability.
Comments
Dual-tuner PCI Express x1 card with software encoding analog support. This is an interesting beast because it is dual-tuner but is also software encoding that means that the analog portion is not MCE compliant (without using a hack) and of course it uses your CPU to do the analog recording. This means that it is less then optimal to use as anything other then a dual ATSC tuner.
Tech Specs
Based on the Micronas MicViper reference design.
VistaView


Saber DN-1N1-I / Saber DN-1N1-E
Comments
True ATSC and NTSC combo. DN-1N1-E is a standard height PCI Express model while the DN-1N1-I is a low-profile PCI model which includes an LP bracket. Very good ATSC signal strength.
We looked at the PCI based Saber DN-1N1-I in July, click here for the review.
Tech Specs
The Saber DA-1N1-I uses the new and revamped ViXS XCode 2105 for MPEG2 encoding and PCI bus interface support. For digital TV VistaView made a smart choice with LG's "5th Generation" DT3303 ATSC demodulator. A Phillips SAA7136/CE does the analog to digital duties. The DN-1N1-E substitues the XCode 2106 which has identical video features but integrates a PCI Express x1 interface.
Legacy Analog-only Cards
Legacy Analog-only Cards
ATI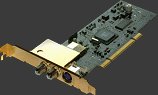 Comments & Tech Specs
Discontinued; replaced by Theater 650 Pro. Solid chip with great image quality. It was the first TV tuner to seek ISF certification. It featured a 12-bit video decoder (most of the competition was 9-bit or 10-bit) with hardware 3D comb filtering and hardware noise reduction. It is unique in that everything is in a single chip. It was also an industry first that the Theater 550 Pro had both a standard PCI and a PCI Express x1 bus interface in the silicon so that it could be used in a variety of products. Used in ATI TV Wonder Elite and by PowerColor, Sapphire, MSI, and other ATI OEMs.
Hauppauge


PVR-150 / PVR-500MCE / PVR-USB2 series
Comments
The PVR-150 appears to be semi-discontinued: HVR-1600s are being substitued in PVR-150 retail boxes because of the 2009 digital TV phase in regulations. The PVR-500MCE is also a first for Hauppauge, this was the first dual capture device on a single card released by any manufacturer. A low profile variant of the PVR-150 is available called the PVR-150MCE L.P.
The Hauppauge family has the best Linux support among analog tuners, alas poor image quality is still an issue with these cards.
Tech Specs
The PVR-150 series uses a highly integrated audio and vidio analog to digital (A/D) convertor and PCI bus interface silicon called the Conexant CX25843 A/V Decoder. This small single chip replaces both the Micronas audio and Philips video chips of the previous generation: The PVR-250. Along with the cost savings of two chips from the same vendor the CX25843 has better quality A/D converters (10-bit vs 9-bit).
The PVR-500MCE is essentially the chips and circuits of two PVR-150MCE joined by a PLX FastLane 6140 PCI-to-PCI Bridge on a single PCI card.
NVIDIA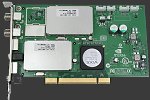 Comments
Discontinued, but NVIDIA has developed Vista 32-bit/64-bit drivers for Vista MCE support, newest drivers now support multiple DualTV boards in the same system. Was the second ISF certified tuner on the market, and as such had excellent image quality. There are known compatibility issues with other PCI multimedia devices, especially HDTV tuners.
Tech Specs
Philips reduced profile tuners are in the front and the ViXS XCode II in the center does the hardware MPEG2 encoding of the two TV streams. Philips SAA7173 video decoders do the analog to digital conversion. Part of NVIDIA's 'secret sauce' was the use of an OKI L87V2105 which is a video noise reduction DSP. Noise reduction control and ISF color controls are only available via an MCE 2005 plug-in.
VistaView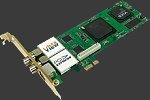 Comments
Rough start with early drivers, but generally a good card. Thanks to being PCI Express it doesn't have compatibility issues with other multimedia peripherals which PCI based ViXS Code II products had. Unlike the DualTV, the Saber 2020 is still being sold by VistaView. S-video input is fantastic. A low-profile bracket is included.
Tech Specs
Uses a Phillips SAA7162 dual stream video decoder (A/D) which features a PCIe interface plus the ViXS Xcode II for hardware MPEG2 encoding.
Compatibility Chart
TV Tuner Card Compatibility Chart
MCE 2005

Vista Media Center

SageTV

Beyond TV

Linux

Extra Notes

ATI Theater 550 Pro / 650 Pro
Yes
32-bit/64-bit
Yes*
Yes*
No
*PCIe combo model is new to the market (due Sept. 2007), but is expected to be compatible.
AVerMedia M780 Combo PCIe
Yes
32-bit/64-bit
Yes
Yes*
No
*Works correctly in XP. Under Vista, only the analog inputs work. BeyondTV setup will fail to see any ATSC channels and the program will crash on the next screen.
AVerMedia A180
Yes
32-bit/64-bit
Yes
Yes
Yes
DVICO Fusion 5 series
Yes
32-bit/64-bit
Yes
Yes
Yes*
*Linux support for Gold/Lite and basic ATSC-only support for the USB model.

Hauppauge
PVR-150/500 series

Yes
32-bit/64-bit — driver ships with Vista.
Yes
Yes
Yes

See the
Hauppauge Vista Support Chart

Hauppauge
HVR-1600/1800
Yes
32-bit/64-bit
Yes
Yes
No
Hauppauge HVR-950
Yes
32-bit/64-bit
Yes
Yes
Yes*
*Link to alternate source tree with HVR-950 support
NVIDIA DualTV
Yes
32-bit/64-bit
Yes
Yes
No
SiliconDust HDHomeRun
Yes
32-bit/64-bit
Yes
Yes
Yes
Link to setup instructions for common PVR applications.
Vbox 150/3560 USB
Yes
32-bit/64-bit *BETA*
Yes
Yes
No
Vbox 164e
Yes
32-bit/64-bit
Yes
Yes
No
VistaView DN-1N1-E & DN-1N1-I
Yes
32-bit/64-bit
Yes
Yes
No
VistaView Sabre 2020 PCIe
Yes
32-bit/64-bit
Yes
Yes
No
** Currently there are no PCI Express TV tuner cards of any type supported under Linux **
UPDATE: Clear QAM Support Chart
Clear QAM Support Chart
NOTE: If you don't see a TV tuner from the last section listed in this chart it is because the hardware doesn't support tuning digital cable (QAM) channels.
MCE 2005

Vista Media Center

SageTV

Beyond TV

Linux

Provides proprietary application with clear QAM support?

Card Notes

ATI Theater 650 Pro*
N/A
See Vista MCE note below
No
No
N/A
No
*The only model to support ClearQAM is the upcoming PCIe combo model.
AVerMedia M780 Combo PCIe
N/A
See Vista MCE note below
Yes*
No
N/A
Yes
*ClearQAM may only be enabled in the M780's Vista drivers.
AVerMedia A180
N/A
See Vista MCE note below
No
No
Yes
Yes
DVICO Fusion 5 series
N/A
See Vista MCE note below
No
No
Yes
Yes
Hauppauge
HVR-1600*/1800
N/A
See Vista MCE note below
Yes
No
N/A
Yes
*For the HVR-1600 Clear QAM is only supported on product codes 74021 and 74041 (found on the tuner label).
SiliconDust HDHomeRun
Yes
Yes
Yes
Yes
Yes
Yes
See here for setup instructions for the common PVR packages.
A note on Vista Media Center: Currently Vista MCE doesn't officially support ClearQAM tuning, though the foundation is there and works for CableCARD (OCUR) tuners. Because so many vendors are adding ClearQAM support to their Vista HDTV tuner drivers and actively making it known, it is foreseeable that ClearQAM in VistaMCE could be coming in some future service pack.