24p: What You Should Know

Background
Long ago, filmmakers decided to standardize shooting film at 24 frames per second (FPS) primarily due to the high cost of film and state of the technology at the time. Film became popular worldwide and every piece of production and distribution equipment was made to support this frame rate.
When television came into existence, the cathode ray tube (CRT) display technology was used. CRT design at the time used a multiple of the power line frequency which is 60Hz in North America and 50Hz in Europe. The National Television System Committee (NTSC) standard developed in the United States in the 40's and 50's actually ended up slowing down the CRT refresh rate by 0.1% to 59.94Hz to compensate for some distortion that occurred due to the nature of the way NTSC transmits information. Later, the Phase Alternate Line (PAL) standard was developed in Europe and had no such anomaly.
It should be noted that the refresh rates of PAL and NTSC are field rates because PAL and NTSC transmit frames using interlacing which is essentially a means of compression. In other words, it allows more lines of resolution in a given amount of bandwidth, albeit at a slower frame rate. When a frame is interlaced, it is divided into two fields with each field representing half the frame. The fields are then transmitted in alternating fashion such that the frame rate is equal to half the field rate. Thus, the frame rates of PAL and NTSC are 25fps and 29.97fps, respectively.
Naturally, people wanted a way to take film content shown in cinemas and display it on their televisions. However, this presents a problem because film and video frame rates are different. To compensate, "telecine" was created which is the general term used for "pulling down" film frames into video.
For PAL, the solution was rather simple: the film frame rate was simply sped up 4% from 24fps to 25fps. This technique, also known as 2:2 pulldown, does have the affect of slightly altering the sound of the film and displaying video slightly faster than intended.
2:2 Interlace Pulldown
For NTSC, the solution was a bit more complex. First, the film rate was slowed by 0.1% to 23.976fps. Next, frames of film are displayed in an alternating sequence of two or three fields in order to match the NTSC field rate. This technique is also known as 2:3 (or 3:2) pulldown.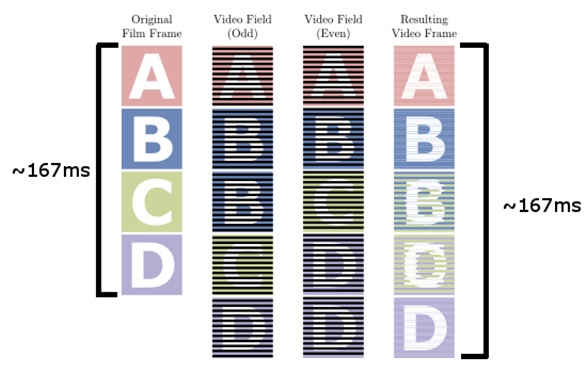 2:3 Interlace Pulldown
You can see that NTSC presents a couple of problems. First, due to the interlacing, there are dirty frames with interlacing artifacts. Dirty frames are those which have fields of two frames of film. The second problem is that the original film cadence has been altered because frames are being divided into non-equal numbers of fields and thus displayed in non-equal amounts of time.
Now that we have an understanding of the history, let's take a look at the present. High-definition (HD) television displays today will typically be operating at a 50Hz or 59.94Hz refresh rate. However, unlike the NTSC/PAL displays in the past, HDTV displays of today are also capable of displaying full progressive frames at their refresh rates (1080p, 720p, 480p) in addition to two interlaced fields composing a single frame (1080i, NTSC, PAL).
Present Day
Film is in a much better state with today's HDTVs than the PAL/NTSC days. Most every film is transferred to Blu-ray at a frame rate of 23.976 (24p) (note: today, most players can also process film-based DVDs in such a way as to also create a 24p output). If the display is operating at 59.94Hz, 2:3 pulldown will occur, however, there will not be any interlacing artifacts since full frames are now being presented instead of fields.

2:3 Progressive Pulldown
So, while we've achieved one victory here over NTSC by removing the interlacing artifacts, we still have the unnatural frame rate cadence due to each frame of film occupying different amounts of time. This manifests itself in what is called judder. Pulldown judder is especially noticeable in scenes with long panning shots or credit rolls, but it is always a problem as long as there is motion being captured on film. Judder is probably best described as a hitching motion. A lot of times, it may not even be noticeable if you've become accustomed to watching content with judder.
Fortunately, there is a solution to both the 2:3 pulldown judder problem and the slight 2:2 pulldown speedup problem and that is to obtain a display that is capable of maintaining the proper film cadence by accepting the native 24p frame rate offered by Blu-ray and displaying at a refresh rate that is a natural multiple of 24p. Actually, this is exactly what cinemas today do. A typical cinema will display each frame of film twice to obtain a 48Hz refresh rate or even 3 times as often to achieve a 72Hz refresh rate.
Recomendations
Due to our perception of light and the higher light output of most HDTV displays compared to cinema projectors, it is best to obtain a display that can provide proper film cadence at least 3 times the 24p frame rate (~72Hz); otherwise, the lower multiples can result in a flickering effect, especially in brighter scenes. It is also important to recognize that many displays on the market will accept a 24p input, but will internally apply 2:2 or 2:3 pulldown to achieve 50Hz/59.94Hz output. Even displays supporting proper film cadence may require you to engage a special mode or change the default configuration to avoid sub-optimal pulldown.
Another concept to be aware of is frame interpolation. Some display or source devices may attempt to multiply the frame rate, but instead of repeating the frame several times, the device will interpolate frames to be displayed between source frames which can create a smoothing motion resulting in a more video-like picture (also known as "The Soap Opera Effect"). This is not something that is desirable because this was simply not intended by the filmmaker. The filmmaker understands the strengths and weaknesses of the film frame rate and makes very specific decisions based on that by adjusting things such as shutter speed, aperture and frame rate when filming. By employing interpolation, you can't possibly enjoy the film as it was intended to be seen.
When using a home theater PC (HTPC), we often must manually change our display refresh rate to "23Hz" to achieve proper 24p output. As Blu-ray disc (BD) playback software matures, I expect to someday see this happen automatically without user intervention as some hardware playback devices are capable of. MPC-HC, a free open-source software (FOSS) player, is capable of BD-Lite playback and automatic refresh-rate adjustment based on the detected media.
Another item of interest for HTPC users with 50Hz displays and PAL film-based DVDs is SlySoft's ReClock software which can compensate for the 2:2 pulldown speedup by resampling the audio and correcting for the pitch problem.
Thankfully, we can reproduce film experience in the home theater more accurately than ever and hopefully, your display and source devices can properly support 24p.
For more information on the subject of frame rates and refresh rates, see our guide.
Note: As we discussed in the comments, some of the current trade names used to indicate proper 24p support by manufacturers include:
LG: Real Cinema
Panasonic: 24p Cinematic Playback
Samsung: Cinema Smooth
Sony: 24p True Cinema