Home Automation: Getting Started With Z-Wave and mControl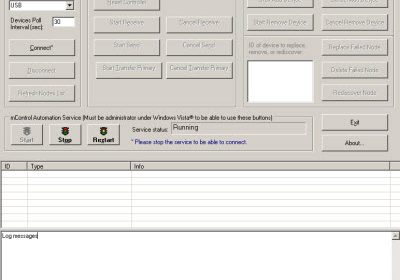 To get started, let me give you a quick idea of my planned home automation infrastructure. My plan, at least at this point in the ball game, is to automate lighting and HVAC systems. mControl server is installed on a Windows Home Server with access granted to mobile clients, internet connected PCs, and any locally connected Media Center clients and of course extenders. That is right, that light dimmer won't know what hit it.
Getting started with a Z-Wave network is pretty easy. I have an HA07 Intermatic controller that I used as the primary controller on my Z-Wave network. mControl uses the Z-Wave adapter utility to communicate with this controller. Check out page 30 in the manual for specific directions but the gist of it is that by pressing Start Receive the utility will download the devices that are setup on your controller and they will now be available for use within the mControl program. Easy as pie so far right?
I stumbled a bit through this process because I didn't read the user manual :). No one's fault but my own. I would like to see Embedded Automation provide a "work flow" approach and a bit more background information in their manual. With that said, boy kudos to them for putting together a 300 page manual.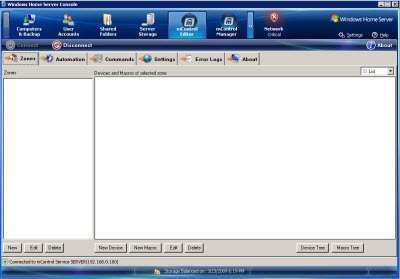 Next, head on over to the WHS control panel and go to the mControl editor as shown in the picture above. Nothing but a blank slate to get you started on your home automation adventure. Start the process off by adding a Zone.
Next hit the add device. Custom name your Device name and the adapter will be the Z-Wave adapter. This will present you with a Z-Wave ID. The Z-Wave ID should be in the order you add your devices and you can get this number from the Z-Wave utility when you add your devices. This is not entirely intuitive and I would prefer the ability to custom name your Z-Wave modules in the Z-Wave utility, that way you can easily add the name rather than the device ID.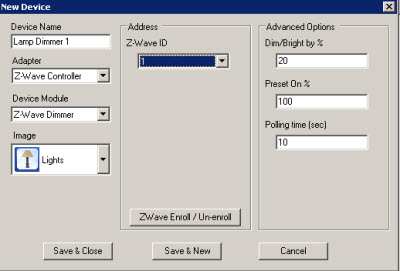 In the end, you end up with a very simple method to control a single device. This is the very simplest home automation will get. Go on you crazy fools. Dim that light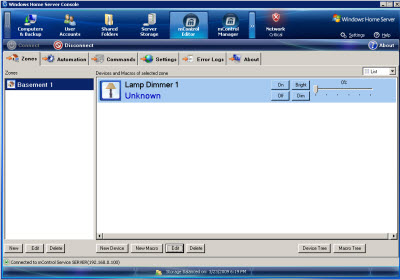 So far the learning curve has been moderate. Nothing to brain melting but there is a lot of information to take in when you get started. Here are a few home automation stories MissingRemote.com has done so far. I hihgly recommend reading the Home Automation shopping list and the associated discussion when getting started.
I Hold All Of The Power In The World
Will green push people to home automation