A Taste of what's in the new Boxee…with Hulu again!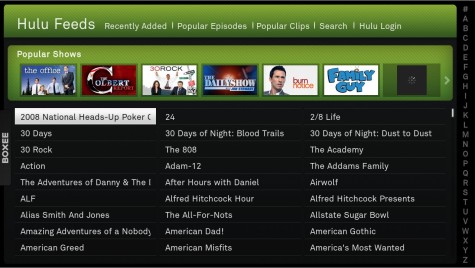 EDIT 3/6 @ 3:30pm: Well that didn't last long 🙁 Good thing this update has some cool new features besides Hulu!
By now you have probably heard the news about Boxee releasing an update with a different way of approaching Hulu. While previously Boxee had an amazing integration with Hulu, that service had since been terminated due to unknown reasons by the request of the content providers.
With today's announcement from Boxee, it seems that not all hope is lost. The latest version–which is admittedly unstable–shows a glimpse into what the future can hold for Boxee users clammoring to have their Hulu back. And so far…I'm impressed.
As you can see, the integration is still fun and blends wonderfully into the Boxee interface. In using the RSS feeds, the hope is that this model can last longer and not get axed down as fast as the last model. These images are of the Hulu Feeds app by default, all the shows are there by default and it's just the pipes of Boxee have changed as to how you get them. You still just click on a show to play, and you still get all those wonderful commercials.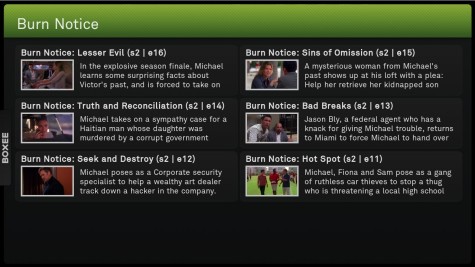 I'm sure on a related note, this new version of Boxee also includes an auto-update feature which is really a must have as I imagine the back and forth with Hulu will continue for a bit longer at least. But that's not all…
I'll cover this briefly, but Boxee is not resting on their laurels with the content they have. They've clearly listened to the community and have added their "App Box" which allows you to add other video feeds. I'll cover this more in depth in the future, but for now here's a taste of what's already available and how seamless the integration continues to be.
| | |
| --- | --- |
| | |
| App Box offerings | Funny or Die (from Will Ferrell) |
This is all much more than just the beginning and I think will continue to add to the popularity and relevance of Boxee in your home theater environment. Kudos to the Boxee team for such quick development on all of the above and I'm sure more that's coming!