Hulu and XBMC
Hulu has been a very elusive creature on our beloved HTPCs. Sure we can hop on PCs to get slightly outdated shows but we are a picky bunch on want to do everything with a remote :). Sure there is Boxee, the social crotch fruit of XBMC, but that isn't available to everyone and has a ways to go. XBMC, the open source whore that has spawned a few projects itslef, has come through with in spades thanks to contributions from a couple of kick ass users in the community.
Enabling Hulu on XBMC requires a special build that can be found here.
The feature required for Hulu to work can also be found in the latest SVN's. This option would probably get you improved stability, though I can't say for sure until I test it.
There are multiple scripts in the above thread. The one I used with success on the above build can be found here.
| | |
| --- | --- |
| | |
| Various ways to browse Hulu | Top movies by the week |
You will want to copy the script to the plugins->video directory to install the script :). Yes, its that simple.
| | |
| --- | --- |
| | |
| Phsych by season | Popular shows, view by icons |
In order to access Hulu from the XBMC menu click on videos->video
plugins and then Hulu :). As you can see from the screen cap above,
browsing with your remote is actually very similar to using the
webpage. You are typically 3 to 5 clicks away from selecting the media
you want to view. Endless drill-downs are a no-no in plugin navigation
land, and this plugin avoids it for the most part.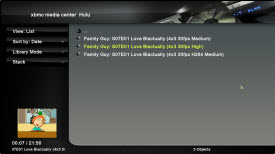 Select quality based on your bandwidth
Good luck with Hulu on your big screen :). Here is to hoping 2009 brings Hulu to all of the major HTPC platforms.