ASUS Chromebit CS10 ChromeOS HDMI Dongle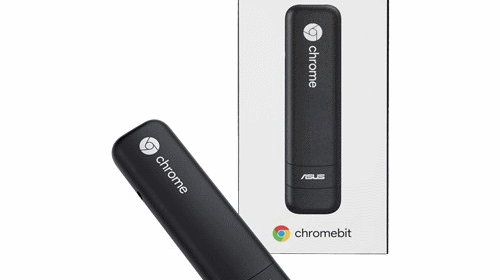 The ASUS Chromebit CS10 is unique from other devices based on Google's ChromeOS because unlike these Chrombooks (aka laptops) it does it from a HDMI dongle. Besides the flexibility to BYOD[isplay], the form factor's inherent price advantage ($85/£90) also makes it a relatively cheap way to play with ChromeOS, and test its unique approach to delivering a secure, low maintenance platform. I must admit that the browser-only apps available means that it is unlikely to replace any PCs in my stable, but as a very portable web browsing and media player it could be the perfect casual consumption device, or with its support for Google Play, Netflix, YouTube, and DIY streaming apps potentially earn a place in the travel bag.
Device
The ASUS Chromebit CS10's packaging is simple and attractive. Most importantly, it does the job of delivering the device safely, as well as providing an enjoyable unboxing experience. The device itself is a bit larger than a Chomecast, but surprisingly dense (69g), so it is great that ASUS provides two cables; one of the typical variety as well as an interesting ridged-yet-bendable one, and some Velcro dots to ensure that the display's HDMI port does not feel the Chromebit's heft when attached. ASUS provides a 12V/1.5A power supply, but I would have liked to see micro USB (or Type-C) used instead (like the Intel Compute Stick) as it makes for a much more flexible solution.
Use
First-run went mostly as expected for a device that is targeted at those who want less complexity from their computing devices — with one snag really. Despite the surname, I do not speak Dutch (sorry Dad J) so it took a little guess work to make it through the first set of screens. After that, it was mostly a click-through affair. Provided you already have a Google account, you will be up and running within five minutes. Even if there is a pending update, which will automatically apply automatically as part of the process.
Using the ASUS Chromebit CS10 is equally easy, but you will need to stay within the "browser only" constraints of the platform. Now, to be fair, there are quite a few applications available, and if you limit selection to Google's ecosystem for documents, spreadsheets, photos, music, etc. it all works really well. Where you are very dependent on Cloud services and give up a lot of richness in application selection versus a traditional PC, you get a vastly more secure environment that mostly manages itself. Something that you could easily give to a child or less demanding user, and not worry too much about them screwing it all up or racking up huge in-app purchase fees. General purpose input/output device support is equally effortless. USB HID keyboards/mice just work, as did Bluetooth keyboards and headsets. And if you need a bit more extensibility it is also possible to connect a USB hub, and add Ethernet to the mix via the one USB 2.0 port on offer. Although, I actually saw better performance using 802.11AC Wi-Fi than Gigabit Ethernet; most likely due to the CPU offload from the HooToo adapter.
Being completely honest, I did not expect the ASUS Chromebit CS10 to be as good a media consumption device as it turned out to be. In fact, given the device's form factor and power constraints the only major miss is the lack of multi-channel audio and bit streaming (Dolby Digital, DTS, etc.) support. Over the top(OTT) viewing via Netflix, Amazon Video, and Youtube in the browser was excellent. Both Plex and Emby also provide "apps" for ChromeOS, but you will be fine using either straight from the browser in both cases; actually better to use Emby that way because full-screen does not work correctly from the "app". The only problem area noted was with interlaced content tested by streaming from a SiliconDust HDHR DVB-T2 tuner to VLC. While it also struggled a little while playing higher than 20Mbps bit rate video, which I am unsure whether this is due to network limitations or the hardware itself, adding a little server based transcoding (via Plex or Emby) in the mix sorted that nicely. Emby's LiveTV integration can also resolve issues with interlaced TV content, so provided you can also keep one of these servers on your network, it is quite possible to enjoy all your content in the home – or while you are away.
Oddly, the only show stopping media consumption issues were noted with Google Play Video. In testing, I was unable to make it play suitably either when streaming or from a downloaded source. The video above (apologies for stripping the audio but I wanted to ensure that YouTube did not flag it) captures the experience nicely. Low resolution video, playing poorly. Quiet strange.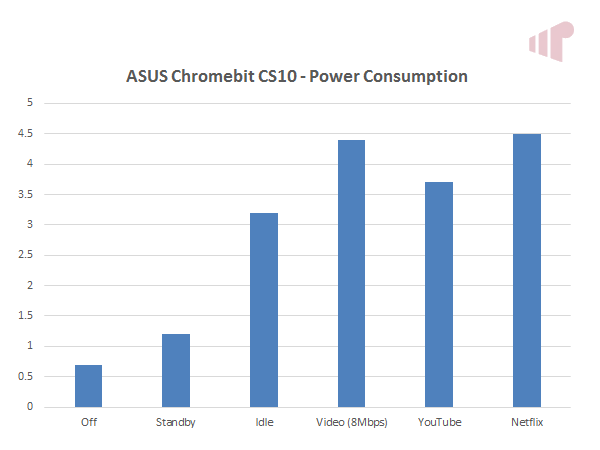 Power consumption was very low, with the maximum average consumption noted when streaming full screen Netflix. Peak was a bit higher, at around 5W, but still quite low, and well below the power supply's 18W rating.
Conclusion
The $85/£90 ASUS Chromebit CS10 will not be right for everyone. Its main justification revolves around providing a simple and secure computing environment for connected users that do not require the flexibility that a traditional PC provides. That said, it does provide a robust media consumption experience for popular over the top (OTT) video services and DIY streaming solutions like Emby and Plex as long as multi-channel audio is not a "must have" feature. This capability makes it very suitable for use as a flexible media streamer while traveling, or in secondary locations in the home. All told, I have to admit that I was very surprised by the CS10. I expected a device that was only right for a small segment of "PC" users. Finding instead, a quite competent and low power HDMI dongle that I could easily use. Now, if only ASUS would finally start shipping the orange one…
Pro:
Effortless browsing
Good media experience
External device support
Low power computing
Con:
Have to wait for orange model (jk)
No multi-channel audio output
App experience is limited
Google Play Video performance
Thanks to ASUS for providing the review sample.