NETGEAR AV+ 500 NANO SET (XAVB5601) Powerline Networking Adapters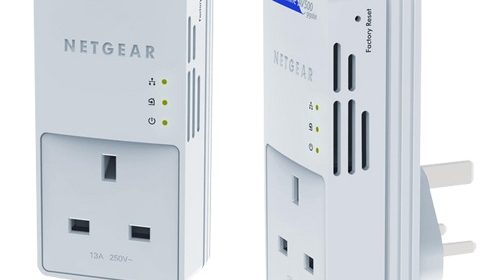 When pulling Cat 6 Ethernet cables through the walls is out of the question there are a few options for enabling a high-bitrate-media capable network. MoCA is usually a reliable source of the 100Mbps required, but limited to existing cable infrastructure. New kid, wireless 802.11AC shows significant promise, but won't come home for anywhere near the price where Powerline networking claims 500Mbps of bandwidth. Historically, Powerline technology has over promised and under delivered–with actual performance falling below the number on the box. With a NETGEAR AV+ 500 NANO SET (XAVB5601) available, it is time to address the technology's viability again. Asking $110 (£60) at retail, the kit is reasonably priced, has receptacle pass-through offering a solution to a common Powerline gripe, and with 500Mbps to play with, one would expect to have plenty of bandwidth headroom even as distance and environmental load are varied.
Device
The NETGEAR AV+ 500 NANO SET wears traditional retail garb, with plenty of claims around bandwidth even going so far as to state "Perfect for multiple HD or 3D video streaming." Applying this claim to 3D/high-bitrate Blu-ray movies, this equals around 50Mbps of consistent bandwidth for audio and video playback and up to 95Mbps peak when using a player with menu support (measured with ArcSoft TotalMedia Theatre 6 and Dune BD Prime 3.0). The NETGEAR XAVB5601 Powerline kit includes two XAV5601 Powerline adapters, which we find inside the box alongside a pair of matching 79" Cat 5e Ethernet cables.
The NETGEAR XAV5601 adapters have one Gigabit Ethernet port and offer receptacle/outlet pass-through. The Powerline adapters were tested with an electrical device plugged in, and without– no significant difference was noted in throughput either way. Powerline adapters are sensitive to local power consumption however (we will see this later), so some planning may still be required. Three LEDs are found on the face: indicating Ethernet connection (via Gigabit port), connection quality between adapters (green, orange, red), and power state (On/Standby) from top to bottom.
Use
NETGEAR provides a configuration/diagnostic utility for their Powerline adapters which displays current bandwidth, detected infrastructure, and encryption status. The tool is also useful should you want to rename the adapters, or need to update the firmware if a new version becomes available (untested). Here we can see that the NETGEAR XAV5601 Powerline adapters are able to note connection speeds very close to the technology's potential. Unfortunately, even with 448Mbps of reported bandwidth only 92Mbps of actual throughput was experienced during testing. More importantly however, this number was only observed when the NETGEAR XAV5601 adapters were plugged into the same receptacle.
Before digging into the numbers as distance and electrical load are varied, it is important to outline the testing infrastructure and set a baseline of what is possible using the same endpoints with Gigabit Ethernet to remove any potential concerns around other subsystems limiting the NETGEAR XAV5601's potential.
The NETGEAR XAV5601 reports connection quality via the colors green (80+ Mbps), orange (50-80Mbps), and red (<50Mbps) on an LED indicator located on the face of the device. In this, and the subsequent graph the notation indicates connection quality and location with the letter representing quality (G/O/R) and number the testing location. In all of the tests a 46GB file was copied from a RAID1 array on the server to an SSD on the client PC with the network I.O captured via Microsoft Resource Manager. Here we see a comparison between the NETGEAR XAV5601 in position 1 (same receptacle installation noted above) and Gigabit Ethernet.
| | | |
| --- | --- | --- |
| | Server | Client |
| CPU/IPG: | Intel Core i7-3770S (3.1-3.9GHz 65W TDP) | Intel Core i3-3217U (1.8GHz 17W TDP) |
| Motherboard: | Intel DZ77GA-70K | Intel D33217GKE |
| RAM: | 32GB (4x8GB Kingston DDR3L 1600MHz CL9 DIMM) | 8GB (2x 4GB ADATA XPG Gaming Series DDR3 1600 CL9 1.35V) |
| NIC: | Intel 82579V | Intel 82579V |
| OS: | Windows Server 2012 | Windows 7 Ultimate (x64) |
| I/O | 3TB RAID 1 (2x 3TB Western Digital Red / HighPoint RocketRAID 640) | Crucial m4 mSATA 128GB SSD |
Obviously if Gigabit Ethernet was an option, there would not be a need for this exercise so it was removed from the results and the NETGEAR XAV5601 moved progressively further away from the base. With the number representing the following locations:
2: Receptacle in the same room, but on the opposite wall
3: Receptacle in a room on the same floor (2nd)
4: Receptacle in the family room (1st floor)
5: Receptacle in the family room (1st floor) behind the TV
As we can see from the results as distance is added between the NETGEAR XAV5601 adapters, reported bandwidth and measured throughput decline rapidly; falling quickly below what is required to support high-bitrate Blu-ray quality and 3D video. Disabling encryption did net a small bump in both (G4* v. G4) numbers, but that should not be viewed as a viable operating condition in a real environment. Also, it was quite common for the quality of the connection to drop into "orange" territory when it was needed most – quite likely due to the power requirements of the plasma TV also plugged into position 5. "R[ed]" (<50Mbps) was not observed in any location so it was not possible to measure actual bandwidth in that connection state.
Depending on the specific bandwidth requirements of your environment (peak demand < 30Mbps), the NETGEAR XAV5601 may meet your needs. However it will not be sufficient in any but the most generous environments, should your needs extend beyond that – keeping in mind that Blu-ray quality A/V, especially 3D, can require 50Mbps of constant throughput and up to 95Mbps at peak.
The NETGEAR XAV5601's power consumption is a strong point. When no activity is required it drops to 0.5W, and only consumes between 3.3W and 4.1W when in use.
Conclusion
It is easy to praise the NETGEAR XAVB5601 Powerline AV+ 500 Nano Set's price, receptacle pass-thorough, and simple installation. Where bandwidth requirements fall under 30Mbps, and 5GHz N or AC Wi-Fi is not an option, this kit provides a viable connectivity solution. Unfortunately performance drops quickly in direct proportion to distance and surrounding electrical load such that the Powerline adapters are unable to make good on the "Perfect for multiple HD or 3D video streaming" claims stated clearly on the box once moving outside the same room.
Pro:
Price
Effortless installation
Reliable bandwidth >= 30Mbps
Receptacle pass-through
Con:
Performance highly dependent on location
Performance highly dependent on environment
Not good enough for the most demanding media applications