Pivos XIOS DS Media Player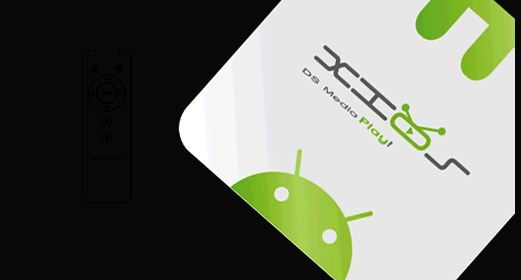 Have you ever wanted to play those games from your Android smartphone on your big screen? Pivos is relying on a significant amount of these types of users with the introduction of the Pivos XIOS DS. This is a tiny device which runs either a version of Android or Linux and is a crossbreed between being a media player and casual gaming device. With a retail price of $129 (street at the time of publishing around $99) the Pivos XIOS DS is priced higher than popular streamers such as the Roku or AppleTV, but do the extra capabilities of a fully connected Android device make it worthwhile?

Specifications
As usual, let's take a look at what's under the hood powering this little guy.
"THE ULTRA SLIM form factor measures at only 0.6″ thickness is built based on a powerful ARM Cortex A9 processor, which provides unprecedented level of performance and power efficiency. Equipped with a high-performance OpenGL Mali-400 3D graphic processor, the XIOS DS Media Play provides crystal clear image and 3D gaming experience."
Supported Video Codecs:

MPEG 1/ 2/ 4, H.264, VC-1, WMV, M2TS, TS, RMVB, AVI, MKV, MOV, TS, MPEG, FLV, DivX, Xvid.

Supported File Types:

AVI/ MKV/ TS/ TP/ TRP/ M2TS/ MPG/ MP4/ MOV/ M4V/ VOB/ IFO/ DAT/ WMV/ ASF/ RM/ RMVB/ FLV/ XVID/ DIVX 3,4,5 for up to 1080p resolution.
MP3/ OGG/ WMA/ WAV/ AAC/ FLAC
HD JPEG/ BMP/ GIF/ TIF/ PNG

Supported Audio Codecs

MP2/ 3, OGG Vorbis, WMA, WAV, WMA PRO, PCM LPCM, MS-ADPCM, LC-AAC, HE-AAC, COOK, RA-Lossless, RM/ RMVB 8/ 9/ 10.

Supported Languages

Arabic, Bulgarian, Catalan, Czech, Danish, German, Greek, English, Spanish, Finnish, French, Hebrew, Hindi, Croatian, Hungarian, Indonesian, Italian, Japanese, Korean, Lithuanian, Latvian, Norwegian-Bokmol, Dutch, Polish, Portuguese, Romanian, Russian, Slovak, Slovenian, Serbian, Swedish, Thai, Tagalog, Turkish, Ukrainian, Vietnamese, Simplified & Traditional Chinese.

Supported Subtitle Types

SRT, SMI, SSA, ASS, IDX/SUB, SUB

Supported Connections

1 x HDMI A/V out
1 x 10/100 Ethernet
1 x 802.11 b/g/n built in wireless
3 x USB 2.0 ports
1 x MicroSD/SDHC Memory Slot (upto 32GB)

Installed Apps
Adobe Reader, Adobe Flash Player, Adobe Air, AppBrain , Aptoide, Astro, AndroZip, App Control, App Installer, BubbleUPnP, Browser, Cache Cleaner+, Crackle, Calculator, Calendar, Clock, Downloads, Dolphin HD, DroidVPN, Email, File Browser, Facebook, File Expert, File Manager, Gallery, Global News, Go SMS Pro, IMDB, MoboPlayer, mVideoPlaye, MX Video Player, Messenger, mundu IM, mundu Radio, Music, Network, Opera Mobile, Global News, Go SMS Pro, IMDB, MoboPlayer, mVideoPlaye, MX Video Player, Messenger, mundu IM, mundu Radio, Music, Network, Opera Mobile, Radio, RockPlayer, SlideME Market, SSHDroid, Terminal Emulator, Titanium Backup, Titanium Restore, Ustream, Video Player, Youtube.
Device
The Pivos XIOS DS is one of the smallest media players on the market. With overall dimensions of 3.9" x 3.9" x 0.7" and weighing just under 6 ounces. The unit is as small as the dimensions would imply, and it comes in a pearl white finish with an Android logo on the top of the unit.
The front of XIOS DS has three LED lights: one for power, information and activity, as well as an infrared (IR) sensor. Two USB ports on the right side, as well as an SD/MMC memory card slot. And then the rear of the box contains the ethernet, HDMI, USB port and the power connector.
Included with the device is an infrared remote control, pictured above. The small remote control contains your traditional directional arrows, as well as a select, back, information, context and power buttons.
An optional, but highly recommended accessory is the Sense Remote, which is identical in form factor to the included remote control, however the button layout is different for this motion sensor version. Home, menu, back and information buttons are in place of the directional arrows, and zoom in and out, along with lock and mute buttons fill out the rest of it. With the remote comes a USB charging cable and a wireless USB receiver. We'll get more into the usability of this remote later in the review.
Experience
As we've seen from our numerous media player reviews the speeds and feeds of a particular device cannot make up for any significant flaws in the user experience. With the Pivos XIOS DS device we are faced with the challenge in how to properly evaluate the unit. On one end, the device is and should be capable of being a media streamer. However, just as significant a reason to purchase is the ability to leverage the apps, games and web browsing for Android on your big screen television, so there must be compromises made somewhere.
In just the few short weeks since we received the XIOS DS there have been significant changes to the operating system and firmware revisions which have made immense improvements. Keeping up with the ever improving updates while being able to provide a complete review has proved challenging.
With the latest firmware the operating system has evolved significantly into a much more 10' friendly experience, meaning you could actually use the directional remote control to operate the device. For the most part however, you will really want and rely on the aforementioned motion sensored remote control–similar to the old gyration remotes–since the Android operating system is much more usable with a remote than with arrows.
The new home screen has large shortcut screens to many commonly used activities, such as settings, music, videos and apps. Configuring each of these properly takes some getting use to. As of the time of this writing, the XBMC app for the Pivos XIOS DS had been released and offers a much friendlier and better 10' experience than the included Android OS. Those familiar with XBMC will find themselves comfortable although we found the interface rather sluggish, the increased functionality provided tipped our preference towards it versus the Android experience. That is of course, if you are planning to use the XIOS DS as a media player device.
Outside of a particular app the OS is essentially a full blown Android operating system. This is where having the motion sensor remote control is critical, as very few of the apps or games will function with strictly directional arrow controls. As you saw in the specifications section, Pivos pre-loads the XIOS DS with a fair amount of applications for your convenience, including a number of games and media utilities. As this is Android (version is 4.0 Ice Cream Sandwich) you are able to install additional applications from the Google Play Store. We had no trouble acclimating to the motion sensor remote control when playing games such as Angry Birds, which actually proved to be far more entertaining than we had first anticipated. Playing your favorite Android games on the big screen is fun especially for those with families and kids, but with so many gaming systems out there, not to mention tablets and smartphones which can do the same, we have to wonder the long term popularity of this. Also hurting the experience is the sluggishness we experienced in not only the user interface, but also some of the applications. The YouTube app for example was a tough experience as it worked, but it it took longer to load videos and navigate the interface than we would have liked–making it the experience painful and unpolished. load videos and the interface. Another oddity we encountered during our evalluation was with the WatchESPN app–initially the app would install but would crash immediately, however with the latest firmware it's no longer available in the Play Store. It's unclear how the Play Store treats the device given what applications are made available.
Editor's Note: I've been told that a new firmware has been released and both of these have improved significantly–especially YouTube.
In regards to controlling the device, we found it necessary to utilize both the directional and the motion sensor remotes, as paging up and down menus is much easier with the directional arrows, however, actually using most of the apps require the motion sensing. And unfortunately neither remote control includes a built in keyboard similar to the Boxee remote. If you have a separate remote control such as the Logitech or Xgene, it would probably be more convenient. The motion sensing takes a bit to get accustomed to, and jumping back and forth between remotes was cumbersome.
During setup and configuration, we were able to connect an XGene wireless USB keyboard and mouse to the Pivos XIOS DS which made things significantly easier, especially when it comes to typing usernames, passwords and configuring network shares. As with any Android device, there are also numerous DLNA applications available which can make navigating your network library of files much easier. DLNA allows users to playback network devices without having to configure network shares or user accounts and passwords, simplifying the experience if your collection is organized as such.
In regards to media playback, the Android version with the latest firmware was a significant improvement over the originally installed version. With the new flash, we were able to playback most of our filetypes with bitrate up to a certain point. Once we reached bitrate of 30-40mbps the device really struggled to maintain smooth playback. Editor's Note: Also being told the latest firmware will improve this situation as well.
In addition to the Android version, the XIOS DS can also be flashed with a Linux version of the firmware which is a custom version of XBMC and boots directly into it. With this firmware, you obviously sacrifice all of the applications that can be run on an Android operating system, but there is a significant reason to go with this instead. There's a huge thread on AVSForum which has more information about this, but if media playback is your main focus, then you will most likely want to use the Linux version with XBMC firmware, as it's faster and much more capable of handling higher resolution files. I found a noticeable improvement in every facet of usage for XBMC, beginning with the startup time–52 seconds for the Linux, versus a ridiculous 3 minutes 41 seconds for the Android version! Even once in the software, the entire experience is smooth, fast and fluid in the Linux version, when compared to the sluggish Android version. I also found better performance in overall filetype playback performances and capabilities.
Power
As you would expect from such a small form factor the Pivos XIOS DS uses very little power. Here are the results we found during testing:
Powered Off: 0 Watts
Idle: ~4.6 Watts
HD Video Playback: 6 Watts
Under 6 watts during playback of 1080p HD content video is great, but the drawback to not being able to put the unit into standby mode is that powering off requires a full boot up–longer for Android version than Linux. That being said, with such a small draw, it's feasible to leave the unit powered on 24/7 without much damage to your electricity bill.

Conclusion
At the end of this review, we find ourselves conflicted when reviewing a device such as the Pivos XIOS DS. As a media player standalone, the out of box experience leaves much to be desired, and is far from user friendly requiring apps and mouse cursor to navigate and playback media files. However, Pivos does offer a Linux firmware of the 10' media software XBMC which–although it removes the Android operating system features–does make for a better media playback device. If one can live with the current (albeit improving) speed and performance issues with Android, then you are able to leverage the breadth of applications and games available in the Google Play Store to customize and utilize the device as much as you can imagine. The flexibility of being able to utilize the XIOS DS as both an Android platform and a media player is something that is fairly unique, and at a price point now of around $115 street it will be very attractive to some.
Pros

Ever improving firmware offers improved speed and compatibility
Tiny system
Low power
Ice Cream Sandwich operating system allows lots of uses
XBMC version for 10' users, as well as Linux XBMC version
Cons

Sluggish user interface
Still working out some bugs
XBMC version is very new, immature
Need to use both remote controls
Motion sensor remote control not included in box

Thanks to Pivos for providing the review unit.