Intel Core i7-3770K Ivy Bridge CPU and DZ77GA-70K Motherboard

Last year Intel's Sandy Bridge "TOCK" married the graphics processing unit (GPU) and CPU on the same die, making it a first class citizen in the system and introduced a true integrated processor graphics (IPG) solution. With HD audio bit steaming introduced in the previous generation, full hardware acceleration of VC-1, AVC (H.264), MPEG2 as well as 3D Blu-ray (MVC) and reasonable refresh rate accuracy already offered; Ivy Bridge's 22nm die-shrinking "TICK" could have easily rested only on improved process technology for frequency gains or power efficiency, but instead promises a little bit of raw performance with significant reductions in consumption. Most importantly for the home theater PC (HTPC) enthusiast significant improvements to the GPU are also included – offering greater flexibility in playback software selection as well as improvements to the existing media consumption experience.
Ivy Bridge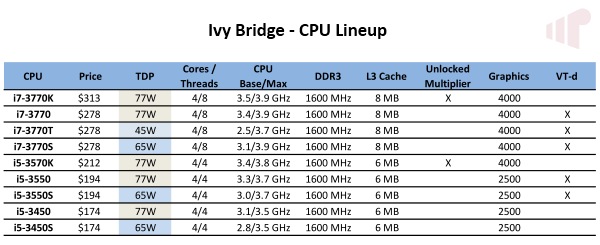 Before getting into the system at hand we should take a quick look at the Ivy Bridge launch lineup, where Hyper-Threading remains the clearest distinction between the i7 and i5 members of Intel's 3rd generation of "Core" CPUs. Disappointingly there are no i3s included in today's launch, but it is also worth lamenting the absence of HD4000 GPUs, and its sixteen improved Execution Units (EU), four more than what Sandy Bridge's HD3000 provided, in anything lower than an i5-3570K – although the 45W i7-3770T would almost certainly form the foundation for an excellent HTPC if cost is no object. We did see the higher-end GPU (HD3000) in the last generation of Sandy Bridge processors trickle down into more i3/i5s as it matured so we should not worry too much at this point about the lack of variety in low power / low cost Ivy Bridge permutations yet. Hopefully we will see options better suited to HTPC use in the upcoming months.
Intel Core i7-3770K and DZ77GA-70K
Specifications:
Form Factor:
ATX – 12" (304.80mm) x 9.6" (243.84mm)
CPU Support:
LGA1155 – 2nd/3rd Generation Intel Core processors (i7/i5/i3/Pentium/Celeron) up to 95W
Memory Support:
4x 240-pin DDR3 1600/1333/1066 (1.2-1.8v) – 32GB Maximum
Chipset:
Intel Z77 Express Chipset
Network:
1x Intel 82579, 1x Intel 82574 Gigabit Ethernet
Video:
1 x HDMI 1.4a
Audio:

8-channel (8 + 2) analog audio via Realtek ALC898 audio codec supporting:

2x S/PDIF digital audio output (back panel / internal)
5x analog jacks (back panel)
Front panel HD Audio/AC'97 (internal)
8-channel (7.1) Intel HD Audio via the HDMI interface

External Connectors:

4x USB 2.0 (2 x high current)
4x USB 3.0
1x 6.0 Gb/s E-SATA (Marvell 88SE9172)
1x HDMI
1x TOSLINK
5x 3.5mm audio
1x IEEE 1394a
2x 10/100/1000 LAN

Internal Connectors:

4x SATA 6.0Gb/s (2 x Z77, 2 x Marvell 88SE9172)
4x SATA 3.0Gb/s
1x IEEE 1394a
4x 4-pin PWM fan
4x USB 3.0
6x USB 2.0
1x Intel HD Audio
1x CIR input
1x CIR output
1x S/PDIF

Expansion:

2x PCIe 3.0 x16 (2nd slot is x8 electrically)
1x PCIe 2.0 x4
2x PCIe 2.0 x1
2x PCI

Consumer Infrared (CIR):
Nuvoton W83677HG-i I/O CIR (internal header)
Accessories:

1x Bluetooth/802.11N (2.4GHz) internal dongle
1x USB 3.0 3.5" adapter
With the lack of low-end CPUs at launch it was not surprising that Intel provided the performance oriented DZ77GA-70K motherboard along with the Core i7-3770K. I have not played with a full ATX board in several years so it was nice to get a chance to dig into a system with serious debugging/overclocking chops. While these features normally hold little interest to me now (my first self-built PC was a 300->450MHz "Celery"), I can certainly see where they would be extremely useful – and in fact, the feature where it detects a failed POST attempt and offers to revert to the last set of successful settings came in handy a few times while I attempted to rediscover some lost form. The built-in status lights and power/reset switches are great for this use case, but on a stable system they create significant distraction and unwanted light pollution. In what I must guess is an implicit acknowledgement of the optimal use, Intel also left off the HTPC header introduced with the DH61AG so it is probably best to skip this board for serious HTPC use and opt for either the DH77EB or DH77DF that were also announced a couple weeks ago. That said the DZ77GA-70K's dual Intel NICs, nine SATA ports, eight native USB 3.0 ports, and support for 32GB of RAM make it an excellent candidate for server builds
Full ATX cases present little challenge for modern, low power CPUs so besides an issue observed with a first generation Ceton InfiniTV 4 PCIe overlapping the slot next to it, the system readily accepted a myriad of different tuners and GPUs.
Intel revamped the BIOS for 7 series motherboards with a modern graphical user interface (GUI) with full mouse support. Static images are included in the gallery above, but a video is also provide to get a feel for how it works and is formatted. Having grown accustomed to the new look-and-feel it would be hard to go back, but those who prefer the old interface can find it under the "Classic Mode" button.
Complementing the DZ77GA-70K's overclocking friendly approach, the BIOS presents an unfathomable degree of knobs and dials for controlling [I imagine] every aspect of the system. Happily, the defaults were mostly in-line with my preferences leaving only a few settings requiring attention – disabling the power LED S3, and enabling the CIR most notable.
System
Test Configuration:
CPU:
Intel Core i7-3770K (3.5-3.9GHz)
Heat Sink and Fan:
Intel i7 Retail
Motherboard:
Intel DZ77GA-70K
RAM:

G.SKILL Sniper Low Voltage 8GB (2 x 4GB) 240-Pin DDR3 SDRAM DDR3 1600 (1.25v)
G.SKILL Ripjaws Series 4GB (2 x 2GB) 240-Pin DDR3 SDRAM DDR3 1600 (1.5v)*
Patriot Gamer 2 Series, Division 2 Edition 4GB (2x2GB) DDR3 1600 (1.65v)*
ADATA 4GB (2 x 2GB) 240-Pin DDR3 1333 (1.5v)*

Storage:

OCZ Agility 3 90G SSD
OCZ Agility 3 60GB SSD*
OCZ Vertex 3 128GB SSD*

Optical:

LG GGC-H20L Blu-ray / HD-DVD combo drive
Lite-On iHOS104-06

Power Supply Unit:

Antec Basiq BP430 430W 80+
Antec Earthwatts 380W 80+ PFC*

Case:
AHANIX D4
OS:
Windows 7 Ultimate 64-bit
Tuner:

2x AverMedia M780 PCIe*
2x Hauppauge HVR-1600 PCI*
2x Hauppauge Colossus*
1x Ceton InfiniTV4 PCIe*
1x AverMedia DUET*

Discrete GPU:
Audio Video Receiver:
Denon AVR-1909
Display:

Panasonic TC-P58VT25 (1080p Plasma / HDMI)
Samsung 245BW (1920×1200 PC monitor / DVI)
* Additional hardware was used to access stability and function in the system only. It was not present in the system when performance metrics were captured.
In the realm of artificial benchmarks the Windows Experience Index (WEI) is a good way to get a very limited view of difference between components. For this reason, I almost always run it as soon as a system is built to see how it stacks up relative to other PCs – which produced an interesting result when comparing the Core i7-3700K's 6.5 (GPU) to the Core i5-2400S's 5.1 (GPU) after borrowing its SSD and RAM for a test run. It took some effort to get to this stage however, because WEI would not run after an effortless Windows 7 SP1 Ultimate install. Assuming that the problem was a PICNIC another install was soon forthcoming, but when that did not resolve the issue more research was demanded. As it turns out, the problem was correlated with selecting anything but 512MB for the GPU in BIOS (I had selected Maximum DVMT prior to installation), but once WEI was run it would run successfully regardless of the setting – which made tracking it down all the more difficult.
Other than the WEI weirdness system installation and configuration was straightforward, made even more convenient because Windows 7 includes drivers for the 82574L NIC built into the DZ77GA-70K. Generally everything that was tested in the system worked, including three (two discrete) GPUs from competing OEMs and a wide array of tuner/capture cards in each of the physically compatible expansion on the board; with the AverMedia DUET being the only exception which was undetected in any of the PCIe slots available. System stability was good with multiple extended Prime95 runs conducted without any notable result besides the unsuitability of selecting an Intel retail heat sink and fan (HSF) for the Core i7-3770K (2343 RPM is too loud) if it will be stressed regularly. As was mentioned previously, two Intel NICs are included on the DZ77GA-70K with both offering support for Jumbo Frames as well as the ability to team (effectively join two physical NICs into a single logical interface).
Like the previous two generations of Intel Core CPUs, Ivy Bridge supports protected audio path (PAP) HD audio bit streaming both on 7 series and 6 series motherboards when the Intel Management Engine driver is installed, but also keeping with historical observations issues were noted with six channel PCM files played in an eight channel system with the left/right surrounds being incorrectly mapped to the left/right rear surround speakers. This issue is not constrained to the Intel platform, and enthusiasts have long embraced solutions like the WASAPI renderer in JRiver Media Center and Reclock for an optimal audio experience on the HTPC. Unlike competing solutions however the audio driver generally keeps the HDMI connection active, which usually eliminates the issue where the first couple seconds of sound is lost when beginning playback (i.e. the "silent stream bug").
Video output defaults to 8-bit RGB limited, but proper xvYCC and YCbCr (for displays that do not offer xvYCC) support is notable; not in its presence, but that it does not crush levels and the setting also survives an EDID refresh with the newest GPU drivers. Unfortunately the "Quantization" setting, which controls RGB Full/Limited does not, but the driver team has been notified on the issue and they are working on a fix.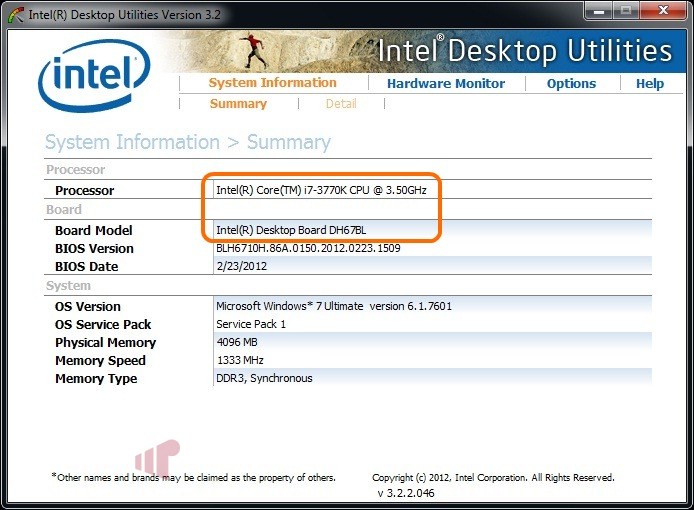 Back in March Intel published a confusing workflow around which 6 Series motherboards would support 22nm processors (i.e. Ivy Bridge); which left many early-and-not-so-early adopters out. Fortunately, this limitation is not really blocking as only support for PCIe 3.0 on the affected motherboards will not work. In fact all of the Core i7-3770K + H67 testing was conducted on an unsupported DH67BL system, which offered the same level of stability and performance as when it was tested with Sandy Bridge.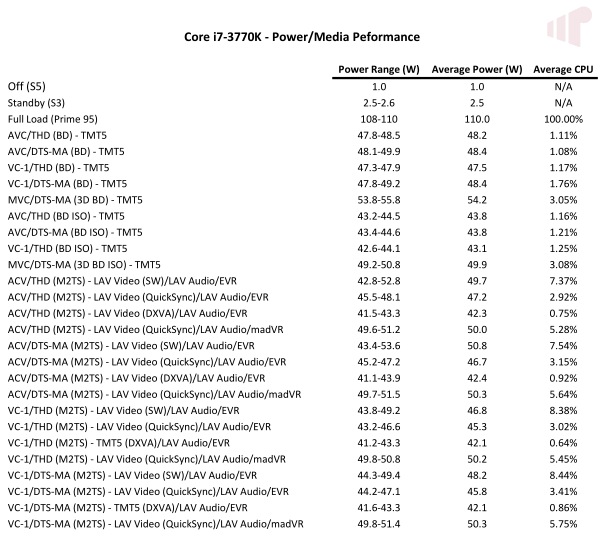 In the look at previous generations of Intel HD Graphics the lack of free open source software (FOSS) DirectShow filter (aka CODECS) for the platform was noted as a gap compared to competing solutions. This has changed quite dramatically in the time between then and now with FOSS options available both using DXVA2 (AVC/MPEG2) and QuickSync (AVC/MPEG2/VC-1) as well as the support long enjoyed from commercial products.
Compute Performance
Having established a baseline for the overall system we can now focus on its performance in scenarios relevant to the HTPC enthusiast –starting with Handbrake, a popular open source software transcoding utility.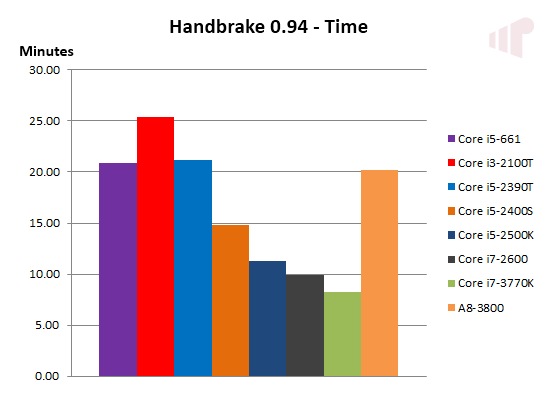 As a software based transcoder, Handbrake is useful for probing the relative strengths of an IPG when it is not possible to leverage the hardware based features, like QuickSync, found on many modern GPUs. As we can see the Core i7-3770K is the clear winner in the time taken to convert the thirty minute 480i AVC/AC3 file to something suitable for mobile viewing. This result is not surprising given the historical dominance of Intel CPUs in this test, but it is important to note the advantage versus its closest competitor – the 2nd generation Core i7-2600, although this could be due to the newer systems slight clock speed advantage.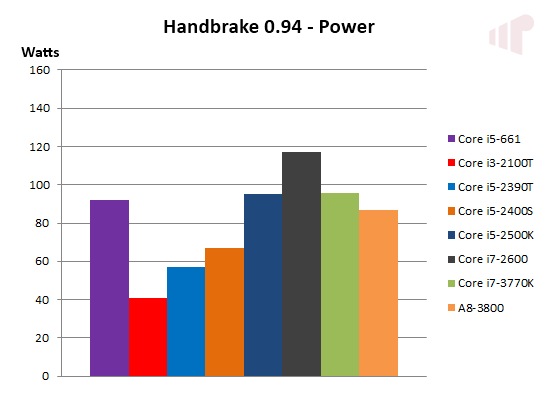 On the other hand, the power advantage demonstrated by the Core i7-3770K vs. the Core i7-2600 cannot be easily dismissed. With it consuming power at a level consistent (+0.5W) with a Core i5-2500K, while outperforming it by more than 27%.
To examine the generational difference between QuickSync, as well as CPU performance for transcoding across different media types ArcSoft's MediaConverter 7.5 was used to transcode three – 480i AVC/AC3, 720p MPEG2, and 1080i AVC/AC3 — thirty minutes files with the results captured in the graphs above. Examining the data, it should be clear that the Core i7-3770K is both faster and more power efficient than the previous generation Core i7-2600 using either method for converting the files with the largest speed improvement (42%) noted using QuickSync on the 1080i file, while also reaping a 12% improvement in power consumption in that scenario.
Media Performance
Historically Intel has done a good job handling luminance levels with HDMI connected displays, and for the most part this is true for Ivy Bridge as well – with only a slight issue noted with where the driver clips black (around 18, instead of 16) in the default configuration, while white was handled properly (235). Like the previous drivers it is possible to override the default settings, which also unlocks blacker-than-black (BTB) and whiter-than-white (WTW) for those who find it useful for calibration.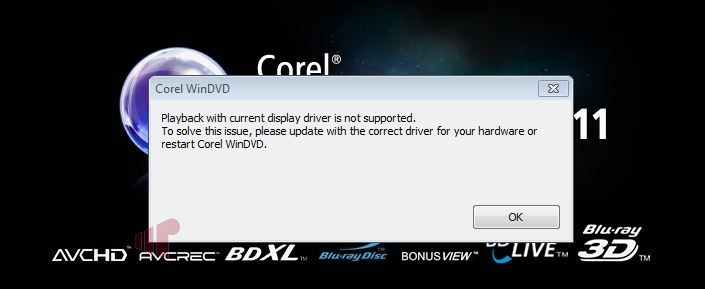 DVD and Blu-ray playback using CyberLink PowerDVD 12 (PDVD) and ArcSoft TotalMedia Theatre 5.2 (TMT) was excellent, with only some decoding issues noted when using TMT for 3D Blu-ray playback (these issues were not observed with PDVD). Unfortunately the DZ77GA-70K's limited video outputs made it impossible to test for simultaneous HDMI 1.4 video and HDMI 1.3 audio on the 7 Series platform with 3D Blu-ray content. Where the experience with PDVD and TMT was good, Corel WinDVD 11 simply refused to play anything offering only the message captured in the screenshot above – WinDVD 10 does support the platform however, but as it lacks many of the usability features introduced in the newer revision testing with it was limited.
Compared to other GPU solutions Intel has struggled with refresh rate accuracy, and with values measured on Ivy Bridge mostly consistent with those we observed with Sandy Bridge this continues to be a slight competitive gap with the platform with other solutions closer to the mark either out of the box or through some tuning. As the 7 Series BIOS matures and we test motherboards more focused on HTPC use it is possible that, like the rollout of 6 Series systems, we will see slight improvements in this domain as well.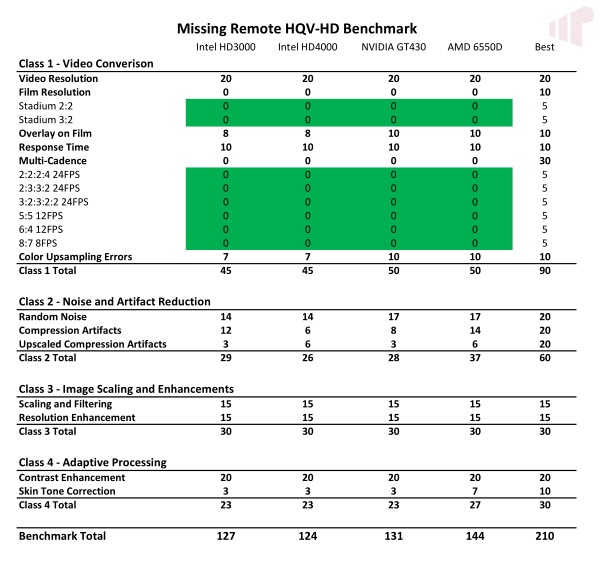 Like other artificial benchmarks HQV-HD is useful for judging relative performance, but only when used in the appropriate context. Unlike true quantitative measures however, it is important to remember that scoring is subjective and open to reviewer interpretation so results are only valid when compared to those created using the same criteria. With that in mind, I was not shocked with the relative positioning of the Ivy Bridge GPU, but I was somewhat surprised by differences noted in Class 2 of the test between HD4000 and HD3000 with some ground given in compression artifacts and some made up in upscaling.
Having applied my subjective measures to some images it is arguably more important to just provide the data and let everyone else have a turn, so samples from three video captures rendered by four different GPUs are available above in their native resolutions. Personally, I find the difference (especially generationally) in the 480i images most interesting as it is the most challenging sample (highly compressed, low resolution, interlaced sports programming, with a lot of lines).
Taking a different frame from the same file, but this time captured at near 1080p resolution we can examine the differences in GPU based scaling performance between the four solutions with the renderer used in Windows Media Center, SageTV and other players — the Enhanced Video Renderer (EVR). To make the comparison easier the same segment of the top part of the frame is provided in a stacked format, with the full image available in the gallery.
Here we have a similar format, but displaying the effects of two of the HD4000 video post processing (VPP) features in an on/off position, with the same image rendered and stacked above. Opinions will vary on the value of these VPP options, but for those who prefer Adaptive Contrast Enhancement and use Windows Media Center (other playback software does not seem to be affected) there is a significant issue with some content.
First, it should be made clear that the issue observed in the video above is not unique to Intel HD Graphics; the flickering during playback when the reported frame rate changes rapidly (most likely due to poor metadata in the transport stream) reproduces and is worked around via the same basic approach — disable contrast enhancement (the feature goes by various, vendor specific monikers) — on competing products from other OEMs. But as Microsoft does not appear interested in addressing it in any meaningful way, hopefully we can at least offer a Band-Aid while raising awareness.
For many HTPC enthusiasts the fixed function video rendering pipeline provided by Intel HD4000 Graphics and the EVR is more than suitable, but for those searching for more flexibility and control in the upscaling algorithms, other VPP and features like inverse telecine (IVTC) madVR provides this as well as a mechanism for us to quantify relative GPU performance against competing solutions. In the past it lacked support for interlaced content as well as an integrated, and visually appealing, media manager to use it from (like JRiver Media Center) which limited the usefulness of the renderer, but with those issues resolved and subsequent popularity gains it is an essential part of any complete look a HTPC platform. Testing each of the permutations in the configuration options would add limited value so we will focus mainly on some common selections before discussing the limitations compared to other GPUs.
The suite of tested algorithms in everyday use included Mitchell-Netravali, SoftCubic (50), and Lanczos (4 taps) chroma with Lanczos (4 taps) luma, with each of them performing with the limitation that when running in windowed mode the extra drag on the GPU kept the rendering queue low enough that the system was susceptible to occasional frame drops. Generally these would have gone unnoticed if not for the statistics indicating the artifact, but this intolerance was not observed with the other GPUs tested in this scenario – an NVIDIA GT430 and AMD HD 6550D. That said, most of my viewing is conducted in full screen, where madVR is configured by default to use full screen exclusive (FSE) mode, which once enabled, allowed the render queue to operate with a safe buffer. Pushing each system to the extreme – an incredibly over-processed Lanczos (8 taps) chroma, Lanczos (8 taps) luma — the relative strengths of the HD 6550D and especially the discrete GT430 became clear as each was able to keep up without significant issues. Having found the limits of the HD4000, I thought it would be interesting to see how each fared with 1080p60 (not well without enabling FSE). Of course the real question is whether the overhead offered by the alternatives is useful or only academic. I think for many the HD4000 is plenty for reasonable madVR VPP settings, but it will be interesting to see how well HD2500 performs in this scenario.
Having probed the HD4000's 16 execution units' (EU) pixel shader performance with madVR, I thought it would be interesting to turn back to its fixed function decoding hardware and find out how it handled 4K content. At first I was disappointed to find that LAV Video would not decode it using either DXVA2 or QuickSync (although the 16% CPU utilization was quite impressive with avcodec), but after finding the if-then statement in the decoder which allows access to DXVA2 and commenting it out I was pleased to find that it appears to work, and quite well at that. I ran out of time to examine the QuickSync decoder and see why it refused to decode the sample, but it should as the MediaSDK (the underlying framework beneath QuickSync) essentially wraps DXVA2.
Conclusion
Offering slightly better CPU performance, lower power consumption and a better than "TICK" GPU improvement it would have saved significant time and verbiage to just label the Intel Core i7-3700K Ivy Bridge as a faster and more efficient iteration of the Sandy Bridge "TOCK". While in some ways that is true, it was useful to fully probe the additional capabilities these improvements provide to HTPC enthusiasts in greater software flexibility, choice and support for upcoming video resolutions as we evaluate the many options available. Ivy Bridge is not perfect however, with the biggest weakness being the lack of depth in the lineup available at launch and the most valuable GPU currently limited to SKUs providing more CPU capability than necessary for most HTPCs.
Pro:
CPU/GPU performance per watt
Proper levels and good picture quality OOTB
HD audio, 3D Blu-ray, and 4K
Con:
Intel HD4000 GPU limited to the top-end of the current lineup
No 3rd generation i3s are available at launch
Thanks to Intel for the review samples.