Intel Core i3-2100T and DH67CF Mini-ITX Motherboard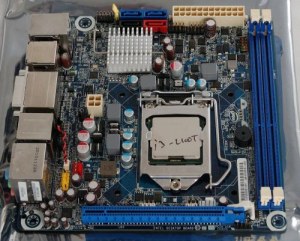 In our launch coverage of Intel's Sandy Bridge we took an in-depth tour of the platform's capabilities.  But our previous coverage was limited to a higher end member of the CPU lineup with a 95 watt TDP, that made is less ideal for dedicated home theater PC (HTPC) use–especially considering its tantalizing siblings scheduled to arrive shortly thereafter. Fortunately we now have a 35 watt Intel Core i3-2100T and DH67CF Mini-ITX motherboard in hand and will be taking a detailed look at the lowest powered desktop CPU and smallest LGA1155 motherboard Intel has to offer.
UPDATE: The model number has changed to DH67CFB3 for motherboards with the updated H67 PCH.
Core i3-2100T: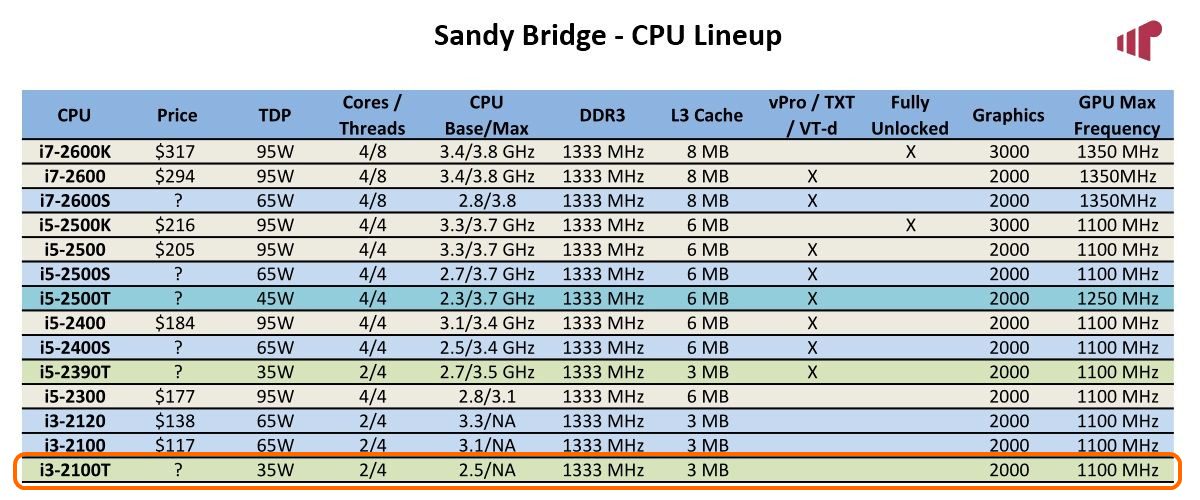 (click to view full-size image)
In the previous generation of Core i3/i5 (Clarkdale) the main differences were frequency and Turbo Boost (dynamic CPU frequency selection within a range).  Sandy Bridge based i3/i5 CPUs also include variations in cache size and virtualization support which limits suitability in server applications, but core count is the most important to overall performance.  While both the i3 and i5 are quad thread parts, all i5s except for the i5-2390T have four physical cores where the i3s only have two, but are Hyper-Threading (HT) enabled to provide additional throughput.  For most i3s this trade-off is taken directly to the bank; where with the 2.5GHz i3-2100T it is still too early to say where pricing will come in, there is a large advantage in TDP which will be discussed in more detail later.
DH67CF – Motherboard
Form Factor:
Mini-ITX (6.7 inches by 6.7 inches [170.18 millimeters by 170.18 millimeters])
CPU Support:
LGA1155 Core i7, i5, i3 – up to 65W TDP
Memory:

2 x 240-pin DDR3 1066/1333 SDRAM DIMM (16GB Max)

Supports 1.35V+ (up to 1.8V) low voltage JEDEC memory

Chipset:
H67 Platform Controller Hub (PCH)
Video:
1 HDMI / 1 DVI-I / 1 x DisplayPort (only two can be simultaneously active)
Audio:

– 10 channel (8+2) analog audio via Realtek ALC892 audio codec

– 8 channel digital audio (LPCM and HD bit streaming) via HDMI and DisplayPort interfaces

– 2 S/PDIF (1 x TOSLINK back panel / 1 x internal header)

LAN:
Intel 82579V 10/100/1000 Mbits/s Ethernet Controller
I/O:

– 2 USB 3.0 (back panel), 10 USB 2.0 (4 back panel / 6 internal)

– 2 SATA 6.0 Gb/s (internal), 3 SATA 3.0 Gb/s (1 eSATA back panel / 1 eSATA internal / 1 SATA internal)

Expansion:
1 x PCIe 2.0 x16
Consumer Infrared (CIR):
Nuvoton W83677HG-i I/O CIR (internal header)
Cooling:
2 PWM (4-pin) fan header
Selecting a mini-ITX motherboard requires some trade-offs in flexibility and expandability to benefit from the smaller form-factor, and in some ways the DH67CF is no exception.  That said I was impressed by how much functionality (2 x S/PDIF, CIR, 12 x USB, 5 x SATA) is available either on the back panel or through headers on the board without demanding much compromise in layout.  This includes a conveniently located front panel header which is placed between the main power connection and RAM slots. 
The review sample did not include a heatsink and fan (HSF), so I cannot comment directly on the noise levels or cooling performance that will be experienced with the retail parts.  But the spare LGA1566 i5 HSF, initially used with the i5-2500K and later replaced because it was too loud, was whisper quiet in operation when used with the i3-2100T.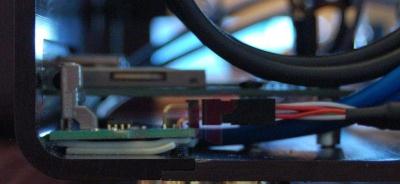 In my list of favorite features I have a hard time choosing between the built in Consumer Infrared (CIR) headers and the BIOS providing user configurable power LED behavior in standby–both of which set the Intel media series motherboards apart from other products.  You will need to enable the CIR in the BIOS (because it is not enabled by default) and install the Nuvoton drivers for it to work; after both are complete it acts as a fully functional Microsoft eHome IR receiver.  This not only frees up a USB port and allows for a cleaner install because the receiver can be mounted inside the chassis, but also includes a feature not supported by the standard USB receivers – wake from off (S5) and hibernate (S4) in addition to standby (S3).  Finding the receiver can be a challenge however, but nothing a little searching on eBay can't fix.

(click to view full-size image)
The back panel hosts two USB 3.0, Ethernet, eSATA, four USB 2.0, DVI-I, HDMI, DiplayPort, analog audio and TOSLINK (optical S/PDIF) outputs.  Space is limited so it was a bit cramped with more than just a few things plugged in.  In fact I found it impossible to use one of my larger wireless keyboard dongles on the USB 2.0 ports when a DVI->HDMI adapter was in use.  This forces connection to one of the USB 3.0 ports which is not recommend because Windows 7 does not include native USB 3.0 drivers, or using a USB extension cable if you have one handy.
Before moving on it should be noted that while three display options are provided, only two can be driven at the same time with the BIOS giving precedence to HDMI and DisplayPort if all three are connected simultaneously.  I did not have a use case for three connections, but two were used (DVI and HDMI) for watching 3D Blu-ray movies because I do not have an HDMI 1.4 audio video receiver (AVR).  Only HDMI and DisplayPort provide audio with this motherboard, but in the previous scenario only one was necessary with an HDMI cable passing HD audio to the AVR and a separate cable used to connect to the TV via a DVI->HDMI adapter.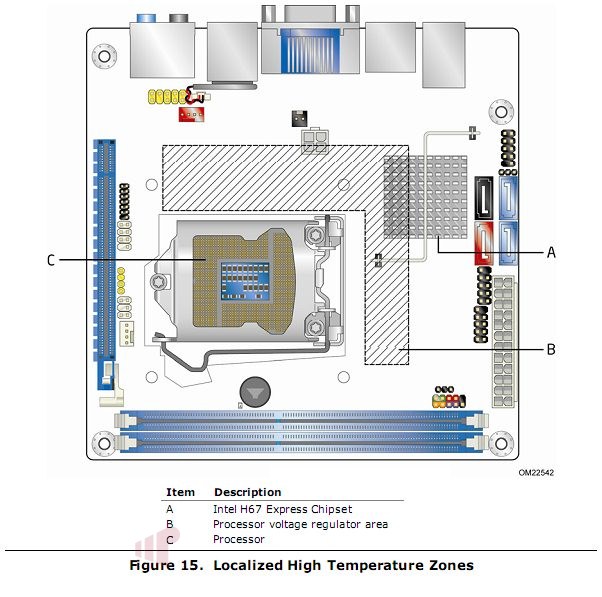 Given the CPUs thermal requirements I originally intended to attempt a passive build, but after reading through the manual it became clear that the DH67CF is designed to be used with an active, down blowing HSF to cool both the PCH and voltage regulators surrounding the CPU socket.  That said, it might be possible to get away with a passive configuration, but given the HSF's noise levels I did not feel the need to pursue it further and risk long term stability.
System
Test Configuration:
Working with the board in the Wesena ITX7 (preview shortly) was very straight forward, with no relevant issues noted during the build.  A variety of different add-in card were installed in the PCIe x16 slot, including two different tuners and two discrete video cards all without any problems.

Windows 7 installed without issue, but like most new systems the network interface controller (NIC) drivers were not included with the OS so at the very least make sure you have the latest set handy before getting started.  I generally install drivers in a specific order starting at the most basic level, then going upwards and prefer to apply all of the drivers provided by an OEM (the exclamation marks in Device Manager bother me).  So I always copy the chipset, storage (RST), Management Engine Interface (MEI), and NIC drivers on a USB when doing a new install.  Everything listed but the NIC is optional for those just looking for a small PC, but for anyone using this system as an HTPC at the very least the MEI and video driver must be installed as well, as both are required for proper audio and video playback with PAVP. 
Also worth noting for Windows Media center users, the KB974324 hot fix from Microsoft is required to fix an issue with a white line being displayed along the side of the screen in Media Center.
I use very aggressive standby settings, especially on my client HTPCs, so I made a brief video to demonstrate how quickly this system boots up and handles standby/resume.
Temperatures were captured for four different scenarios using Intel Desktop Utilities (IDU), with the CPU ranging from 30° C at idle to 61° C during CPU based transcoding.  As can be seen in the gallery above, overall temperatures were managed very well in the system while maintaining very low RPM on the fans used to cool it.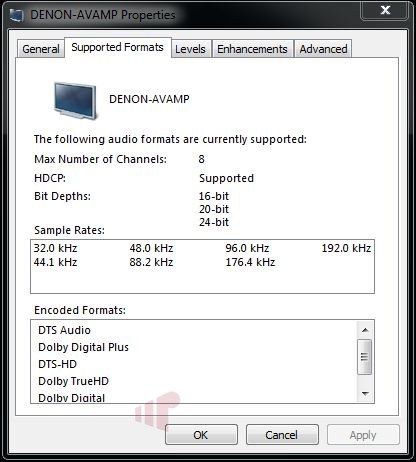 HD audio formats including Dolby TrueHD and DTS-MA are supported by Sandy Bridge CPUs when paired with an H67 PCH, so it was not surprising to see them all listed after MEI was installed.  It was interesting however that the consistent issue with my Denon AVR-1909 and short HDMI cables was not observed with this system.
For those who use HDMI with multi-channel LPCM content, the audio driver provides support for 5.1 and 7.1 configurations.  It is worth noting that while eight channel audio files played on a 7.1 system map each channel correctly, the issue initially raised in our earlier look at Sandy Bridge where six channel files played on a 7.1 configuration improperly map left/right surround audio to the left/right rear surrounds instead of the correct left/right side speakers is still outstanding with the current driver. 
On the other hand, we have seen progress with another issued covered previously.  With the latest video driver the ability to enable blacker than black (BTB) and whiter than white (WTW) by selecting "Override Application Settings" in the GPU configuration tool has returned.  This not only aids in calibration and allows WTW–which does exist in actual content–to pass through but also enables specific calibration on the PC to correct for issues experienced when sharing an input on a display with other devices.  The driver still only reliably outputs 8-bit RGB 4:4:4, so the potential for shared HDMI input issues (most CE devices use YCbCr) and banding when viewing "PC" content continues.  Ideally the option for YCbCr output and greater bit depth should be provided to give end users the flexibility to choose the correct color format and bit depth for their content, display and calibration.
Compute Performance
Compared to other devices in the A/V stack, the Home Theater Computers HTPC is unmatched in the flexibility and functionality it can provide, so in system reviews we not only focus on the playback experience but also address overall media consumption which includes features like commercial scanning (used to automatically skip commercials during playback) and transcode performance.  To start, let's take a look at how ShowAnalyzer (SA), a utility used to detect commercials in recorded TV files, performs on the Core i3-2100T and DH67CF.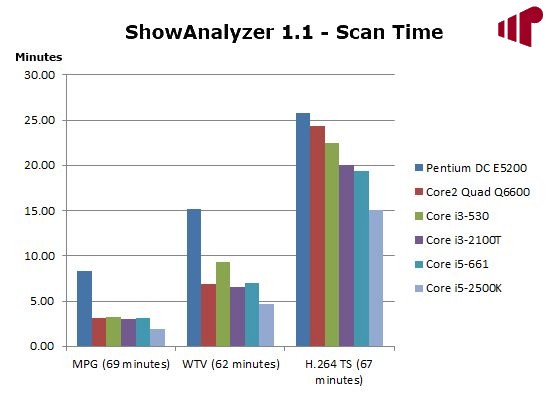 SA works by reading, decoding and processing large amounts of data so it is an excellent way to access overall system performance as it stresses both the CPU and I/O subsystem.  In this test three files utilizing different containers and codecs were scanned on each system with the time to completion represented in the graph above.  As we can see the Core i3-2100T is competitive with each of the other systems with MPG and WTV, only consistently bested by the quad core i5-2500K.  Most interesting from the results, is the relative performance versus the Clarkdale based i3-530 (2.93GHz) and i5-661 (3.33GHz), where the i3-2100T is faster than both in the MPG and WTV tests and i5-661 only marginally quicker with the H.264 TS file.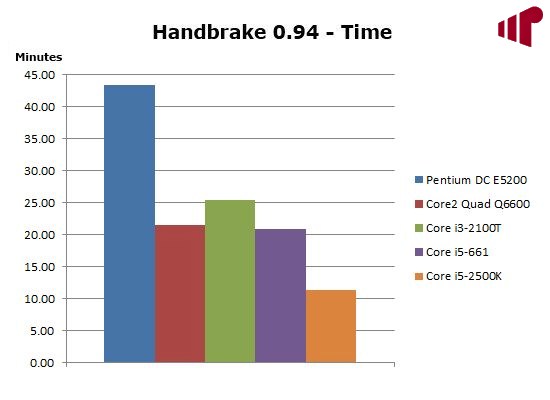 Looking now at Handbrake, a popular open source CPU based transcoding utility; we can see that the lower clocked i3-2100T is slightly slower than the older quad cord Q6600 and i5-661, and handily beaten by the quad core and higher clocked i5-2500K.  Of course, raw performance only tells part of the story – or we would all be running i7 or Thuban based systems.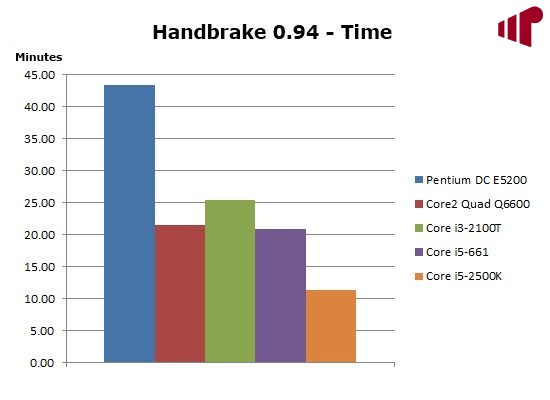 Turning our attention towards the power usage during the CPU transcode, we can see the trade-off in raw performance is gained with a significant reduction in consumption.  Contrasting the i3-2100T against the dual core E5200 and Q6600, we can see significant gains versus their Core2Duo based architecture; this conclusion is even more evident when taking the results on aggregate– Sandy Bridge provides a compelling upgrade path for both power savings and performance.
Having looked at relative performance versus other architectures, we can now focus on a more detailed look at performance within the family using both the CPU and taking a look at one of the new features included with Sandy Bridge – Quick Sync (QS).  For those who are unfamiliar with QS, it is essentially fixed function transcoding hardware included in the GPU introduced to compete with the features provided by GPU compute instruction sets like CUDA and APP (aka Stream).  Because we covered the difference between these approaches in our first look they will not be rehashed, instead we will only examine the difference between the i3-2100T and i5-2500K using ArcSoft's Media Converter 7 (MC7) with the HTC EVO 4G transcoding profile.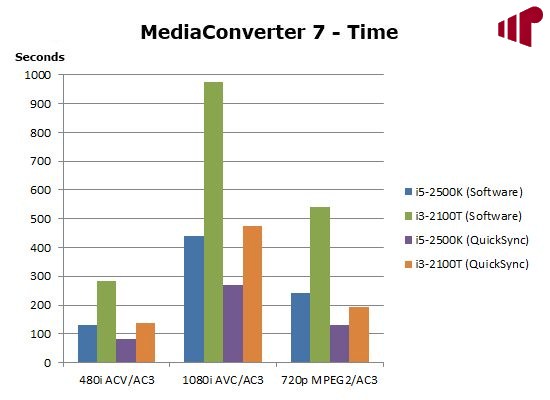 The i5-2500K is unique in the Sandy Bridge i5 lineup because it is the only member with the HD 3000 GPU, which includes twelve EU (execution units) compared to the six found in the HD 2000.  Unfortunately, this is not a real "ceteris paribus" test because the differences in clock speed and CPU core count make it impossible to specifically isolate the GPU's role, but it does clearly demonstrated the value of QS versus CPU transcoding with the i3-2100T remaining competitive against the significantly more powerful i5-2500K.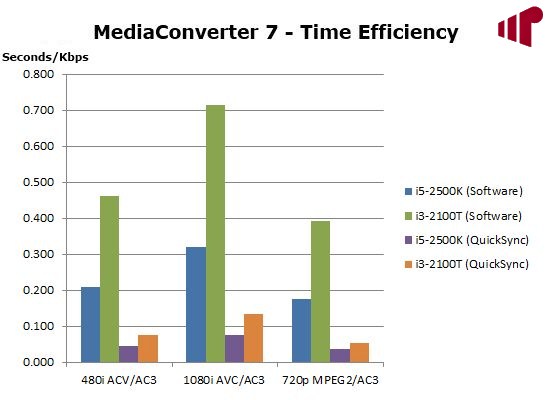 A straight time based comparison is not appropriate however because of the vastly different target bit rates used by MC7 when using CPU and GPU based transcoding.  After adjusting for this disparity, the gap between CPU and GPU becomes much more apparent.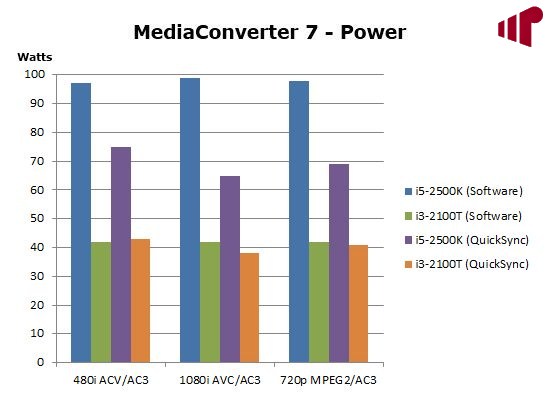 Looking at the basic power consumption numbers, we can again see where the i3-2100T shines.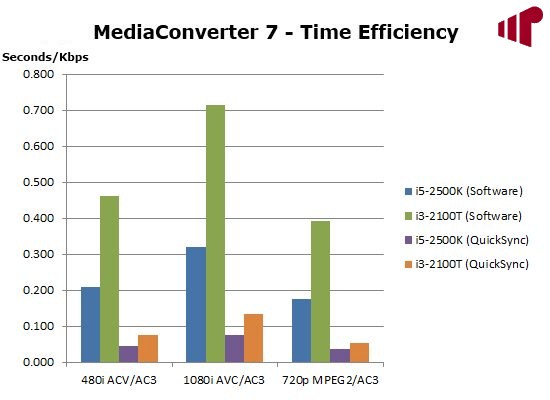 Then adjusting for bit rate, even more so compared to the 95 watt i5-2500K.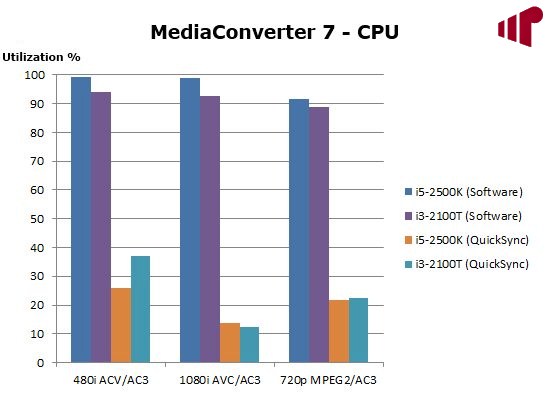 Lastly, the average CPU utilization numbers captured during the test runs are also included. I hesitate to draw much from the comparison except that QS provides a significant offload of processing cycles, freeing the CPU for other things.
Media Performance
One of the strengths of Intel Graphics is that the driver consistently produces correct video and PC levels when using HDMI and DVI connections with no tweaking required, and the i3-2100T is no exception.  As we can see from the screenshots, video content is displayed with 16-235 spanning the gap from black to white and with PC content using 0-255. 
Unfortunately, the same cannot be said for DisplayPort; at least with the DisplayPort->HDMI adapter in my possession.  Looking at the first image in the series, we can see quite clearly that the PC levels are being sent to the TV.  Examining screenshots in this series we can also note that the ability to force a specific color space is not available when using DisplayPort, where it is with HDMI and DVI, so this issue cannot currently be corrected.  The audio device was also missing with the adapter in use, so at least for now it is best to stick with HDMI and use DVI if additional video runs are required.
Aside from the need to manually configure a display type when using two HDMI cables (one to the TV for video, the other to the AVR for audio) in ArcSoft TotalMedia Theatre 5 and Cyberlink PowerDVD 10 both standard Blu-ray and frame-sequential 3D Blu-ray playback worked excellently.  I was not able to find an update to Corel WinDVD, so unfortunately it remains unusable with xvYCC capable (modern) displays.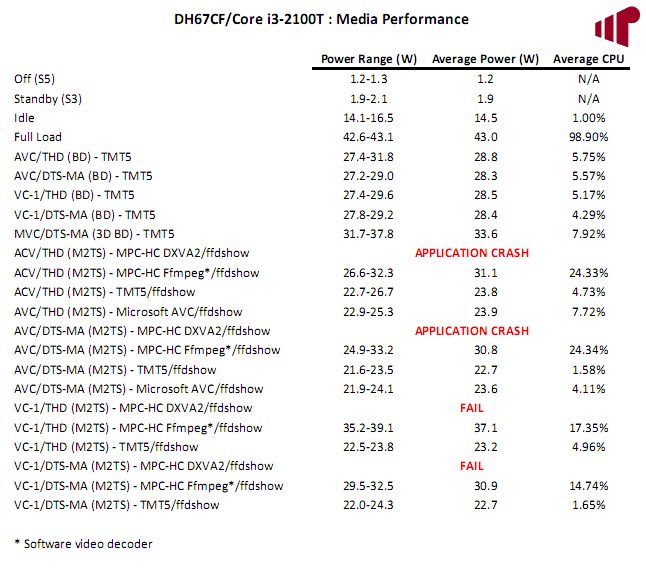 (click to view full-size image)
Power consumption is an essential metric when building a small form factor (SFF) HTPC, and more often than not this requires unpalatable trade-offs in system performance to meet a specific design goal.  Combining an average idle draw of only 14.5W and a maximum of 43.1W with excellent hardware accelerated (DXVA2) and software based playback the DH67CF and Core i3-2100T require very little balancing. 
DXVA2 support is still an issue with the built in MPC-HC video decoder for both AVC and VC-1, but it can be substituted with a retail filter or by enabling the Ffmpeg based software decoding if that is not an option.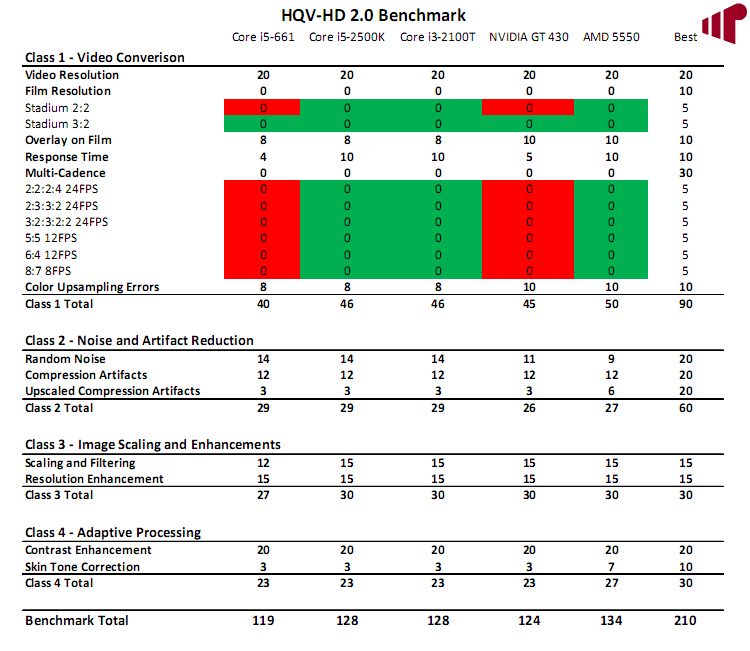 (click to view full-size image)
When evaluating HQV-HD scores it is important to remember that while numbers are produced, the outcome is still somewhat subjective and open to interpretation so results should only be evaluated within the context that created them and are not directly comparable between displays or reviewers.  Given the results from our first look at Sandy Bridge the outcome should not be surprising, with the main take away being that the reduction in EU (i5-2500K's HD 3000 v. i3-2100T's HD 2000) has no measurable effect on picture quality.
While artificial benchmarks are useful, applying the results outside of the intended context can produce misleading results, so some real world examples of picture quality have been provided to allow you to see (and judge for yourself) what solutions from Intel, AMD and NVIDIA provide.  Three series of screen shots for 480i AVC/AC3, 720p MPEG2/AC3 and 1080i AVC/AC3 were captured using the roughly the same* frame per sample. 
In each series brightness and color are the most obvious differences between output from the AMD GPU and the others.  There are also variations in noise reduction and deinterlacing performance, most noticeably in the 480i series which is not surprising because it is arguably a worst case scenario (highly compressed, low resolution, interlaced sports programming).
* Being a time based media framework, DirectShow does not provide a perfect mechanism for selecting a specific frame.
Refresh rate precision gets the most attention when it comes to 24p (23.976 frames per second) film based content, but is also important when it comes to other sources of video as well.  So samples from 23.976 (1080p), 29.97 (1080i) and 59.94 (720p) files were captured using the i3-2100T, GT430 and 5550 for comparison.  Intel has historically struggled with refresh rate precision, and officially this continues to be an issue.  Fortunately, the disable UAC "Easter Egg" covered in the initial look at Sandy Bridge has survived an official driver release so if that trade-off is acceptable we can experience much better results. 
Conclusion
In our first look at Sandy Bridge I listed the lack of CPUs better suited to HTPC use as a "Con". Following our evaluation of the Core i3-2100T and DH67CF complete it should be clear that Intel has taken that concern off the table in a big way.  With a 35W TDP that translates into a full featured home theater PC capable of timely commercial scanning, transcoding and 3D Blu-ray play that only draws between 14 and 43 watts, this system provides a fantastic option for anyone looking to build the ultimate mini-HTPC.  I was not able to obtain pricing for the i3-2100T as it has not been officially launched, but I expect it to fall somewhere between the $117 i3-2100 and $138 i3-2120.  Official numbers were available for the DH67CF motherboard however, which will carry a suggested retail price of $127 making it competitive in its market. 
Unfortunately, there are still a few issues outstanding with the platform most notably including multi-channel audio channel mapping, lack of YCbCr support and uncertainty around refresh rate precision remaining–hopefully these can be addressed soon.
Pro:
Full featured HTPC CPU/GPU with incredibly low power consumption
Good board design
Stability
Correct levels with HDMI and DVI
HDMI 1.3 Audio (Dolby TrueHD / DTS-MA bit streaming)
HDMI 1.4 Video (3D Blu-ray)
Wake from S5 with CIR
Con:
Requires disabling UAC to get better levels of refresh rate precision
We will need to wait until updated PCH with SATA3 fix is available to buy a DH67CF
CPU has not been officially launched, so price unknown
DisplayPort is not currently suitable for HTPC use
Thanks to Intel for providing the i3-2100T and DH67CF Mini-ITX motherboard and Perfect Home Theater for the ITX7 case used in the review.