Life with an App Episode 1: TDL Podcast Player for iPhone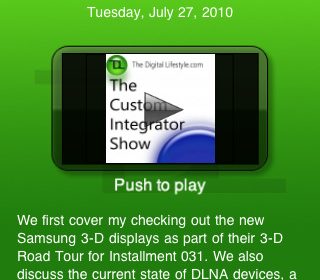 TheDigitalLifestyle.com Podcast Player for iPhone and iPad Devices
Please refer to the following video review for all the information on this very affordable iPhone product:
Continue reading the review below.
Summary:
TDL Podcast Player is a very affordable app that makes listening to your
favorite TDL podcasts very easy via your iPhone or iPad. The app allows
you to listen and/or download any podcasts from TheDigitalLifestyle.com
including the new DigitalLifestyle Show, TDL Mobile and the Custom
Integrator show.
The app does it claims to do very well: you can easily and quickly view
all of the podcasts available from TheDigitalLifestyle.com website. You
can pause, resume and skip through a program. You can also add it as a
favorite and send links to friends directly from the app. It even allows
you to download TDL wallpaper for your iPhone if you so desire.
It iis somewhat limited, howver, as it does only work with TDL podcasts
which you could sync via iTunes anyways, but this provides a nice
alternative for people who don't do so or that want an easy to use
alternative. Whether it's worth the asking price is strictly a user
preference based on how they listen to shows.
Cost: $1.99