ASUS O!Play HDP-R1 Media Player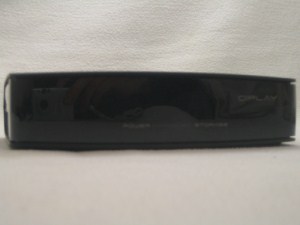 We have covered a number of different media players with a variety of features in the past, so no surprise that ASUS decided to get involved in the game. Their O!Play HDP-R1 brings a lot of familiar items to the table, but with so many competitors in the market, the ASUS will need to play hard to stand out.
Introduction and Specs
The ASUS O!Play HDP-R1 is one of the more well known media players on the market. It shares a similar body type to that of the Patriot Box Office we recently reviewed, and for good reason–it shares the same chipset! If you read that review (and I know you did) you will be familiar with a lot of the screenshots throughout.
| | |
| --- | --- |
| | |
| Retail Packaging | The unit itself |
Here is a closer look at the specifications from ASUS:
Supported Formats
Video:
MPEG1/2/4,RM/RMVB,VC-1,H.264
Video File Extension: .MP4, .MOV, .XVID, .AVI, .DIVX, .ASF, .WMV, .MKV, .RM, .RMVB, .FLV, .TS,
.M2TS, .DAT, .MPG, .VOB
Audio:
MP3,WAV,AAC,OGG,FLAC,AIFF,Dolby Digital AC3,Dolby Digital Plus,DTS
Digital Surround
Image: JPEG,BMP,PNG,GIF,TIFF
Subtitle:
SRT,SUB,SMI,SSA

.mp4,.mov,.xvid,.avi,.divx,.asf,.wmv,.mkv,.rm,.rmvb,.flv,.ts,.m2ts,.dat,.mpg,.vob
I/O Port
Input:
DC
Power In
1xUSB 2.0 Port
1xUSB 2.0 / eSATA Combo Port
RJ-45
LAN Port

Output:
Composite Video
Composite
Audio L/R
S/PDIF Out
HDMI 1.3

Network
LAN:
TCP/IP
(DHCP or Static IP Address)

10/100Mbps Wired LAN

Accessories
AC
Adapter
Power Cord
Remote Control
Composite A/V Cable
Quick
Start Guide
CD (User Manual)

Dimensions
181.0×125.3×47.7mm(W
x D x H)
Weight
491g
Power
Power
Source: 12V DC, 2A, 24W Power Adapter
Power
Consumption: < 10W
Operating Temperature:
5- 35℃ (41- 95 ℉)
Again we have a healthy list of features and filetypes supported from this box, all of which are shared by the Patriot Box Office. And seeing as the ASUS unit's retail price is under $100 (where the Patriot only dips below that mark after a $30 mail in rebate) we have a pretty interesting competition between the similarly spec'd players.
Inside the Hardware
The ASUS O!Play shares a similar body structure to that of the Box Office. However, while the Patriot included support for a hard drive in its tiny chassis, for some reason the O!Play is actually slightly larger than the Box Office without support for an internal drive. The unit is still quite small, but considering what we know about the internals it could have easily been much smaller.
| | |
| --- | --- |
| | |
| The retail box packaging | Unit compared to a quarter |
Unboxing the packaging and discovering that only composite (yellow/red/white) cables were included was a slight disappointment. ASUS has to believe (and should want) customers of this unit will be connecting via HDMI for high resolution audio and video, so why cheap out and not include the most important (and relatively cheap ) piece of equipment? So what does the box come with–user guide, setup CD, remote control, composite cables, the unit and a power adapter.
| | |
| --- | --- |
| | |
| Comparison to Patriot Box Office | Side view of unit's USB/eSATA Ports |
On one side of the unit is the "HD Media Player" logo and on the other side we find a USB and eSATA port. I must admit I am not a big fan of having cables sticking out the side of my devices and would have preferred ASUS make use of the ample space on the rear of the box as shown below.
The entire unit is made of plastic, giving it a slightly flimsy feel when compared to the Patriot's metal enclosure which felt strong and sturdy. The front and side bezel is made of reflective plastic material which loves to attract fingerprints and acts as a mirror (as you can see in the pictures).
| | |
| --- | --- |
| | |
| Opposite side of the unit | Rear of the unit |
On the rear of the box are the basics–composite connections for standard resolution and two channel audio, an optical toslink (S/PDIF) for digital audio to a receiver, an HDMI port, 10/100 ethernet and the power connector. There is plenty of real estate here, so why not another USB or eSATA port?
| | |
| --- | --- |
| | |
| Remote Control | Remote compared to Logitech 890 |
The IR remote control is an extremely simple device featuring just the basic controls for the unit. I like the layout and the buttons do a good job of illustrating what they do, but the lack of backlighting is a glaring omission, although with only 24 well spaced buttons it's not impossible to use it by feel once accustomed to the remote. Compared next to the Harmony 890 you can see just how small it is though, making it easy for all sized hands.
Overall, I have no major gripes with the hardware included here, other than it feels like it came from a $100 device. The lack of an HDMI cable is unforgivable in my book however and hope that this changes in future revisions.
Software and Interface
A lot of what you are about to see is very similar to the Patriot Box Office we reviewed–this is due to the usage of same chipsets and a reason why the specs were so similar. When I initially reviewed the unit the Patriot supported ripped ISO images of Blu-rays where the ASUS did not.
NOTE: After completing my testing, ASUS released a new firmware which included that feature and the following:
1. Over 20,000 internet radio stations
2.
Over 100 internet TV channels
3. Flickr
4. Picasa
5. Weather
Indeed where a lot of these products share very similar hardware specifications, it really comes down to the software (firmware) revisions for companies to differentiate themselves. It's a good sign that ASUS continues to update the device, as we go through there are some pros and cons to their approach. Innovation is a crucial indicator of success: the recent additions to allow internet streaming should please many owners!
Setting up the unit is as simple as any other media player we have tested. I connected the ASUS directly to my Onkyo TX-SR606 A/V Receiver via which is then connected to a 40" LCD 1080p Vidikron television, using HDMI 1.3 cables. The basic setup screen is almost identical to the Patriot's, with a basic options and menu structure to configure your resolution, audio, network and time settings.
| | |
| --- | --- |
| | |
| Main setup screen | Main menu screen |
A lot of the complaints I have read regarding Patriot's user interface stemmed from its very simplistic and somewhat complicated user interface. ASUS have completely overhauled the stock UI with a nice and easy to understand frontend. As you continue through the interface however, the frontend experience ends once you click on an option.
Before we get into collection managing and enjoying, we need to configure all the settings for each one. Basically we have some more identical screenshots here, as the same options from the Box Office continue here, being able to adjust your aspect ratio, the preview window, HDMI audio settings, photo slideshow, etc.
| | |
| --- | --- |
| | |
| Video Settings, including 24Hz support | Digital Output Settings |
The pretty ASUS interface is strictly on the main frontend screen, and once you select the type of media you wish to play you are taken to the familiar click and find folder structure view. For people who know exactly where their media is it's not a problem, but less technical users or those with multiple folders of content might grow frustrated.
I found the navigation to be identical from the Patriot's, preferring the on-screen keyboard from Patriot slightly given its layout. As of testing, there was still an issue with the Windows 7 login even with user name and password.
| | |
| --- | --- |
| | |
| Various Ways to Access Data | Creating a Shortcut |
The preview window is easily turned on or off via the settings page and functions the same way as the Box Office–you select a file and then the file starts playing in the preview window. One thing you will notice from the screenshots below is the header–there is only one main header as you browse. Why is this important? One of my favorite features of the Box Office was that I could browse my movie cover art files and then easily play the video file. With the ASUS you can only browse via one particular file type.
| | |
| --- | --- |
| | |
| Music navigation | Browsing your photos |
Recognition and playback of Blu-ray and DVDs is also identical, with the unit able to detect and play Blu-rays ripped in ISO format, and DVD's either ripped to an ISO or their native VOB folder structure. Playback was smooth without any issues stuttering.
| | |
| --- | --- |
| | |
| Blu-ray ISO Playback | Ripped DVD Playback |
Unfortunately the similarities continue in features not included–such as bitstreaming of HD formats and the ability to playback non-ISO ripped Blu-ray movies. Also not supported are native Windows Media Center file formats such as WTV or DVR-MS. The lack of WTV support is not surprising as Microsoft has not published any specifications for the container, but the lack of DVR-MS support (DVR-MS is documented in teh ASF specification) is less understandable.
Power and Performance
By now we have covered that the O!Play shares the same hardware as the Box Office, minus the ability to add a hard drive. With that knowledge it's easy to understand that power consumption is near identical to that device, hovering around 7 watts during HD video playback. Still an impressive number considering the capabilities the unit provides.
| | |
| --- | --- |
| System | Power Draw |
| ASRock Ion-330 | 26 idle/38 max |
| Box Office (no drive) | 6 Watts |
| Box Office (with 160gb 2.5" Drive) | 9 Watts |
| ASUS O!Play HDP-R1 Unit | 7 Watts |
Also identical to the Box Office is its ability to draw 0 watts in standby mode, allowing it to consume very little power while not in use but requiring very little trade off with a quick bootup of approximately 9 seconds.
Unlike the Box Office which offers an 802.11g adapter, the ASUS does not. Given the similar hardware I was hoping the same adapter would function on the O!Play, however it did not. Therefore the device was connected via Ethernet cable for all of the testing.
Network performance was good. I had no problems with stuttering when streaming content via the gigabit switch (note the unit itself is a 10/100 device), and tested a variety of file formats including Blu-ray ISO rips, DVDs and a variety of high resolution video files. Picture quality was as impressive as the Box Office, with the device offering similar colors to that of the Intel DG45ID reference HTPC system. Blacks were vibrant and colors stood out. There was no juddering with any fast paced action sequences, although I was unable to perform 24p testing due to a lack of equipment.
Conclusion
After living with both the Patriot Box Office and this ASUS O!Play HDP-R1 media players, it has proven difficult to choose a clear winner. I have centralized storage with torrent support in my Windows Home Server, so the inclusion of hard drive support and extras would be of no use to justify the extra $30 Patriot asks for its device. As the two compete features via firmware updates, I would imagine they would stay on par with each other as well, making the ASUS' sub-$100 MSRP a frontrunner.
The plastic enclosure is not as sturdy as the Patriot's metallic enclosure, and those of you with the need for wireless capabilities will need to look elsewhere as well. The inclusion of an eSATA port does make up somewhat for the inability to install a hard drive and the latest firmware's added support of internet offerings enables competition with the Roku albeit on a much smaller scale (keep in mind that the Roku does not support local content).
The biggest problem facing the Box Office and now the ASUS O!Play is the learning curve and targeting of newer users. The interface is somewhat difficult to navigate and those familiar with richer client UIs (like Windows Media Center) will miss thumbnail views. Once configured it makes browsing much simpler, assuming you know where your content is. Geeks and most readers of this site will enjoy the device and have no problems with it, and for under $100 you can have a 7-watt media player capable of playing 1080p Blu-ray content without issue.
Pros:
Draws less than 7 watts
Easily handles 1080p video formats
Supports 7.1 HDMI LPCM Audio
Blu-ray ISO support
Affordable price
Very small
Volume control
Fast boot time
Draws 0 watts in Standby
Video playlist/resume functionality
eSATA hard drive support
Cons:
Unable to browse "All" types of media in one folder
No Wireless support
Lackluster User Interface
Cannot bitstream HD audio streams
No support for Blu-ray menus and extras
No component video
No WTV or DVR-MS filetype support
Complicated setup to work with Windows7 machines
No backlit remote
No HDMI Cable included