HippoRemote – An iphone Remote For Your HTPC

HippoRemote: An Iphone Remote For Your HTPC

Every HTPC user has had a time where they needed a keyboad and mouse; whether it was for software updates, viewing streaming video content from a popular website or you just wanted to use your 100" front projector screen as the worlds largest word processor.  There are many products that fill the niche of a small keyboard with a touchpad mouse for HTPC use but few have precision and accuracy of a capacitive touch screen.  This is where the iPhone and HippoRemote come in.
Introduction
There have many many time in the past 4 years that I have had to break out
my wireless keyboard and mouse and use my right pant leg as a make shift mouse
pad in order to get my HTPC working correctly; oftentimes this event takes place
right before an important airing of our favorite TV show, sporting event or when
hosting a party.  I personally hate using a keyboard and mouse with my HTPC and
predominately use my MCE remote control or my Logitech Harmony 890, but there
are sometimes when a keyboard and mouse are essential.   
This is where the iPhone comes in handy; with a WIFI network, an
iPhone and a HTPC you can have a powerful combination……… a replacement for
your pantleg mouse pad.  Without a doubt the biggest improvement in touchscreens recently has been the use and affordability of glass capacity.  They are significantly easier to use, more accurate and clearer
than their counterparts the resistive touch screen.  Add that people are trying to replace everything from their TI-83 calculator to
their GPS system with their iPhone and you have the demand for an iPhone app to
replace your keyboard/mouse and WMC remote control.
There are many iPhone apps that work with Windows Media Center,
ones that will allow access to your Music Library while your screen is off and
ones that will have you waiving your hands in the air like you just don't care to
move the mouse, but only one uses the power of the iPhones multitouch screen,
intuitive keyboard and application profiles providing a dynamic remote control with access to every command for each of your favorite
programs and looks better than this:
Installation
Installation 
Installing the HippoRemote is actually two installations; one application for the
iPhone and one for the HTPC.  The iPhone app install is the process
of installing any iPhone app.  [Itunes
Link] The HTPC software installation requires you to visit the manufacturer's
website, download the application and install it on your HTPC.  HippoRemote
provides an easy to follow tutorial on the install for your choice of OS: Linux,
OS:X and XP,Vista, Windows 7.   I will only be reviewing this as an application for use
with Windows 7 and Media Center.  It is as simple as clicking on the logo for your OS,
reading the directions, downloading the application and installing it.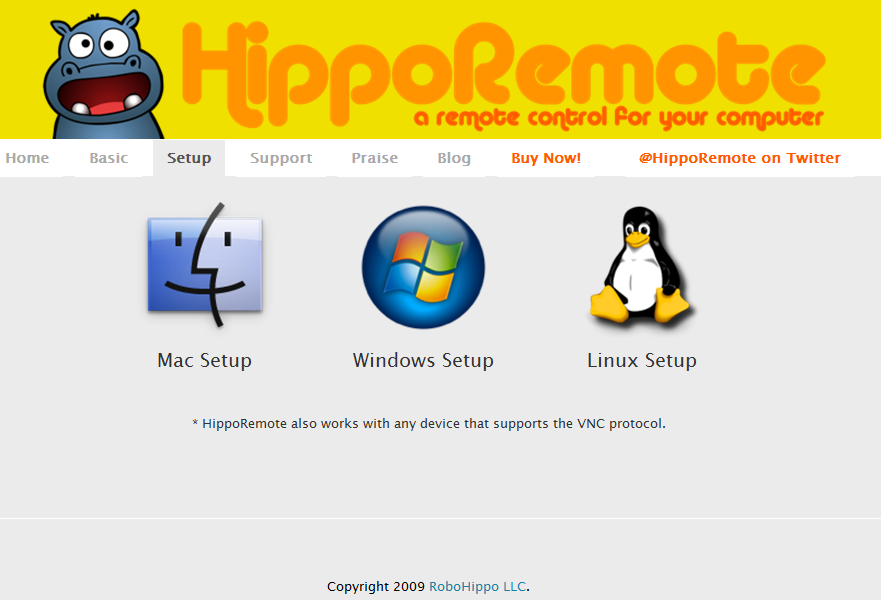 Hipporemote.com Setup Page For All Three Major Operating Systems
The only configuration that is needed for HippoRemote to work is creating a
VNC password, setting a static IP with your router, and then typing in your
password and IP address into the iPhone app and you are off and running…. err
typing.
There are two optional steps, which really are beneficial if you plan on using
the application on a regular or semi-regular basis, option 1 is  installing
Bonjour for Windows and option 2 is setting up the HTPC software as a service so
it starts up when Windows Starts.  I chose to do both optional configurations
and both are simple and with the provided tutorial from HippoRemote were
completed in under 10 minutes.
Installing the Apple Bonjour Print Server gives users the ability to add computers to their Hipporemote on the iPhone with out needing to write down the IP of the PC.  This allows for faster and easier access to your computer and definately helpful if you are using this with mulitple PCs in different enviornments.
Programming&heading= Using the Remote
Using the Remote
Once you have the applications install you can begin using your iPhone as a
remote control.  The application automatically detects what program is running when you
connect to the HTPC and automatically loads a profile.  With
Media Center is loads the most common buttons and tasks to the bottom bar of the
application.  The default screen is a simple touchpad, which allows you to
control the HTPC mouse.  The unique part about HippoRemotes touchpad is it not
only allows for multitouch, 2 fingers for "right click" but is also has a
revolutionary scroll wheel, pun intended.  The scroll wheel is located at the
bottom of the screen and when touched a small circle appears in the center of
the touchpad.  Once the circle appears you now drag your finger in a circular
motion around the touchpad to scroll, counterclockwise for down and clockwise for up.  This is the
best implementation of a scroll wheel I have ever use on any touch pad.  It is
significantly easier and faster to use than a normal notebooks scroll design and
really adds a benifit when surfing the web on your 100" front projection
screen, or perhaps more mild mannared 22" LCDs.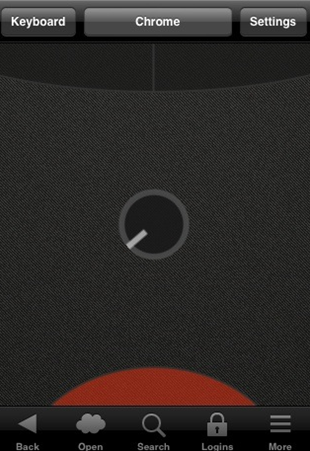 Standard Touchpad with Scroll Wheel
The WMC touchpad also has a fairly standard Arrow Pad, which includes a D-Pad
for moving around the WMC UI, Page Up and Page Down, Back and Guide button.  There
are also links to the DVD Menu, Recorded TV, Music and Photo Libraries along the
bottom of the Arrow Pad.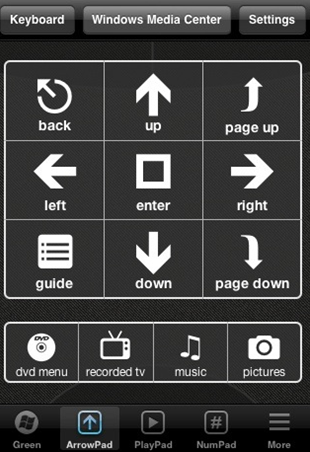 WMC Profile: ArrowPad
There is also a Playback Pad, which includes normal commands for controlling
the payback of media; play, pause, stop, FF, RWD, Skip, Replay, Volume Up/Down
and Channel Up/Down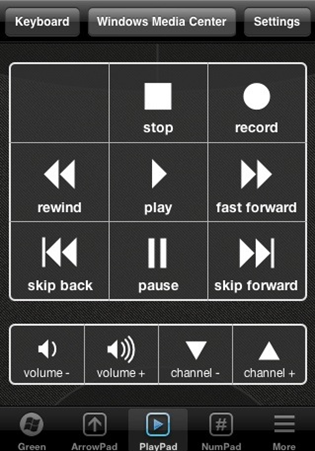 WMC Profile: PlayPad
 The last WMC specific Screen is the Channel Pad, which is just a standard
number pad that can be used to enter in a TV Channel's number.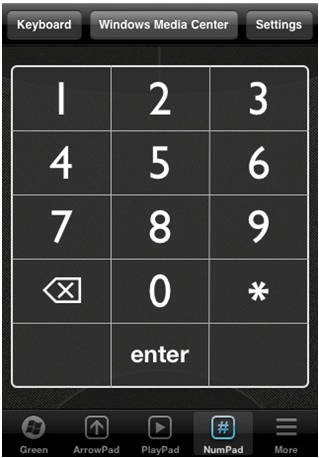 WMC Profile: Number Pad
Conclusion
Final Thoughts
After using the HippoRemote on my main HTPC for about a week
I have noticed that I have not needed to break out my spare keyboard and mouse
at all.  Prior to using this app I was contemplating purchasing a Logitech Dinvo
Mini or Edge for occasional use with my HTPC but I now see no need.  When I need
to use a keyboard or a mouse in order to restard WMC when it locks up or when I
want to access websites or show a PowerPoint presentation with my HTPC, just
pull out my iPhone and within 3-5 seconds am in complete control of my
HTPC.
Pros:
Application Specific Profiles
Scroll Wheel design
Multitouch support
Large Application Specific Keys
Price $4.99
Use of standard iPhone Keyboard
Drag function with the touch pad.  When clicking-hold you can
drag an icon with multiple finger swipes and then tap the screen to drop the
icon.
Cons:
Playback Pad and Arrow Pad are separate.  Many times I found
myself switching back and forth from the Arrow Pad and Playback Pad, which
became tedious.  Adding Volume and a Play/Pause to the Arrow Pad would be a nice
touch.
Application Launching: the software supports auto-launching
applications when you swtich to its profile, which is a great idea but the
implementation is clunky.  It basically is a macro for clicking the start orb,
then searching for the application by typing in the name and then clicking on
it.  It would be great if you could add the folder path to the application.  I
found this part of the app to be lacking and not really worth using.  It was
faster and I had a higher success rate of just using the touch pad to move the
mouse and click the icon for the program I wanted to launch.
This application has a lot to it, much more than I reviewed
here.  It has the ability to auto-launch programs, control multiple PCs with
multiple different operating software, and does most of it fairly well.  I have
tried some of the other PC remotes for the iPhone and HippoRemote had the best
touchpad, best keyboard, WMC specific keys and had the most functionality.  But
for me nothing can replace my everyday use of my Logitech Harmony remote.  I
cannot turn on/off the TV, Screen/Projector or my surround sound with the iPhone and
there is the issue that my wife does not have an iPhone.  For what the app is it
does it well and it is a great tool to have for controlling my HTPC.
 Thank you HippoRemote for providing the software for review
and I hope the development of the app continues.