CES 2018: Coros OMNI smart cycling helmet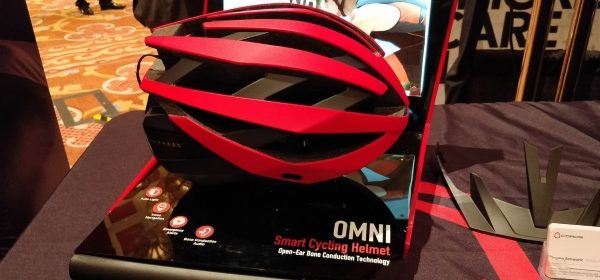 I would love to be able to listen to music while cycling, but I don't think it's safe to wear headphones. There are too many potential hazards out on the road to have that level of sonic isolation. This is one of the use cases that the Coros OMNI "Smart Cycling Helmet" addresses.
The OMNI addresses this via bone conduction technology, and that's not the only trick that this cycling helmet has to offer. It also includes a lip mounted microphone and a dongle that attaches to the handle bars so you can take a call, skip tracks, or manage other aspects of the helmet like the LEDs on the back. Alongside the ride tracking app, which can sync with services like Strava and Map My Ride, it includes a G-Sensor emergency alert system which can alert your next of kin in the event of an accident. All this sounds great, but there are two apparent drawbacks to the helmet. First it doesn't appear to support MIPS (I forgot to ask), and second unlike their previous generation smart helmet the OMNI doesn't come in orange. Oh, and all that extra tech adds a bit of weight.