NETATMO announces smart radiator valves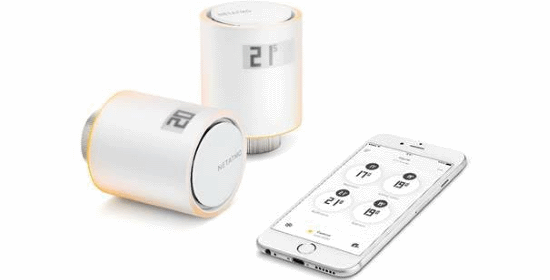 People may poke fun at IoT and Smart Home, but these smart radiator valves are exactly the kind of thing that I think sell the home automation (HA) story. They increase efficiency, reduce the need to intervene, and provide useful feedback on what's goin on in my home while potentially saving me money. Perfect.
The valves are £59.99 and you need their £149 Smart theromostat, so not crazy expensive especially compared to some of the other players in the UK Smart heat control market (and they look a bit nicer IMO). There was no mention of how the valves are powered though, which would be something I'd want to know before splashing out.
Update: the valves are powered by two AA batteries which should last about two years.
Netatmo, a revolutionary smart home company developing groundbreaking intuitive and beautifully-designed connected consumer electronics, unveils today the Smart Radiator Valves, designed in collaboration with Philippe Starck. The Netatmo Valves allow users to reduce their energy consumption and to control their heating remotely, room by room.

Netatmo Smart Valves are an accessory to the Netatmo Smart Thermostat. They replace current radiator valves.

37% of energy savings without compromising on comfort

Fitted on hot water radiators, the Netatmo Smart Valves regulate heating on a room-by-room basis. They set a heating schedule for each room, adapted to the lifestyle of their inhabitants. By having better control over their energy consumption, users save 37% on energy to heat their home[1].

"With the Smart Radiator Valves, Netatmo continues to provide consumers with innovative and practical heating solutions", says Fred Potter, President and Founder of Netatmo. "Using Smart Valves considerably reduces energy waste, which is expensive for users, whilst increasing comfort in the home", he continues.

The bathroom is heated to 21°C during the morning, but not for the rest of the day when it is not being used; the parents' bedroom remains at 16°C during the day when it is empty, and the kids' room is heated at 19°C from 5PM on weekdays.

Smart features for accurate heating control

3 smart features incorporated into Netatmo Valves allow users to make energy savings every day:

– Open window detection: the Valves detect when a window is open and immediately stop heating the room so as not to waste energy.

– Smart regulation: the Valves precisely analyse external elements in real time – the weather, insulation of the house, the number of people in the room, electrical appliances being used – and adjust the heating of the room to save as much energy as possible.

– Manual Boost: the user can temporarily increase the temperature of a room at any time. This can be done by manually turning the Valve or adjusting its temperature from the App.

Remote control, room by room, for greater comfort at home

The Netatmo Smart Valves adapt to the habits of each household occupant and to their desired level of comfort in each room. From the office or on the go, the user can control the heating remotely, on a room-by-room basis.

From the App, users can customise the temperature of each room in the house. They can also track energy consumption for each room. In just one click, they can turn on the heating for all radiators equipped with Netatmo Valves.

Netatmo Valves use Wi-Fi to synchronise with the App. Users can access the Netatmo Energy App from their smartphone, tablet or PC/Mac. The Netatmo Energy App controls the Valves and the Netatmo Thermostat.

Voice-controlled heating, thanks to Apple HomeKit

Apple HomeKit allows users to control each of the home smart devices and make them work together, right from their iPhone, iPad or iPod touch. Via Siri, users can control their heating with their voice.

From Apple's Home App, users can ask Siri to change the temperature of certain rooms in the home: "Hey Siri, decrease the temperature of the living room by 2°C".

Users can create customised scenarios to connect smart devices together according to different combinations. For example, lighting and heating will turn on when users come home, or off when the family is sleeping.

With the Smart Thermostat and Smart Radiator Valves, Netatmo offers the only complete heating solution in Europe that's compatible with Apple HomeKit.

Easy installation and wide compatibility with water radiators

Netatmo Smart Radiator Valves have been specifically designed for the European market. They are compatible with 90% of water radiators on the market.

Netatmo Smart Radiator Valves are fitted on water radiators, replacing current valves. By modulating the water flow in radiators, the Valves allow for the temperature to be regulated in each room where they are installed.

Installing the Netatmo Valves is quick and easy: the user should simply unscrew the old thermostatic radiator valve, without having to bleed the radiator, and install the Netatmo Valve with one of the adaptors provided.

Users can replace thermostatic valves themselves. No extra tools are needed and the installation keeps all its water. To replace current manual valves, users should call a plumber.

A stylish design

As with the Netatmo Smart Thermostat, Netatmo Smart Radiator Valves have been designed in collaboration with Philippe Starck. They blend perfectly into any interior. Their minimalist design intertwines elegance and functionality. The valves can be set up in 4 colours, included in the packaging.

Netatmo Valves have e-Paper screens, for a clear temperature display and low energy consumption.

Pricing and availability

Netatmo Smart Radiator Valves will be available at the end of 2016. They will retail for £59,99 each.

The Smart Radiator Valves work only with the Netatmo Connected Thermostat and are sold separately.

The Netatmo Energy App is completely free and is compatible with iPhones, from iOS 9 onwards, and Android smartphones from 4.2 onwards. The Valves Web App is available on Mac and PC.

Using HomeKit requires an iPhone, iPad or iPod Touch with iOS 8.1 or higher.

About Netatmo

Netatmo is a revolutionary smart home company, developing groundbreaking, intuitive and beautifully-designed connected consumer electronics. Truly smart, Netatmo's innovative products provide a seamless experience that helps users create a safer, healthier and more comfortable home.

Netatmo carefully designs the mechanics, electronics and embedded software of all its products to the highest standards. Netatmo also creates the mobile and web applications that fully realise their potential.

Since 2012 Netatmo has released ten devices and accessories, divided into three categories:

Weather for the Personal Weather Station and its accessories. The Personal Weather Station allows users to keep track of what is happening in their indoor and outdoor environments in 175 countries. It is the world's largest collaborative weather station network.
Energy for the Smart Thermostat and the Smart Radiator Valves. Both products are designed by Philippe Starck. They allow users to save 37% on energy to heat their home. The Smart Thermostat sets a program to reflect the users' habits. It also allows users to control their heating remotely from a smartphone. The Netatmo Valves set a heating schedule for each room of the house, reflecting their occupancy and the family's rhythm of life.
Security for the security cameras Welcome and Presence and their accessories. Welcome, the indoor security camera with face recognition technology, puts names to the faces it sees. The camera notifies the user exactly who's at home, their loved ones or a stranger. Presence, the outdoor security camera, detects and reports on people, cars and animals. The camera understands what it sees and lets the user know exactly on his smartphone what is happening outside his home.

Netatmo is a key player in the smart home industry, with products available through various distribution networks worldwide, from both major retailers and B2B channels.

In November 2015 Netatmo completed a series B funding round of €30 million. The company previously raised €4.5 million in 2013.

[1] Study led by CentraleSupelec Engineer School (JSS) on a typical apartment with collective heating, where all radiators are equipped with Netatmo Smart Radiator Valves