D-Link Connected Home Ecosystem Connects with Amazon Echo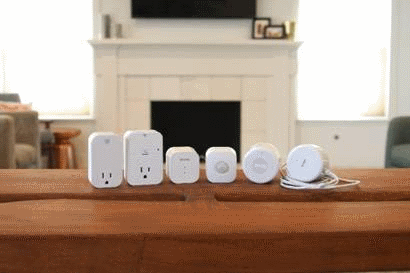 I haven't had a chance to play with Amazon's Echo (Alexa) ecosystem yet, but they sure seem to be getting a lot of good press, and OEM support. I think that's a great thing; we really need some cohesion in the devices market. Today, D-Link announced that their Wi-Fi HA devices will play nice with Echo and IFTTT – full PR after the click.
D-Link Connected Home Ecosystem Connects with Amazon Echo

New mydlink Home Integrations Create a Connected, Customizable, Voice-Controlled Home

FOUNTAIN VALLEY, Calif. – April 13, 2015 – D-Link® today announced that its Connected Home Wi-Fi Smart Plugs are directly compatible with Amazon Echo1, providing users the hands-free convenience of controlling their smart home via voice commands. Amazon Echo's voice-powered personal assistant, Alexa, enables users to control anything plugged into a Wi-Fi Smart Plug by simply saying, "Alexa, ask mydlink to turn on the hallway light."

This latest integration underscores D-Link's commitment to building an intuitive and customizable Connected Home experience. In addition to Amazon Echo and Alexa, the mydlink® Home app provides a wide range of options for controlling a smart home, including in-app recipes and IFTTT (If This Then That) support.

"D-Link is helping users find new and fun ways to interact with their homes and expanding the possibilities of home automation by collaborating with additional technology platforms," said Oscar Reyes, associate vice president of marketing, D-Link. "As a father of two, I've often got my hands full. Controlling my home with an app, my voice, or to even have things happen automatically helps simplify my life."

More About D-Link's Connected Home Interactions

mydlink Home users can now create custom actions through the mydlink Home app, IFTTT and Amazon Echo for a personalized smart home experience:

mydlink Home: In addition to transforming a tablet or smartphone into a remote control for D-Link smart products, the free app can pair D-Link Connected Home devices for a truly automated home. Possibilities include connecting a Wi-Fi Smart Plug and Motion Sensor, so a light turns on if motion is detected. For added value, D-Link's solutions are Wi-Fi based and free of monthly subscription fees – no need to worry about a smart home hub.
Amazon Echo: Experience the hands-free control and convenience of Alexa, who can easily turn on a light with the Wi-Fi Smart Plug when your hands are full. During the holidays, tell Alexa to turn off a Smart Plug connected to festive lights. Headed to work? Users can say, "Alexa, ask mydlink to turn off the coffee machine."
IFTTT: mydlink Home users can add or create "If This Then That" recipes for a range of tasks to simplify and enhance life. For example, D-Link's Wi-Fi Water Sensor alerts users when water is detected with a push alert and alarm. Add an IFTTT recipe to make the lights flicker to get your attention before a leak becomes a disaster. IFTTT recipes can also schedule a Wi-Fi Smart Plug to turn on a lamp when the sun rises, turn a fan off whenever you leave the house, or even sound a Wi-Fi Siren when a favorite team wins the game. Users can create and share personalized recipes for a chance to win a range of D-Link Connected Home devices at us.dlink.com/giveaway.

Availability and Pricing

The free mydlink Home app for iOS and Android is available now with integrated support for Amazon Echo1 and IFTTT. Detailed specifications are available online at us.dlink.com/connected-home.

About D-Link

D-Link is the global leader in connectivity for home, small business, mid- to large-sized enterprise environments, and service providers. An award-winning designer, developer, and manufacturer, D-Link implements and supports unified network solutions that integrate capabilities in switching, wireless, broadband, storage, IP Surveillance, and cloud-based network management. For more information visit us.dlink.com, or connect with D-Link on Facebook (http://www.facebook.com/dlink) and Twitter (www.twitter.com/dlink) and D-Link's Blog (http://blog.dlink.com/).

# # #

D-Link, mydlink, and the D-Link logo are trademarks or registered trademarks of D-Link Corporation or its subsidiaries. All other third-party marks mentioned herein may be trademarks of their respective owners. Copyright © 2016. D-Link. All Rights Reserved

1 Amazon Echo support for mydlink Home offered on Wi-Fi Smart Plugs (DSP-W110 and DSP-W215).