Be Quiet! Shadow Rock LP CPU Cooler Reviewed @ Nikktech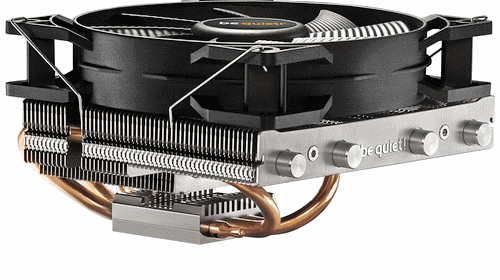 I'm not in love with the SFF-dissing intro, but this Be Quiet! cooler looks nice and comes from a proven brand in um… quiet computing.
I may not enjoy using small PC systems mainly because I've gotten used to working with the largest towers available in the market for as far back as i can remember but most people i know have no problem with that and since they care not about serious overclocking nor do they care about high-end CPU performance they almost always turn towards low-profile CPU cooling solutions. Now as you all know in the market currently there are the medium sized low-profile CPU coolers which are not very smaller compared to regular tower coolers and are aimed towards small ATX cases and the really compact low-profile CPU coolers which are targeted towards mini-ITX and mini-ATX cases. Be quiet! released the medium-sized Shadow Rock LP low-profile CPU cooler a few months back and since many of you asked for it we decided to check and see how it compares against other low-profile models.