D-Link Introduces Komfy Light Switch Camera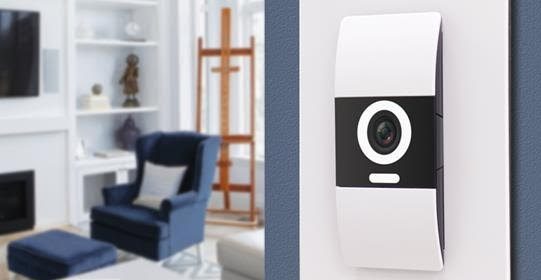 If I'm honest, I don't really get the camera aspect of this light switch. I mean it's cool and all, but as a light switch is in a fixed location it might not be optimal to monitor the room from where it is. The $299 DKZ-201S is packed with environmental sensors though, so from that perspective it makes a lot of sense, but I certainly hope D-Link has a cheaper non-camera model in the product pipeline as well.
D-Link Introduces New Komfy™ Smart Home Device

First Product in the Komfy Line is a Smart Light Switch with Camera Designed to Give More Control and Awareness of the Home

FOUNTAIN VALLEY, Calif. – Nov. 19, 2015 – D-Link today announced a Smart Home Device under the new Komfy™ brand name. The Komfy Switch with Camera delivers a new smart light switch for homeowners looking to create a smarter and safer home. Built to replace a standard 1 or 2-gang light switch1, the Komfy Switch with Camera (DKZ-201S) is an all-in-one solution allowing users to not only keep an eye on their home with a high definition 1080p camera, but also monitor a range of environmental changes including temperature, humidity and air quality. The Komfy Switch with Camera also comes in white and black color options to fit a variety of interior designs.

Most solutions require placing multiple devices throughout the home in order to view a room, control light switches and sense changes in the environment, but Komfy offers additional sensors and alerts so customers can have peace of mind with a single device. The free Komfy app for iOS® devices2 can be used remotely to control lights as well as create on and off schedules and send automatic push notifications to their mobile device to alert users to changes in the room's temperature, humidity, and air quality. And with IFTTT support, Komfy can be used with other smart devices and apps to create a truly automated home that works for you.

The Komfy Switch with Camera offers a built-in Full HD 1080p camera with a 130 degree wide angle lens for users to check in remotely. The Komfy Switch with Camera incorporates an Ambarella HD camera System-On-Chip (SoC), to provide outstanding video image quality, even in low light conditions. Along with sound and motion alerts, the camera can store unlimited video clips on an 8-day first-in, first-out basis to a personal cloud for free or record locally to a microSD card3 whenever motion is detected. Users can easily view and playback clips from anywhere directly from the Komfy app4.

"Awareness is everything, and with Komfy you'll always know the status of your home," said Ken Loyd, director of consumer product marketing, D-Link Systems, Inc. "With a Full HD camera, free cloud recording, and multiple sensors with automatic alerts, you can address a problem before it becomes a disaster, allowing you to feel exactly how you should feel at home, which is safe and secure 24/7."

More about the Komfy Switch with Camera:

· HD 1080p Video with 130° Wide Angle View – view crisp, clear video with a large field of view

· Local and Cloud Recording – record clips to a private cloud account or save clips to a local micro SD card

· Control Lights – easily create on/off schedules for 1 or 2 connected lights or control them remotely from an iOS smartphone or tablet

· Push Notifications – receive alerts when Komfy senses changes in the environment

· Senses Air Quality, Temperature and More – check humidity, air quality and temperature and receive alerts if something changes

· Wi-Fi Connectivity – requires no additional hub or device, works with any Wi-Fi network

· Uses Komfy App – intuitive app for one click management and control from your iOS mobile device

· Two Color Options – choose between a white (DKZ-201S/W) or black (DKZ-201S/D) panel to fit in with your home

Availability and Pricing

The Komfy Switch with Camera is available for pre-order now with shipment in December for $299.99 at D-Link Shop. Detailed specifics are available online at D-Link's website.

About D-Link

D-Link is the global leader in connectivity for home, small business, mid- to large-sized enterprise environments, and service providers. An award-winning designer, developer, and manufacturer, D-Link implements and supports unified network solutions that integrate capabilities in switching, wireless, broadband, storage, IP Surveillance, and cloud-based network management. For more information visit us.dlink.com, or connect with D-Link on Facebook (http://www.facebook.com/dlink) and Twitter (www.twitter.com/dlink) or D-Link's blog (http://blog.dlink.com/).

# # #

D-Link, Komfy, and the D-Link logo are trademarks or registered trademarks of D-Link Corporation or its subsidiaries. All other third-party marks mentioned herein may be trademarks of their respective owners. Copyright © 2015. D-Link. All Rights Reserved

1 Komfy is not compatible with 3-way (multi-location control) switches, requires a neutral wire and only works with 1 or 2 gang light switch boxes.

2 Only available with Apple devices using iOS 7.0 or above, at time of launch. Requires Bluetooth 4 / LE for initial setup.

3 microSD card not included.

4 Komfy products and the Komfy app are not compatible with the mydlink, mydlink lite or mydlink Home apps.