NETGEAR Announces Tri-band AC5300 X8 R8500 802.11AC Wi-Fi Router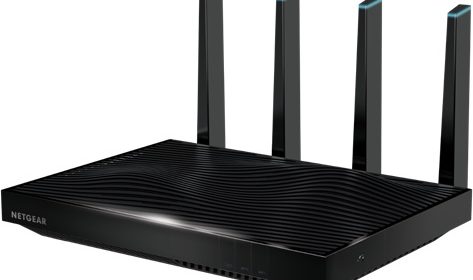 Today NETGEAR announced the latest addition to their high-end consumer 802.11AC Wi-Fi routers; the $400 Nighthawk X8 R8500. Like other "AC5300" routers the X8 is based on a 1.4GHz SoC with tri-band Wave2 sporting one "1000Mbps" 2.4GHz and two "2166Mbps" 5GHz radios. Unlike previous generations of 802.11AC routers the X8 has two features which make it very unique compared to the competition; powered antennas and six Gigabit Ethernet ports. With two of the wired ports supporting link aggregation (including 802.3ad) it pairs nicely with NETGEAR's other product announcement.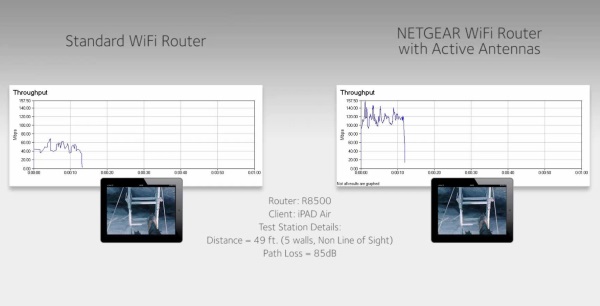 Unfortunately MU-MIMO is not yet enabled on the device, but the hardware is ready — just waiting on firmware which should ship by end-of-year. While this is interesting, to take full advantage clients will need to be MU-MIMO enabled as well so it isn't nearly as exciting as the active antennas which take signal amplification away from the noisy mainboard and places it where it can make the most difference to every wireless client, as well as cutting down on the number of physical antennas hanging off the router. According to NETGEAR's PR, this has incredible benefit (see above), and I'm inclined to agree, but of course it's something that we'll want to test out before repeating it too loudly.
Full PR after the click.
NETGEAR INTRODUCES A NEW INDUSTRY BENCHMARK IN PERFORMANCE AND SPEED — THE NIGHTHAWK X8, TRI-BAND, QUAD-STREAM AC5300 WIFI ROUTER

Industry's first shipping AC5300 Smart WiFi Router has the breakthrough speeds and range you crave to support the increasing number of Internet devices that enable your networked life

SAN JOSE, Calif. — October 1, 2015 — NETGEAR®, Inc. (NASDAQ: NTGR) (www.netgear.com), a global networking company that delivers innovative products to consumers, businesses and service providers, today introduced a WiFi router for your home that sets a new standard for speed, features and performance. The latest addition to the company's premium Nighthawk® product line of WiFi routers, Nighthawk X8 AC5300 Smart WiFi Router (R8500) (www.netgear.com/R8500) delivers astonishing Internet performance with combined WiFi speeds up to a blistering 5.3Gbps* (1000Mbps + 2166Mbps +2166Mbps), a new record for a home router. This quad-stream, tri-band router provides more Internet bandwidth for all the devices in your home, so everyone in the family can stream movies and music, download files, surf the web, share photos, and enjoy online gaming — simultaneously and without lag.

Engineered from the ground up with a stylish modern design, the Nighthawk X8 is performance perfected with the new Wave 2 AC WiFi. It is powered by an extremely powerful 1.4GHz dual core processor for faster connections; the industry's first, patent-pending Active Antennas to boost range; and three WiFi bands with quad-streams, 1024 QAM, and MU-MIMO** capable for the fastest WiFi speeds. It also supports more wired connections with six Gigabit Ethernet ports including two that can be aggregated for faster file transfers. All told, the Nighthawk X8 pushes wireless performance and range to an extreme that is required for enabling your increasingly always-on networked life.

Due to the recent explosion in popularity of mobile devices such as smartphones and tablets, the average household today has more than 12 WiFi devices connecting to its network, according to a new survey conducted by market research firm MarketLab. The proliferation of these devices is expected to grow exponentially in the next few years as the "Internet of Things" (IoT) smart home becomes a reality. The next-generation Nighthawk X8 WiFi router from NETGEAR ensures the bandwidth required to support this ever-growing number of networked devices. The Nighthawk X8 delivers the best WiFi speed across all your devices, even when your family members are streaming, gaming, and downloading files at the same time.

"Nighthawk X8 is the next wave in WiFi and is for people who crave the absolute best networking experience possible today. Tri-band WiFi helps provide sufficient bandwidth for the increasing number of devices in the home and cutting-edge Wave 2 AC provides the best WiFi performance," said Sandeep Harpalani, NETGEAR senior director of product marketing for Retail Network Products.

He added, "Nighthawk X8 has enhancements such as industry-first Active Antennas for the best range and performance, additional Gigabit ports for more wired connections, and even port aggregation for streaming capability from your networked storage device at greater than Gigabit speeds. Simply put, Nighthawk X8 delivers performance that outpaces any other router in the market today."

Today's homes combine many new and old WiFi devices that slow down overall performance. The SmartConnect feature of the tri-band Nighthawk X8 is engineered to intelligently segment slower and faster devices into the most appropriate WiFi band so that not only can the fast devices run faster, but even older devices will offer better performance.

You can also use the tri-band capability to segment traffic by devices or application. In a typical older dual-band router, for example, the video streamer and the Internet gamer have to effectively "time-share" bandwidth. However, with a tri-band router such as Nighthawk X8, video streaming and Internet gaming traffic can each operate on separate bands, effectively getting double the speed of a dual-band router.

Moreover, Nighthawk X8 offers a unique Dynamic QoS prioritization capability. Instead of treating all devices and applications as the same, Dynamic QoS recognizes each individual application and the device it is running on, and prioritizes their network traffic accordingly. Whether you are using your smartphone, tablet or laptop computer for gaming, streaming, transferring files or web browsing, Nighthawk X8 ensures that you are getting the most effective network connection for the best possible experience.

Nighthawk X8 boasts a total of eight antennas, four internal and four patent-pending external Active Antennas — the industry's first — that boost the wireless range of the Nighthawk X8. Unlike typical antennas that simply relay the WiFi signal received from your devices to the router, Active Antennas amplify the WiFi signal within the external antenna itself. They eliminate loss in signal strength and avoid any additional noise during transmission. Active Antennas effectively compensate for the low power of WiFi devices to provide a more symmetrical connection for both receiving and sending wireless signals, which contributes to improving overall range and speed at long range.

You'll also be able to transfer large data files, photos, and videos in minutes rather than hours thanks to the port aggregation capability of Nighthawk X8 (also known as "port trunking"). The router has six Gigabit Ethernet LAN ports, the largest number available on a mainstream home router. Two of these ports can be aggregated to double the gigabit connection to a Network Attached Storage (NAS) device — such as all current NETGEAR ReadyNAS® models with two Ethernet ports — to support 4K HD streaming, faster backups, and faster file transfers.

Technical Benefits of Nighthawk X8

NETGEAR has designed Nighthawk X8 with best-in-class technology for speed, range, sharing, reliability, ease of use and security. It offers an unmatched WiFi experience for your WiFi-enabled devices — smartphones, notebooks, tablets, smart TVs, gaming consoles, Blu-ray® players, and media servers.

Tri-band, quad-stream WiFi intelligently connects more devices to the fastest WiFi band possible and increases overall network speed, for a combined speed up to an astounding 5.3Gbps* (1000Mbps + 2166Mbps +2166Mbps) with 1024 QAM support.
The powerful 1.4GHz dual core processor delivers faster speed for improved WiFi, wired and USB performance.
Smart Connect intelligently selects the fastest WiFi band for every device.
Six Gigabit Ethernet LAN ports connect more wired devices and include dual port aggregation capability that doubles the gigabit connection to your NAS for 4K HD streaming and faster file transfers and backups.
Eight antennas include four patent-pending external Active Antennas that enhance weak signals and reduce interference.
Application-aware and device-aware Dynamic QoS technology optimizes your connection speed for reduced lag and buffering.
MU-MIMO-capable technology designed for simultaneous streaming to multiple devices will provide major performance improvements with next-generation mobile devices.
Beamforming+ improves WiFi coverage and reliability by focusing WiFi directly at connected devices.
NETGEAR genie® app is a personal dashboard that includes remote access to make it easy to install, monitor, control and repair your home network when you're away from home.
ReadyCLOUD® USB access enables you to enjoy personal and secure cloud access to USB storage anytime, anywhere.
ReadySHARE® Vault, a free software application, automatically backs up Windows®-based PCs on your network to a USB hard drive connected to Nighthawk X8.
Enhanced Parental Controls enable web filtering and accessibility by family member or devices.
Security features include VPN support for secure remote access to your home network and Internet when away from home and separate guest network access.
NETGEAR MyMedia™ enables you to find and play your stored media from anywhere on your network to your DLNA®-ready TVs and music system.
Two USB ports for easy access and transfer of your content, including one SuperSpeed USB 3.0 port that offers high-speed, storage-ready access significantly faster than USB 2.0.

Pricing and Availability

The NETGEAR Nighthawk X8 AC5300 Smart WiFi Router is available now in the U.S. from major retailers in stores and online, at an MSRP of $399.99.

More Information

About NETGEAR, Inc.

NETGEAR (NASDAQ: NTGR) is a global networking company that delivers innovative products to consumers, businesses and service providers. The Company's products are built on a variety of proven technologies such as wireless, Ethernet and powerline, with a focus on reliability and ease-of-use. The product line consists of wired and wireless devices that enable networking, broadband access and network connectivity. These products are available in multiple configurations to address the needs of the end-users in each geographic region in which the Company's products are sold. NETGEAR products are sold in approximately 39,000 retail locations around the globe, and through approximately 31,000 value-added resellers. The company's headquarters are in San Jose, Calif., with additional offices in approximately 25 countries. More information is available at http://investor.netgear.com or by calling (408) 907-8000. Connect with NETGEAR at www.twitter.com/NETGEAR and www.facebook.com/NETGEAR.

©2015 NETGEAR, Inc. NETGEAR, the NETGEAR logo, NETGEAR genie, MyMedia, Nighthawk, ReadyCLOUD, ReadyNAS, ReadySHARE and ReadySHARE Vault are trademarks and/or registered trademarks of NETGEAR, Inc. and/or its affiliates in the United States and/or other countries. Other brand and product names are for identification purposes only and may be trademarks or registered trademarks of their respective holder(s). The information contained herein is subject to change without notice. NETGEAR shall not be liable for technical or editorial errors or omissions contained herein. All rights reserved.

* Maximum wireless signal rate derived from IEEE standard 802.11 specifications. AC5300 equals 1000Mbps + 2166Mbps +2166Mbps. Performance Mode requires 1024 QAM support on WiFi client for 2.4/5GHz Up to 1000/2166Mbps wireless speeds possible when connecting to other 1000 @2.4GHz/ 2166 @5GHz 802.11ac Mbps devices. Actual data throughput and wireless coverage will vary. Network conditions and environmental factors, including volume of network traffic, building materials and construction, and network overhead, lower actual data throughput rate and wireless coverage. NETGEAR makes no express or implied representations or warranties about this product's compatibility with any future standards.

**MU-MIMO feature requires firmware upgrade. MU-MIMO firmware upgrade not currently available for this product, but currently anticipated to be released before the end of 2015. MU-MIMO capability requires both router and client device to support MU-MIMO. Please see www.netgear.com/mumimo for more details.

Safe Harbor Statement under the Private Securities Litigation Reform Act of 1995 for NETGEAR, Inc.: This press release contains forward-looking statements within the meaning of the U.S. Private Securities Litigation Reform Act of 1995. Specifically, statements concerning NETGEAR's business and the expected performance characteristics, specifications, reliability, market acceptance, market growth, specific uses, user feedback and market position of NETGEAR's products and technology are forward-looking statements within the meaning of the Safe Harbor. These statements are based on management's current expectations and are subject to certain risks and uncertainties, including, without limitation, the following: the actual price, performance and ease-of-use of NETGEAR's products may not meet the price, performance and ease-of-use requirements of customers; product performance may be adversely affected by real world operating conditions; failure of products may under certain circumstances cause permanent loss of end user data; new viruses or Internet threats may develop that challenge the effectiveness of security features in NETGEAR's products; the ability of NETGEAR to market and sell its products and technology; the impact and pricing of competing products; and the introduction of alternative technological solutions. Further information on potential risk factors that could affect NETGEAR and its business are detailed in the Company's periodic filings with the Securities and Exchange Commission. NETGEAR undertakes no obligation to release publicly any revisions to any forward-looking statements contained herein to reflect events or circumstances after the date hereof or to reflect the occurrence of unanticipated events.