NETGEAR Announces Quad-core A15 ReadyNAS 212/214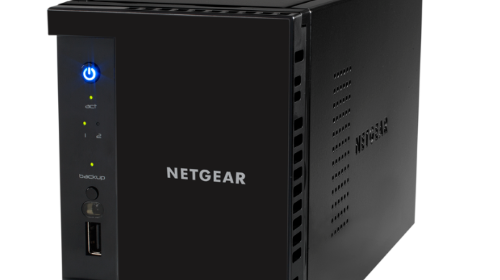 We recently reviewed NETGEAR's ReadyNAS 202 finding it an excellent option for consumer NAS. Building on the device's solid performance, NETGEAR announced the ReadyNAS 212 & 214 today bumping the spec from dual to a quad-core 1.4GHz ARM Cortex A15 for the 2XX family. The general feature set hasn't changed; still offering all of the great backup and cloud goodness as before. The increased CPU performance has been put to good use in the ReadyNAS 21X, with software based (single stream 1080p->480p) transcoding now available via Plex, penalty free real-time A/V scanning, and the full potential of dual Gigabit link aggregation in the box. I for one am very interested in seeing how these $329/$499 NAS devices perform in real conditions, especially with NETGEAR making link aggregation much more approachable to the average consumer with today's other product announcement.
Full PR after the click.
NETGEAR READYNAS IS THE UNCONTESTED CHOICE IN STORAGE FOR STREAMING, TRANSCODING VIDEO, AND PROTECTING YOUR DATA

ReadyNAS 212 and 214 set a new performance standard for Networked Attached Storage by offering real-time transcoding capability on a quad-core ARM platform

SAN JOSE, Calif. — October 1, 2015 — NETGEAR®, Inc. (NASDAQ: NTGR) (www.netgear.com), a global networking company that delivers innovative products to consumers, businesses and service providers, is expanding its award-winning ReadyNAS® 200 Series of world-class Network Attached Storage (NAS) devices for home and home office networks with new two- and four-bay models. Based on a quad-core 1.4GHz ARM Cortex processor, ReadyNAS 212 (RN212) (www.netgear.com/ReadyNAS212) and ReadyNAS 214 (RN214) (www.netgear.com/ReadyNAS214) set a new standard for consumer NAS by delivering real-time 1080p high-definition video transcoding so you can view your HD content on any screen, anywhere at home and over the Internet. ReadyNAS 212 and 214 are the first ARM-based designs to deliver that capability in a cost-effective storage solution. As a result, ReadyNAS 212 and 214 offer the best performance in their value class for storing, streaming, transcoding, and protecting all your precious photos, videos and files.

ReadyNAS 212 and 214 are the only consumer NAS to offer a combination of real-time 1080p HD streaming and transcoding (MPEG4, H.264 and other popular CODECs), wire-speed anti-virus scanning with near-zero loss of throughput, and up to double the throughput with dual Ethernet interfaces in Link Aggregation mode. They are the obvious choice for media enthusiasts, photo hobbyists, and home power users with lots of HD multimedia files to store and retrieve.

ReadyNAS 212 and 214 are the fastest consumer NAS devices in the market, delivering up to 200MBps/read (megabytes per second) and 160MBps/write throughput. As more 802.11ac WiFi devices are connected to the home network, the one gigabit-per-second speed of an Ethernet port has increasingly become a bottleneck. ReadyNAS 212 and 214 offer you the option of connecting the second Ethernet port on your ReadyNAS in a Link Aggregation mode with a NETGEAR Nighthawk® X8 AC5300 Smart WiFi Router (R8500), or NETGEAR ProSAFE® Gigabit Smart Switch, or an IEEE 802.3ad compliant network device. This "port trunking" capability means that ReadyNAS 212 and 214 can deliver up to twice the throughput compared to a single Ethernet cable connection.

"If you are serious about storing, streaming and sharing HD multimedia content, then ReadyNAS 212 and 214 offer you the most cost-effective storage option in the market today," said Doug Cheung, NETGEAR senior product line manager for Networked Storage Products. "We've engineered ReadyNAS to work seamlessly with your networked devices so it's easy for you to access your content and share it when you want to, with whom you want to share it, both at home or anywhere with an Internet connection. Whether your priority is speed, data protection, or ease of use, there's just not another NAS that offers this price/performance combination."

With ReadyNAS 212 and 214, you can build your personal cloud for easily accessing and sharing your precious personal files from any device in your home or remotely from anywhere in the world, with no subscription fee. The free NETGEAR ReadyCLOUD® app for PCs and the mobile apps for iOS and Android™ enable you to have a private and secure cloud running exclusively from your ReadyNAS 212 and 214. You can easily and automatically upload media content such as photos from your mobile device to your personal cloud, even editing and sharing files stored at home while you're on the move, as ReadyCLOUD can be accessed anytime, anywhere, and from virtually any connected device.

ReadyCLOUD for ReadyNAS 212 and 214 is the only personal cloud that embeds a VPN tunnel with zero-configuration setup while offering access, sharing and synchronization capabilities. You can easily sync folders between your ReadyNAS and PCs, and also benefit from Time Machine backup support for all the Macs® in your home.

ReadyNAS 212 and 214 keeps your files, photos and videos safe, private, and in their original state. Like other products in the ReadyNAS 200 Series, ReadyNAS 212 and 214 provides home users with the most complete data protection available in its product class. Its foundation is a next-gen BTRFS file system in the ReadyNAS operating system offering 5 levels of data protection: (1) files written across multiple drives for RAID protection from disk failure; (2) files automatically protected against common media degradation or bitrot; (3) files continuously protected by snapshot technology for point-in-time recovery; (4) files secured in real-time against viruses and malware; and (5) files easily replicated to the cloud or a second ReadyNAS.

Summary of ReadyNAS 212 and 214 features and benefits:

High performance ARM Cortex A15 1.4GHz quad-core processor
1080p HD real-time streaming and transcoding (VC, MP4, MPEG4, H.264) to 480p for mobile devices
Near-zero loss of throughput during built-in anti-virus scanning
2GB of onboard RAM
Two Gigabit Ethernet Ports with Link Aggregation
Three SuperSpeed USB 3.0 ports and one eSATA port
Up to 200MBps* read and 160MBps* write speeds in a RAID configuration
Professional-grade BTRFS file system
5-level data protection offering RAID data redundancy, automatic backup, unlimited snapshots, bitrot prevention, and cloud resource
Powerful desktop apps for complete file syncing and automatic backup
Time Machine® backup for all the Mac®s in your home
Ease of use features such as one-click file sharing via a web link
Media serving with DLNA®, iTunes® and popular third-party streaming applications such as Plex
Free mobile apps for anywhere cloud access and photo backup
Expandable capacity up to 12TB for the 2-bay model and 24 TB for the 4-bay model
Disk spin-down for energy savings

Pricing and Availability

Available now for purchase, NETGEAR ReadyNAS 212 has an MSRP in the U.S. of $329 for the diskless 2-bay model, while the ReadyNAS 214 is $499 for the diskless 4-bay model. NETGEAR storage solutions are available through a broad variety of NETGEAR partners and authorized reseller channels such as Amazon, Fry's and Newegg.

More Information

Both ReadyNAS 212 and 214 offer a 3-Year Limited Hardware Warranty and free 24×7 phone support for 90 days. Learn more about the entire ReadyNAS product family for Connected Storage at www.netgear.com/readynas-for-home.

About NETGEAR, Inc.

NETGEAR (NASDAQ: NTGR) is a global networking company that delivers innovative products to consumers, businesses and service providers. The Company's products are built on a variety of proven technologies such as wireless, Ethernet and powerline, with a focus on reliability and ease-of-use. The product line consists of wired and wireless devices that enable networking, broadband access and network connectivity. These products are available in multiple configurations to address the needs of the end-users in each geographic region in which the Company's products are sold. NETGEAR products are sold in approximately 39,000 retail locations around the globe, and through approximately 31,000 value-added resellers. The company's headquarters are in San Jose, Calif., with additional offices in approximately 25 countries. More information is available at http://investor.netgear.com or by calling (408) 907-8000. Connect with NETGEAR at www.twitter.com/NETGEAR and www.facebook.com/NETGEAR.

©2015 NETGEAR, Inc. NETGEAR, the NETGEAR logo, Nighthawk, ProSAFE, ReadyCLOUD, and ReadyNAS are trademarks and/or registered trademarks of NETGEAR, Inc. and/or its affiliates in the United States and/or other countries. Other brand and product names are for identification purposes only and may be trademarks or registered trademarks of their respective holder(s). The information contained herein is subject to change without notice. NETGEAR shall not be liable for technical or editorial errors or omissions contained herein. All rights reserved.

* Maximum wireless signal rate derived from IEEE standard 802.11 specifications. Actual data throughput and wireless coverage will vary. Network conditions and environmental factors, including volume of network traffic, building materials and construction, and network overhead, lower actual data throughput rate and wireless coverage. NETGEAR makes no express or implied representations or warranties about this product's compatibility with any future standards.

Safe Harbor Statement under the Private Securities Litigation Reform Act of 1995 for NETGEAR, Inc.: This press release contains forward-looking statements within the meaning of the U.S. Private Securities Litigation Reform Act of 1995. Specifically, statements concerning NETGEAR's business and the expected performance characteristics, specifications, reliability, market acceptance, market growth, specific uses, user feedback and market position of NETGEAR's products and technology are forward-looking statements within the meaning of the Safe Harbor. These statements are based on management's current expectations and are subject to certain risks and uncertainties, including, without limitation, the following: the actual price, performance and ease-of-use of NETGEAR's products may not meet the price, performance and ease-of-use requirements of customers; product performance may be adversely affected by real world operating conditions; failure of products may under certain circumstances cause permanent loss of end user data; new viruses or Internet threats may develop that challenge the effectiveness of security features in NETGEAR's products; the ability of NETGEAR to market and sell its products and technology; the impact and pricing of competing products; and the introduction of alternative technological solutions. Further information on potential risk factors that could affect NETGEAR and its business are detailed in the Company's periodic filings with the Securities and Exchange Commission. NETGEAR undertakes no obligation to release publicly any revisions to any forward-looking statements contained herein to reflect events or circumstances after the date hereof or to reflect the occurrence of unanticipated events.


# # #