D-Link AC3200 Ultra Tri-Band Wi-Fi Router – DIR-890L
Last January I had a chance to check out D-Link's upcoming lineup of big-red routers (a welcome departure from the bland canister of previous years :)), with the $290/£215 DIR-890L being the first to ship and the first to make it into "the lab". Offering a dual-core 1GHz CPU, four Gigabit Ethernet LAN ports, and USB2.0/3.0 expansion it ticks all the boxes of a modern high-end 802.11AC Wi-Fi router. What makes the D-Link DIR-890L interesting is that it is our first look at Broadcom's XStream platform, which pairs 1×2.4GHz (600Mbps) alongside 2x5GHz (1300Mbps) radios to earn the AC3200 moniker. With next generation "Wave 2" AC2350 802.11AC routers already on the market, the obvious question is how the Tri-band approach holds up against newer technology. Let's find out.
Device
Unboxing a Wi-Fi router is usually a pedestrian affair, with an image of the router, a couple happy people, and some marketing specs wrapped in a simple dual-layer box. D-Link did not pursue this approach with the DIR-890L however, opting for high quality cardboard exterior, and a foam cut-out to cradle the device. Arguably, it does not really matter as long as the packaging adequately protects the innards, but in this case I think it makes a positive difference – a premium price demands a premium experience throughout–and it was nice to have the antennas already attached.
The 15.23" x 9.73" x 4.7" D-Link DIR-890L is enormous. Not just because, like all Tri-band AC3200 routers, it has six antennas, but also because of the peaked height of the chassis – which is unique (competitive models have similar width and depth). Status lights are muted, so most installs will not need to tape over them, but it would have been nice if D-Link provided a hardware or software switch to disable them for a clean and discrete look. Understandably with three radios, power consumption is higher at 12-13W so the power supply unit (PSU) is external and larger than most, but as it uses a standard sized plug it will not create outlet blocking issues on the power strip or wall receptacle. The size and design of the PSU could create a challenge in some wall mounting scenarios, but probably not as much as the single orientation mounts–which only allow for ports up limiting flexibility.
Setup
The first-run experience is very good. With the router prompting for setup on the first connection, and it is simple enough that I would feel comfortable handing it to a not-technical user (e.g. my parents), but also hits critical points like setting the Wi-Fi and (too often ignored) device password. If Internet access is the only goal, you could easily be done when the wizard is, but there was a critical gap which should also be incorporated and is not. Unfortunately, the first-run experience did not include a firmware update, even though I was later able to verify that one existed and installed it before testing began. It is increasingly rare for the factory firmware to be the latest, or only available–with enhancement in stability and security a few clicks away if you know to look. In fact, even over the relatively short review period, D-Link released an update after the one I manually installed that resolved all of the issues I had found with that version. With first-run often being the only interaction a user has with their router (unless there is a problem) it is of utmost importance that they at least get to the latest firmware on offer.
The D-Link DIR-890L's user interface (UI) is consistent with the clean, modern, and reactive design introduced last year. While power users might get a little frustrated with the placement of the knobs-n-dials, I think the approachability for less advanced users trumps any of their usability concerns. Features like static DHCP, parental control, and quality of service (QoS) are available, easy to configure, and logical–just not grouped necessarily in the way we have become accustomed to seeing them. There are also plenty of advanced features like L2TP over IPSec VPN, port forwarding/virtual server, media storage/streaming (although a "safe removal" for media is still missing), dynamic DNS, etc. that should be expected from a modern/high-end wireless router. Also, as a bonus if you just want the hardware, DD-WRT is an option. I would like to see more extensibility available (OpenVPN would be nice) for those unwilling to go the full 3rd party firmware option, but currently only Asus really provides this level of access to their routers so D-Link is not alone here.
Use
Given the trouble I experienced with the DIR-880L stability testing was drawn out over twice the period that is typical in a Missing Remote router review. Initially it was a bit rough around the edges, but after the release of the 1.08 firmware (a few weeks ago) I have not experienced any issues at all with the D-Link DIR-890L. It has been the model of what a Wi-Fi router should be – invisibly bullet proof. Even the Cisco hardware VPN which causes everything trouble worked perfectly. Well done D-Link.
Performance was tested using the same real-world methodology as the previous Wi-Fi router reviews where a large file is copied between to SSD equipped PCs on either side of the wireless link and average bandwidth captured, but it should be noted that the numbers in this review are not comparable to those produced earlier because we moved house. It is also worth stating here again, that the distances where results are captured are not strictly linear. They represent locations in a brick/plaster home with solid British (i.e. not hollow American) internal walls; with 1-30' on the ground floor and 35-50' on the floor above.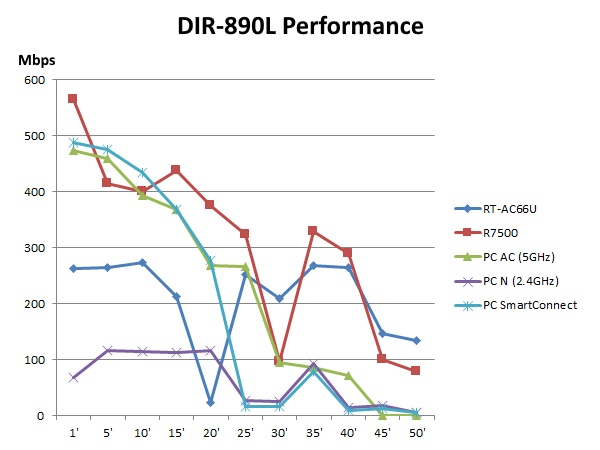 Two 802.11AC media bridges and a PC in various configurations where tested and the results captured above. The most interesting result noted was when using the PC with Smart Connect – a feature of Broadcom's tri-band XStream AC3200 platform which dynamically shifts clients between the three (2.4GHz + 5GHz) radios to maximize total bandwidth. A feature that sounds great, but in application acts completely as a black box so sometimes results are not exactly optimal. In this case it appears that the DIR-890L gives prioritizes signal strength to bandwidth, aggressively flipping the PC client from 5GHz to 2.4GHz at 25' even though by matching the 2.4GHz and 5GHz results against Smart Connect, it would have been better to make the switch at 45' instead. That said, it is nice to not have to worry about managing discrete radios, per room, per device, [educating per user] but it would be great if D-Link exposed some options allowing those who want more control over the feature to have it.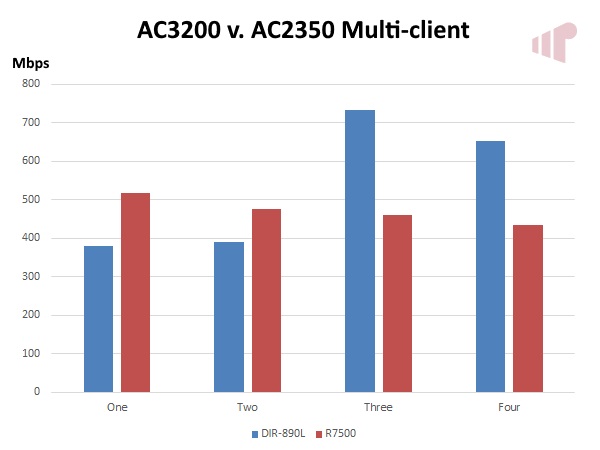 The D-Link DIR-890L three radio approach promises greater bandwidth scalability as 802.11AC devices are added to the environment, and it proves out in comparison to a two radio AC2350 NETGEAR R7500. In this case testing was conducted in a single location 10-12' from the router using 1-to-4 PC clients equipped with 2×2 802.11AC wireless cards and aggregate bandwidth displayed above. As we can see the AC2350 router provides greater aggregate bandwidth with 1-2 clients, but as clients 3 and 4 are added to the mix the DIR-890L's second 5GHz radio shows its value.
Rounding out the performance metrics, the D-Link DIR-890L provided 506Mbps read/292Mbps write for USB 3.0 attached storage, and 932Mbps WAN->LAN/930Mbps LAN->WAN bandwidth.
I do not usually discuss the Guest Wi-Fi feature found on most modern routers, but the D-Link DIR-890L's implementation bears comment because it is somewhat unique in my experience. Looking at the screenshot above showing two connections, one to the main LAN network and the second to the Guest, we can see that both the subnet and DNS servers are different between them. With the Guest network using the router, even though the LAN is configured to use a different server – which can be a good thing for power users. If like me, you prefer to host an internal DNS server, this effectively creates two options for DNS resolution (great for getting around, or not getting around, geographic restrictions per client) as well as making the Guest Wi-Fi useable while blocking access to the LAN; where most routers (understandably) will fail at this because Guest clients will point at the internal DNS server, but not be able to access it due to LAN routing restrictions.
Conclusion
The design will divide, but I have to say I'm a fan – I think the D-Link DIR-890L's shiny red spaceship theme looks great, but I do wish it was a bit smaller. With fantastic stability, solid feature set, and good wireless performance — especially in multi-client scenarios where its two 5GHz radios produce a significant gain in total AC client bandwidth when compared to a newer "Wave 2" AC2350 (which has higher single client bandwidth) – there is a lot to like about this AC3200 wireless router. Whether this trade-off makes sense in your home depends completely on the number of wireless devices present–with those looking to bridge having the strongest case. Aside from the $290/£215 price tag, the only real drawback to the DIR-890L is that D-Link is promising the DIR-895L later this year; which should to deliver the same mutli-client scalability to those who need it, but off a newer "Wave 2" platform with more per-client bandwidth and improved range.
Pro:
Fast
Stability
Multi-client performance
Looks cool
Con:
Pricey
Based on "Wave 1" 802.11AC
Smart Connect (radio-to-radio) roaming can't be prioritized/controlled
Thanks to D-Link for providing the review sample.