Home Theater Review, Reviews Epson Home Cinema 2030 LCD Projector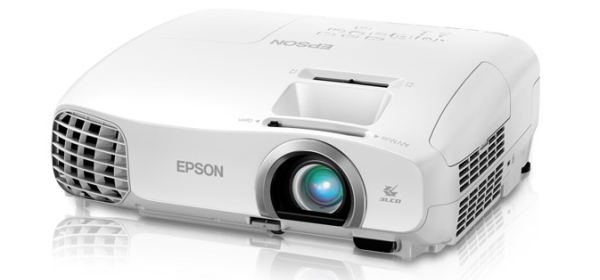 Projectors used to be strictly for those with expensive setups, but now it's quite feasible to get a decent 1080p system without breaking the bank. Everything requires some compromise, so obviously you won't get the same performance from a sub-$1000 device as something that cost 5x as much, but if you have the space it's hard to argue with 100″.
Epson's Home Cinema 2030 ($899.99) is the perfect example of a home entertainment projector, in both its design and its performance. From a design standpoint, this 1080p 3LCD projector is less than half the size of its higher-priced brethren in the Home Cinema line, including the 3020, the 5020UB, and the new 5030UB (stay tuned for a review). Measuring 11.69 by 9.72 by 4.13 inches and weighing just 6.4 pounds, the 2030 has a light and easily portable form factor. You wouldn't think twice about quickly picking it up and relocating outside for a movie night under the stars or taking it to a neighbor's house for some big-screen Monday Night Football. The projector's lens sits off the left of the front chassis, and there's a lever to manually open and close the screen cover to protect the lens during travel. The 2030 has an integrated speaker that also gives you flexibility to move your entertainment system around without needing to take speakers with you. The speaker doesn't have much in the way of dynamic ability, but it will get the job done. Perhaps a better option is to use the analog mini-jack output on the unit's backside to connect the projector to a good tabletop/wireless speaker to improve the audio experience without needing a complete HT setup.