Home Theater Review, Reviews Monitor Audio's ASB-2 Soundbar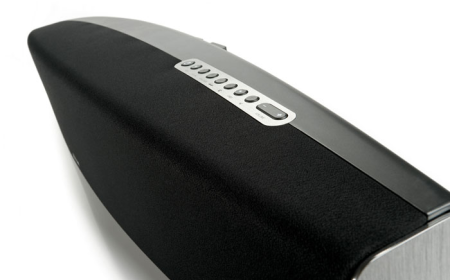 There is no substitute for discrete speakers, but sometimes compromised is required when provisioning the home theater. Soundbars are a good option when you can't put a speaker where you want – anything is better than TV speakers. I'm a little disappointed that even though the ASB-2 has HDMI it doesn't support HBR audio decoding, but that's a small tradeoff if it fits the bill otherwise.
At the moment, Monitor Audio makes one soundbar, the $1,649 ASB-2. It's certainly not the most expensive soundbar you can buy, but that price does put the ASB-2 into a category that's expected to be high-performance, especially since the ASB-2 does not include a dedicated subwoofer. It does, however, incorporate a unique auto-sensing LFE subwoofer output that changes the soundbar's filter/crossover settings when a subwoofer is connected to the ASB-2. With its long, elliptical curves and shiny, brushed-aluminum side panels, the word that comes to mind to describe the appearance of the ASB-2 is sporty or, maybe, modern chic. It's … well … you can see the pictures. Come up with your own hoity-toity term for the way it looks. I like the design. It's neutral enough to fit in with most decors, yet the chassis' curves and metal sides keep it from being boring.