D-Link Dual Band 750Mbps 802.11AC (DAP-1520) Wireless Extender Now Shipping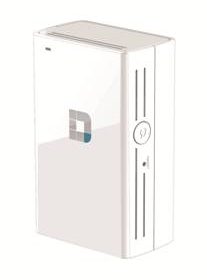 As wireless networking has gotten faster and become more reliable, I've found myself relying on having a quality signal in more places around the house. As good as my router is, there are a few places where, while there is signal, it's not quite as fast as I would like it to be. I saw a few new products at CES to help resolve this, with the D-Link 750Mbps DAP-1520 being one. If you were counting the days until the $70 extender shipped, your wait is over.
Full PR after the click.
D-Link Now Shipping 11AC Range Extender for Bringing Wi-Fi Coverage to Dead Zones with the Push of a Button

Dual Band Wi-Fi Range Extender Works with Existing Router to Extend Wi-Fi to Those Hard to Reach Places

FOUNTAIN VALLEY, Calif. – March 25, 2014 – D-Link today announced that the new Dual Band Wi-Fi Range Extender (DAP-1520) is now shipping. Designed to easily eliminate Wi-Fi dead zones, this latest addition to the D-Link® family of networking solutions is ideal for bringing wireless coverage to hard-to-reach areas in the home like basements, upstairs bedrooms and outdoor areas. The compact Range Extender provides wireless speeds of up to 750Mbps, perfect for seamless web browsing and high bandwidth Internet activities like HD video streaming and online gaming.

"As the number of mobile devices in a household increases and we spend more time online, more and more consumers are looking to extend their Wi-Fi coverage and solve the problem of the dreaded dead zone in the home," said Daniel Kelley, vice president of marketing, D-Link Systems, Inc. "Our new Wi-Fi Range Extender not only works with virtually any wireless router brand to extend an existing 802.11g, 11n or 11ac network, it does so with the push of a button and can be configured using a mobile device, without the need for a PC. One can simply plug the extender into a wall socket within range of a current wireless signal, and instantly expand the wireless network to the furthest corners of the home."

Utilizing Wireless AC technology, which offers speeds up to three times faster than Wireless N, the new Dual Band Wi-Fi Range Extender (DAP-1520) enables users to take advantage of the latest in wireless technology while still remaining backward compatible with Wireless 802.11n, g and b networks. This range extender can also be used to add dual band wireless capabilities to a single band router, helping to reduce Wi-Fi interference from nearby wireless transmitters in the home for maximum throughput. In addition, the Dual Band Wi-Fi Range Extender features a simple one-button installation so users need only press the WPS button on the existing router and then on the extender to sync and instantly increase the coverage of a wireless home network. Users whose routers do not have a WPS button can use a web browser or D-Link's free QRS Mobile app for simple setup.

More about the Dual Band Wi-Fi Range Extender

The Dual Band Wi-Fi Range Extender delivers a range of performance features, including:

Wi-Fi Protected Setup™ (WPS) push button for easy connection to a wireless network
Compatibility with virtually any wireless router brand
Wi-Fi AC750 technology for high-speed wireless connectivity to devices
Dual band connectivity for greater flexibility and reduced interference
Backward compatible with existing Wi-Fi devices (802.11n/g/b)
Support for secure wireless encryption using WPA™ or WPA2™ security

Availability and Pricing

The D-Link Dual Band Wi-Fi Range Extender (DAP-1520) is now available on throughout D-Link's vast network of retail and e-tail outlets for $69.99 EDLP. Detailed specifications are available online at www.dlink.com/DAP-1520.

About D-Link

D-Link is the global leader in connectivity for home, small business, mid- to large-sized enterprise environments, and service providers. An award-winning designer, developer, and manufacturer, D-Link implements and supports unified network solutions that integrate capabilities in switching, wireless, broadband, storage, IP Surveillance, and cloud-based network management. For more information visit www.dlink.com, or connect with D-Link on Facebook (www.facebook.com/dlink) and Twitter (www.twitter.com/dlink).

# # #

Maximum wireless signal rate derived from draft IEEE 802.11ac specifications. D-Link makes no warranties as to forward compatibility with future standards or compatibility with draft 802.11ac devices from other manufacturers. Actual data throughput will vary. Network conditions and environmental factors, including volume of network traffic, building materials and construction, and network overhead, lower actual data throughput rate. Environmental factors may adversely affect wireless signal range. Up to 750Mbps wireless speeds achieved when connecting to other 802.11ac devices.

D-Link and the D-Link logo are trademarks or registered trademarks of D-Link Corporation or its subsidiaries. All other third-party marks mentioned herein may be trademarks of their respective owners. Copyright © 2014 D-Link. All Rights Reserved.