E3: Nintendo Wii U GamePad Offers TV Remote Control Functionality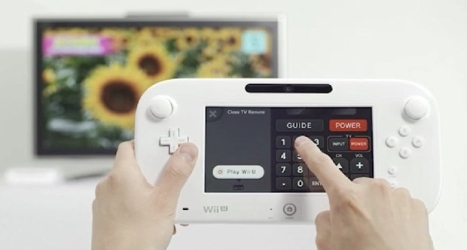 The Electronic Entertainment Expo, or E3, is underway in Los Angeles, and despite the convention's video gaming focus, there is more home theater and media news to be found there each year. This year is going to be no different, and Nintendo was the first to let slip an interesting tidbit. Nintendo isn't scheduled to take the stage at the Stapley Center until June 5th, but the company sought to get the jump on the show by posting a YouTube video over the weekend detailing some of the features of the Wii U that is scheduled to launch later this year. Part of the video was devoted to the updated and refined Wii U GamePad, the touchscreen LCD=equipped controller that the company showed for the first time at last year's E3. In addition to new analog sticks, the controller will also include a TV control button to allow the GamePad to control the user's TV via IR. The video also shows the GamePad touchscreen being used to change channels and navigate an onscreen TV guide. It might not be a replacement for a good universal remote control in the living room, but it might serve nicely in a secondary room in conjunction with the console's expected streaming media services.
Nintendo realizes that to play video games, consumers need to turn on their TV set. Currently, this is performed by pressing a button/soft-key on the TV itself or with the TV's own remote. The TV Control button on the Wii U GamePad is able to replace these by giving the user one device to turn on both the Wii U and the TV. Not only that, but using basic infrared technology, users can actually use the GamePad to browse their TV guide and change channels.