HTPC Basics: The EPG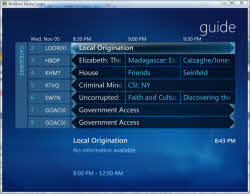 The basics is a series of articles that I am going to do a regular basis to introduce readers new to the HTPC world about the features and benefits of Home Theater PCs. I guess you can compare this to the cheap free drugs before the true addiction :). The software I will be using for the articles is Vista Media Center, mainly because that is the platform I use throughout my house. When possible I will get screen captures of other programs for comparison purposes.
The first topic is the EPG otherwise known as the Electronic Programming Guide. I chose this topic to start because this is the familiar element you will want to replicate when moving from a cable or satellite set-top box \ service.
In its very basic form, the EPG tells you what shows are currently airing on which channels, information about the shows and a method to navigate the channels without having to resort to the old school method of hitting the up or down channel repeatedly.
Where does the EPG information come from?
If you are using a commercial program such as Vista Media Center or SageTV, the program, on a regular basis, connects to the internet to download the required information. Typically, the program keeps 14 days worth of program guide data (description, air date, actors etc) populated. Freeware or open-source programs typically get their data via a scraper of some sort.
Vista Media Center EPG
Navigation of the EPG, if you are not familiar with one, is easy and is accomplished using the directional pad on your remote. You can move back and forth through the days. To me, this is a pretty manual process of finding what is available to watch. With 200+ channels, this can be pretty time consuming. A pro typically has a nice backlog of shows recorded so you do not have to resort to flipping through the guide.
Pressing the enter button will take you to the program information screen.
| | |
| --- | --- |
| | |
| Vista Media Center Program Info | Other showings |
Along with the program info, a few new options are now present. Pressing "Record" will record this show one time only. "Record Series" will record all future airings of the show by default. You can change these defaults in the program settings or you can use the "Advanced Record" option to specify how you want this specific series to record.
Vista Media Center – Advanced Record Options
In this screen, you can choose how you want your shows to record. Options include how many to keep, if you want first runs or re-runs, what channels to record on etc. Recording a series is a great way to make sure you do not miss any airings of your favorite shows. The downside is you may end up with 50 billion recordings of a show if you don't adjust the default settings. So far, this is pretty standard fare in the EPG world.
Vista Media Center – Category Filter
If you have a particular genre or format you are looking for, Vista Media Center provides a few pre-defined filters for you to use. You can navigate to this feature by pressing left twice on the directional pad. I use the movies and sport filters pretty frequently.
If you don't want to interrupt your TV watching experience to find out what else is on, you can use the mini-guide. This is accessed by pressing the up button.
The mini-guide provides a brief synopsis of the show without interrupting TV watching.
Vista Media Center Mini-Guide
If something is not quite to your liking, you can edit the guide and its settings. You will notice over time that there are a lot of channels you never watch or subscribe to. Take this opportunity to slim your channel listings down to make navigation a bit easier.
| | |
| --- | --- |
| | |
| Vista Media Center – EPG edit | Vista Media Center Guide Edit Screen |
In the edit channels screen, you are able to remove channels from your guide. It is always a good idea not to remove the soap opera channel out of spite.
Remapping of guide listings
The EPG rarely needs to be remapped or changed except when QAM comes into the equation. Data providers rarely have proper information to match guide data to channels found via QAM scanning. This is not as big of an issue as it used to be as most folks only receive local network channels via QAM.
| | |
| --- | --- |
| | |
| Movie Guide | Search |
The Movie Guide is on the main TV strip and is essentially a filter that presents the movies with covers rather then a grid or list style. This look is a bit more visual and you will find that most "libraries", such as music collections, have taken the more visual approach over the years.
| | |
| --- | --- |
| | |
| MythTV EPG | SageTV EPG |
For the experienced users out there, please share your EPG related tips, stories, or images.