Adding HD DVD (or Blu-ray) to your HTPC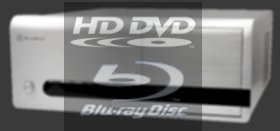 This is the first article in a series as Missing Remote looks at getting the next generation HD optical formats into your HTPC. In this initial installment I discuss adding HD DVD playback to a typical Home Theater PC. While I use an HD DVD drive this article also applies to those wanting to add Blu-ray support.
The Basics
The Basics
You'll need a dual-core CPU, 1GB of RAM, Windows XP with Service Pack 2 or Windows Vista Home Premium/Ultimate Edition, a recent generation video card, and of course you'll need an HD DVD or Blu-ray drive and proper playback software, the leading example of this is Cyberlink's PowerDVD Ultra.
Optical Drive Notes
Optical drives in the next generation formats have been pretty expensive and/or scarce. A proper PC HD DVD drive still isn't really to be found, and those that are around are external and cost around $350. It is a widely known fact that the Xbox 360's HD DVD add-on drive is a USB 2.0 peripheral and as such connects to a PC just fine. In fact, the drive ID's itself as a Toshiba HD DVD drive, which of course clearly tells us who makes the drive for Microsoft. Microsoft has dropped the MSRP to a very affordable $180. Blu-ray solutions have mostly been Blu-ray disc writers, and so have been quite expensive at $650 or more. Blu-ray readers (BD-ROM drives) are now starting to show up for a more reasonable price of $300, with drives priced in the even more competitive $200 range coming soon.
CPU Notes
Really you don't want to go below an AMD Athlon 64 X2 3800+ or the Intel equivalent — which is somewhere in the ballpark of a Core 2 Duo E4300.
If you are using a video card without MPEG4-AVC (H.264) acceleration don't even think about going with less then an AMD Athlon 64 X2 4800+ or the rough equivalent in the Intel world: the Core 2 Duo E6400.
Video Card Notes
If you don't have a midrange GeForce 7-series (7600 GT or higher) or a GeForce 8-series card forget it. Likewise, in the AMD/ATI product line don't bother with anything less then the Radeon X1600 series and ideally you'd want to use one of the new Radeon HD 2×00 series. Basically, you need a reasonably powerful video card that provides at least basic 1080p resolution acceleration of all the codecs Blu-ray and HD DVD use.
You'd also do well to have an HDCP compliant card if you ever think you'll want to use DVI/HDMI, since you must have HDCP support to use DVI or HDMI. Currently VGA is just fine, since it passes 1080p, but it is subject to the analog downsampling rules should the Image Constraint Token (ICT) be enabled on a title (to date no movie has this). Component video is also supported up to 1080i, and just like VGA is subject to the ICT should it be enabled on a title. *
Use Cyberlink's Advisor Tool if you think your PC's specs may be questionable, things that are borderline show up in Yellow with a link to more information.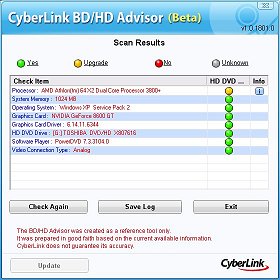 ---
* For more on the ICT check out my blog post.
The HD DVD drive
Installing the Xbox 360 HD DVD Add-on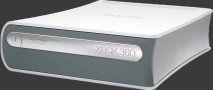 This is really easy… plug it into a USB 2.0 port and wait for the add hardware bubble to show up. The drive has two memory storage units that the Xbox 360 uses to for the mandatory HD DVD storage requirements. These two devices aren't initially recognized, but a driver for it can be installed by letting Windows connect to Windows Update to check for drivers.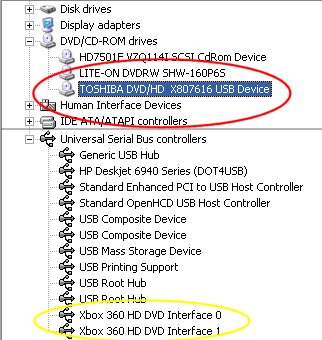 At this point PowerDVD Ultra will work with the drive just fine. Under Windows XP the contents of an HD DVD disc won't be visible in Windows Explorer because they use the UDF 2.5 file system, Vista has UDF 2.5 support built in. If you would like to see the contents of the HD DVD disc do a Google search for Windows XP HD DVD UDF 2.5 driver.
Cyberlink PowerDVD Ultra
A Look at Cyberlink's PowerDVD Ultra

Cyberlink has long been a big name in PC DVD players, so it is only fitting that they have evolved their mature (version 7) DVD player application to support Blu-ray and HD DVD. To get the next generation features you need PowerDVD Ultra, if you already own a copy of one of the standard definition PowerDVD 6 or 7 builds Cyberlink offers an upgrade at a discount.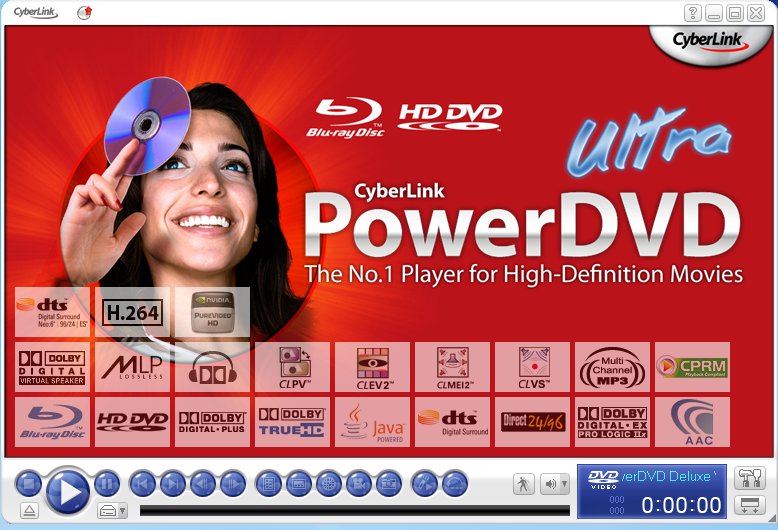 PowerDVD Ultra is the premier solution for Blu-ray and HD DVD on the PC today. As far the basics, not much has changed since PowerDVD's first version, there is still a navigation toolbar at the bottom, and extra controls that expand out from the right side. The fullscreen mode hides the toolbar after a few seconds unless the mouse is moved.
For those with both an HD DVD and Blu-ray drive, or LG's dual-format drive, PowerDVD Ultra supports both Blu-ray and HD DVD in one application, so you can eject one format and drop in another and within a few seconds it plays. There is a slight delay as PowerDVD has to initialize the proper environment for the format: either HDi for HD DVD, or BD-J for Blu-ray. Cyberlink also supports just about every audio codec the two formats use; Cyberlink includes support to decode LPCM, Dolby Digital, Dolby Digital Plus, Dolby TrueHD, DTS, DTS-HD (and anecdotal evidence supports that it can decode the lossless DTS-HD Master Audio version too!).**
Of course both NVIDIA's PureVideo and ATI's AVIVO acceleration and post-processing technologies are supported. For example the 'Enable Acceleration' check box adds "PureVideo" next to it when using a supported GeForce card.
While you can use a keyboard or a mouse, the interactive menus on the next generation formats are really made for a remote, and in fact, using a mouse can be rather awkward. The good news is that for a few versions now the Media Center style remotes work just fine in PowerDVD. The basic DVD transport controls of Rewind, Fast Forward, Skip, Replay, Stop, Play, Pause, DVD Menu, the arrow keys, as well as the Volume and Mute buttons all work in PowerDVD.
Integrating with Media Center
Ahh now comes the trickier part, how the heck do we get HD DVD and Blu-ray support inside Media Center? Well the answer so far is, we don't quite. We can get some nice little hacks and tweaks though. Firstly PowerDVD now comes with a background process that waits to see what kind of media is inserted in optical drives, so PowerDVD will auto-start when it detects a DVD, Blu-ray, or HD DVD disc and load up in the proper mode. So in this way some basic autoplay will work with most any front-end software. However to get more proper integration into Media Center requires a little bit more work.
Windows Vista Media Center
With Windows Vista the OS recognizes both Blu-ray and HD DVD discs natively and thus can properly inform applications of the type of disc inserted. This ability can be used to open PowerDVD and minimize Media Center to the background while it plays. Likewise you can create a PowerDVD icon in Media Center to launch it if you already have a disc in the drive. When done you can't really close PowerDVD from the MCE remote, but you can bring Media Center back as the application with focus by pressing the green button on the MCE remote. You can see the details of this approach at Mike's Digital Home blog at the Green Button and the Windows Media Center Sandbox.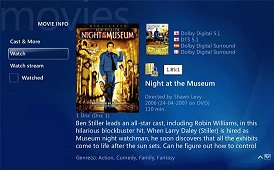 A better, more complete, and feature rich option is to use the venerable Media Center plug-in called MyMovies. If you don't know what MyMovies is, you've been living under a rock. It is an amazing plug-in that categorizes your movies complete with cover art, extended descriptions, actor, director, etc. It can be used to manage a combination of ripped movies, movies still on their DVD disc, and now Blu-ray and HD DVD all for free to home users!
Head on over to the MyMovies site to see more.
Windows XP MCE 2005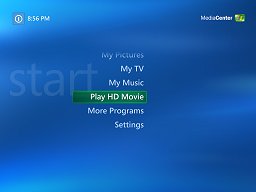 MCE 2005 has less options, since Windows XP doesn't understand the new disc types it cannot trigger specific autoplay events. The registry script to add a button in Media Center is about the only option available. I have a ZIP file with everything needed available by clicking here.
MyMovies will work with ripped discs, but as noted above it can't really do much with live discs because Windows XP doesn't know the difference between a Blu-ray/HD DVD disc, and a DVD.
---
**For more information on the audio codecs click here.
Performance Testing and Final Thoughts
Test Setup
System Details
| | |
| --- | --- |
| CPU | AMD Athlon 64 X2 3800+ Socket 939 |
| Video Card 1 | NVIDIA GeForce 7800GTX 256MB (ForceWare 93.71) |
| Video Card 2 | ASUS EN8600GT SILENT/HTDP/256M GeForce 8600GT (ForceWare 163.44 beta) |
| RAM | 1GB of Corsair XMS DDR400 |
| Optical Drive | Xbox 360 HD DVD Add-on drive |
| O.S. | Windows XP MCE 2005 |
Test Movies
| | | | |
| --- | --- | --- | --- |
| Title | Studio | Codec | Comments |
| 300 | Warner | VC-1 | Warner has been using VC-1 as their codec of choice for both Blu-ray and HD DVD since the beginning. |
| Blades of Glory | Paramount | MPEG4-AVC | Paramount has recently standardized on MPEG4-AVC (H.264). MPEG4-AVC has become the codec of choice for Blu-ray studios, so the results for Blades of Glory can be used to gauge a typical Blu-ray disc's performance too. |
Test Results
Here we have a fairly typical video card setup; one from the previous generation and one from the newest generation.
GeForce 7800GTX
300 (VC-1) — The CPU hovers in the 40% to 50% usage range. Everything is smooth and works fine, but I wouldn't recommend multitasking much.
Blades of Glory (AVC) — Hardly perfect: there are some frame drops and the CPU usage is quite erratic, fluctuating from 50% to 100%. The video bitrate ranges from 17Mbit/sec to 39Mbit/sec, frames are clearly dropped when the bitrate goes near 28Mbit or higher. The decoding is pushing the GPU hard, the fan on the 7800GTX ramps up after a few minutes of playback, this is very similar to what happens when playing a 3D game, which isn't surprising as the GeForce 7-series MPEG4-AVC decode acceleration is very much tied to the clock speed of the GPU.
GeForce 8600GT
300 (VC-1) — Pretty similar to the 7800GTX, the CPU usage is 33% to 47%, very likely this is lower due to newer driver optimisations more then anything else.
Blades of Glory (AVC) — Fluid playback, CPU usage is 16% – 43%, primarily hovering around 25%, the dedicated video engine is certainly doing the job. Multitasking with the HD DVD playing in the background is quite comfortable.
Final Thoughts
I would love for vendors like Cyberlink to work on a proper Vista native implementation of their HD DVD and Blu-ray support. With it being Vista native a proper plug-in for Vista Media Center could easily be developed which harnesses the Cyberlink engine, but doesn't need the PowerDVD application itself to be loaded. Sadly this approach can only be done under Vista thanks to its secure APIs, but I'll take a proper Vista only solution then no integrated solution at all. In the mean time we have some pretty decent ways to make PowerDVD Ultra usable from the couch, thanks especially to Cyberlink's MCE remote support.
Adding HD DVD support to your HTPC is pretty darn easy, provided you have a decent CPU, and don't mind upgrading your video card, because without full hardware MPEG4-AVC decode support a Blu-ray or HD DVD upgrade becomes quite a bit more costly as the CPU and likely the motherboard and memory would need to be upgraded. What you see here in the performance section is mostly for illustrative purposes. An Athlon 64 X2 3800+ was a very popular choice for HTPCs in the last few years, so it seems like a good real world example, rather then test on a tricked out quad core CPU which could do MPEG4-AVC decode all on its own.
Some quick notes about NVIDIA versus ATI video cards. For the MPEG4-AVC results this should be nearly the same as what an ATI Radeon HD 2600 series card would get, the VC-1 results aren't comparable because ATI's newest parts also decode VC-1 fully in hardware, whereas NVIDIA's cards just offer a more basic acceleration of the decode. We'll be investigating the specifics of the GeForce and Radeon HD cards in more detail in future articles.
Lastly, I'd like to thank Cyberlink for providing a copy of PowerDVD Ultra for us to test with.