ArcSoft TotalMedia Theatre 5 – Refresh Rate Issues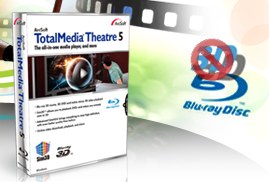 We lauded ArcSoft when it added automatic refresh rate switching to a beta version of TotalMedia 5 as they moved us closer to the standalone player experience, and while the feature has been fleshed out significantly since then (it's optional now) there's one thing that they've never really gotten completely right with the implementation – the frequency selected for 24p content. I don't want to get too far into the weeds (those unfamiliar with 24p should start here) so we'll just stipulate that almost all Blu-ray sourced content, including 3D, is actually 23.976 frames per second (FPS) and players should therefore select 23Hz for proper output from a HTPC. The problem here is that in the original implementation ArcSoft made the newb [but completely understandable, having done it myself back in the day :)] mistake of tying 24p to 24Hz when selecting the refresh rate in the original implementation. Later realizing the mistake, an INI setting was introduced to correct the behavior, but unfortunately the engine doesn't universally respect the setting leaving 3D playback broken.
Adding the "Refresh23Hz=1" setting is a little onerous as it entails browsing into the user profile ("C:\Users\[UserName]\AppData\Roaming\ArcSoft") and must be done per GUI (stand alone/WMC integrated) and per minor version (e.g. upgrading from 5.2 to 5.3 means another trip to the user profile). I don't know why ArcSoft didn't just fix the problem properly instead of using an INI setting, but it is what we have so if you have a 24p capable display and TotalMedia Theatre 5 it will make a big difference for Blu-ray sourced content in most (BDMV, ISO, M2TS), but not all formats – including the one where changing the refresh rate is not optional, 3D.
As we can see, even with the "Refresh23Hz=1" setting in place TotalMedia Theatre still incorrectly selects "24Hz" for 3D playback. Fortunately, since this is a PC we have the flexibility to choose another player (CyberLink PowerDVD 12 works properly), but obviously that is a poor workaround for your wallet. Ideally ArcSoft will change the player to truly support refresh rate selection since 24FPS content (which should play at 24Hz), but for now I'd settle for fixing 3D.